boot Düsseldorf 2020
New, Modern, Fresh, Elegant, Inovative!
boot Düsseldorf 2020
Simply Wonderful!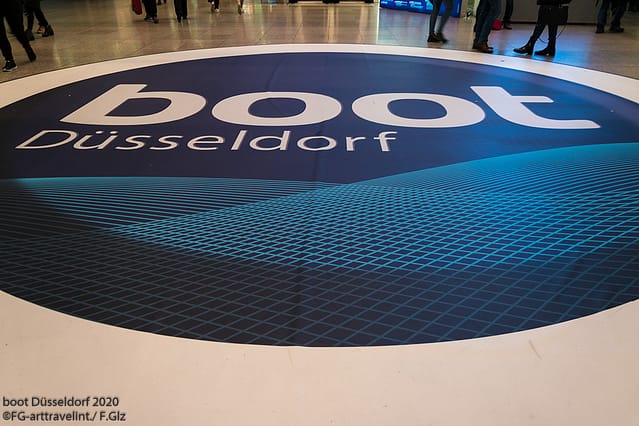 boot Düsseldorf the biggest boat and water sports trade fair in the world and the place where all of the industry meets in January every year, has once again opened its door for its 2020 Edition. This year with a wonderful new flair.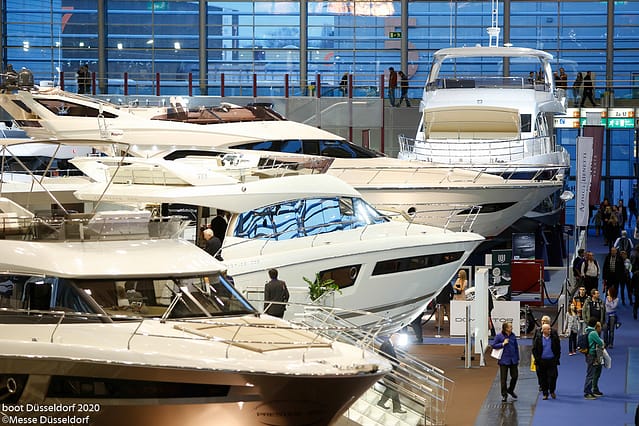 The first boot Düsseldorf of the forthcoming decade starts on 18. January with the sounding of the official bell – the acoustic signal that indicates watches in the seafaring community – an unprecedented presentation of the water sports world begins.
About 1,900 exhibitors from 71 different countries are presenting their interesting innovations, attractive new developments and maritime equipment from 18. to 26. January 2020.
360° water sports experience – from sailing, motorboating, surfing, diving and fishing to simply relaxing by the water or arranging the holiday you have always wanted to enjoy. In Central Europe and in January, when it is wet and cold outside. boot offers maximum maritime flair for everyone who loves the water.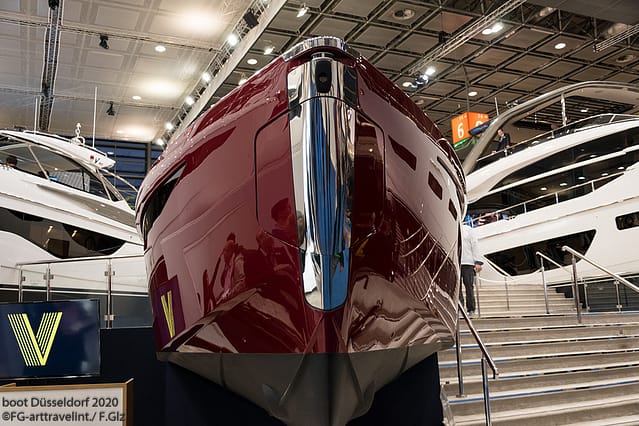 boot Düsseldorf 2020
1,900 exhibitors from 71 different countries cover the entire water sports world: Palau, Papua New Guinea or Micronesia– boot Düsseldorf is highlighting an unusual range of water sports destinations all round the world. It is the biggest water sports trade fair in the world, with 230,000 square metres of stand space spread over 17 halls on the exhibition site. Visitors are coming to Düsseldorf to more than 100 countries.

An insight into everything that water sports have to offer
The bright, well-lit new Hall 1 is a popular new home for motor yachts from 30 to 60 feet (10 to 20 metres) long. Much-loved, cosy family models like the Dutch steel yachts – from the Linssen shipyard, for example – are on show here. It is also where such large-scale manufacturers as Jeanneau, Bénéteau, Bavaria, Sealine or Greenline are exhibiting.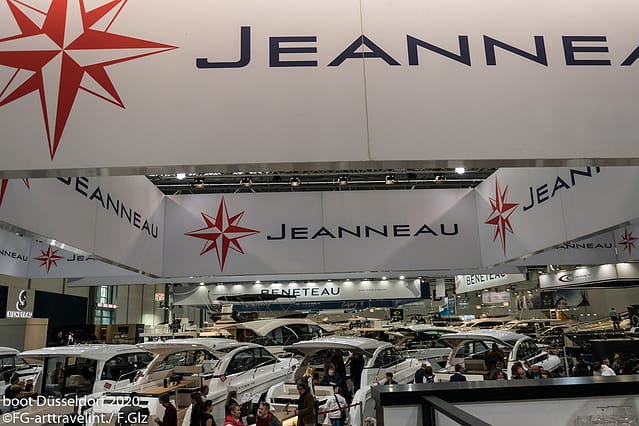 Hall 3: focus on "start boating"
Many people are keen to have a boat of their own, even if it only a little one. But even the smallest of outboard motors can cause trouble, while shipping traffic can be scary or finding suitable berths for one's new boat can be problematic. Every motorboating newcomer faces issues like these. Answers can be found in Hall 3. Professional assistance and tips from experts are available to all recreational boating beginners – no matter what particular questions they may have – on the stand of the "start boating" project initiated by boot Düsseldorf.
Boat tours with the family – popular in e-boats too
Boat tours with the family in a e-boat are already established in Scandinavia and they are becoming increasingly popular in the other European countries too. The X-Shore boats produced by the multitalented Swedish entrepreneur Konrad Bergström are on display in Hall 4, for example. The practical Finnish boats designed for fishing and relaxing are an attractive form of leisure mobility for the entire family too. The new drive systems for boats can be found in almost all the halls at boot Düsseldorf 2020.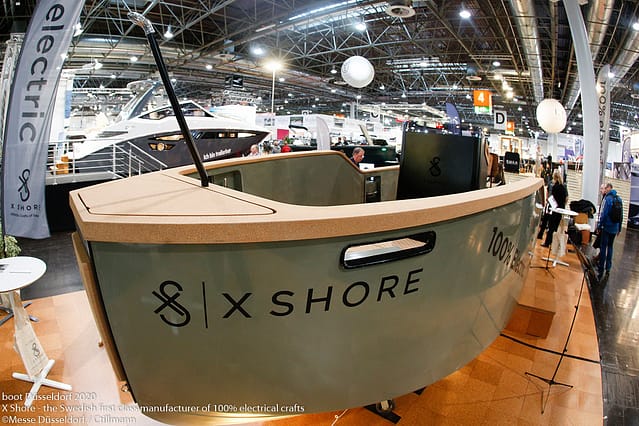 NEW: superboats in Hall 5
boot is devoting Hall 5 to the growing segment of luxury tenders, chase boats and shadow boats. The term "superboats" covers everything that is luxurious, fast, innovative and elegant. Such exclusive brands as Sacs, Wally, Frauscher, DeAntonio, Boesch, Fjord, Windy and Anvera will be presenting their latest developments in this segment. A chase or shadow boat can be far larger and far more luxurious than a normal tender and accompanies the superyacht on its voyage or is used for exclusive cruising purposes. The luxurious equipment of such a boat can be designed in full accordance with the owner's requirements. As a result, it is possible to enjoy individually configured surroundings on excursions with friends for a fishing expedition or to an enchanting, remote bay too.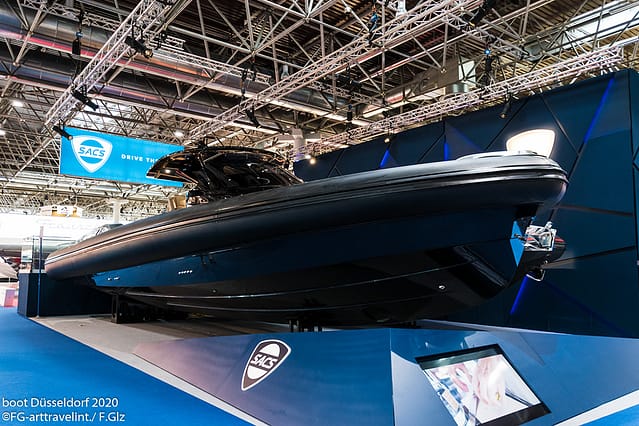 The biggest and most beautiful yachtS in Hall 6
The big and beautiful yachts in Hall 6 have travelled a long way to get there. Never before have so many large yachts between 80 and 96 feet in length been exhibited at boot. They came to Düsseldorf from the Caribbean or Turkey, for instance, on such transport ships as the Dutch Molengraat operated by the yacht transport company Seven Stars based in Rotterdam. They were then moved on flatbed trucks to Hall 6, where they can now be admired in all their glory. Hall 6 continues to be the home of the luxury segment at boot. Everyone who is anyone in the superyacht community is here to display his or her stunningly beautiful developments. Appropriately exquisite moorings for representative yachts are available at one of the exclusive superyacht marinas in, for example, Venice. Which can be found directly on the exhibition site too, on the gallery in Hall 6.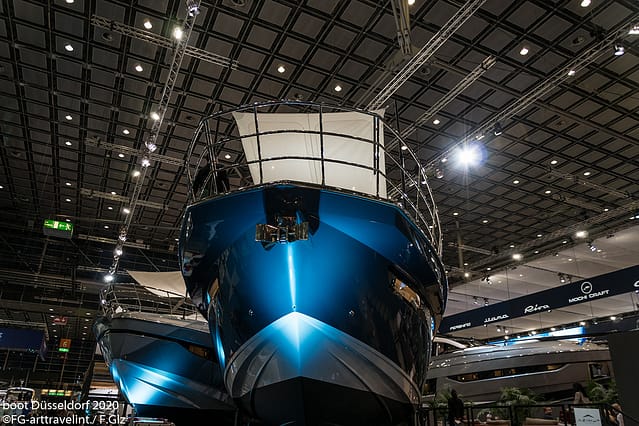 Hall 7a rounds off the luxury segment at boot with the superyacht show.

Maritime art for enthusiasts in Hall 7
Following their tour of the luxury worlds, visitors can take it down a notch in Hall 7 and relax while contemplating maritime art. Large portrayals of ocean scenes, photographs of maritime motifs or creative sculptures invite visitors to linger and enjoy the works of art. One of the exhibitors is, for example, Heinke Boehnertwith her artistic depiction of the Malizia Team skippered by Boris Herrmannfrom Hamburg, who will be on the artist's stand to sign autographs at 16:00 on 19. January.

Hall 8a: board sport as its best in the surfing hall
Anyone who thought that board sport peaked a long time ago should take a look at Hall 8a at boot 2020. Everyone who is anyone in the boarding community is exhibiting here. Nowhere else in the world will so many boards and the athletes who use them be at one place at the same time as at the forthcoming board sports summit to kick off the twenty-twenties at the boot Düsseldorf home port.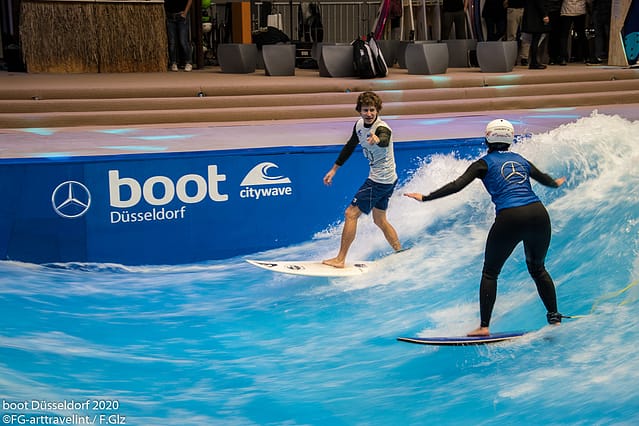 The fascinating exhibits in the surfing hall range from windsurfing, kitesurfing and SUP to high-speed action on the indoor wave: THE WAVE made by citywave® enjoyed an acclaimed premiere in Düsseldorf in 2017 and has been one thing more than anything else since then: extremely popular and thus always very busy. boot also has skimboarding facilities and a flat water pool with wakeboarding facilities. This is where relaxed stand-up paddlers demonstrate yoga exercises on their boards or kite and windsurfers use simulators to get their exercise. Trainers, equipment and changing rooms can be found at the point of action. Board sports are being served à la carte for both experts and beginners. In addition to information about new trends and developments in, for example, foiling and the future prospects for professional boarders at the Olympic Games. It goes without saying that there will always be opportunities to meet and greet stars and other members of the international boarding community when visiting Hall 8a
Halls 9, 10 and 11: huge selection of RIBs, dinghies, accessories, inboard motors and equipment
The exhibitors in Hall 9 will be showcasing the latest developments with rigid inflatable boats (better known in the community as RIBs) and smaller dinghies. Halls 9 and 10 as well as part of Hall 11 concentrate mainly on accessories, inboard motors and equipment. One particular area that is less conspicuous is extremely popular at boot Düsseldorf. It is where the experts and specialists meet to talk shop and share their interest in even the smallest of technical details. The Refit Centre is popular with DIY enthusiasts. Professional advice, daily workshops and product information about boat repair and restoration can be found here in Hall 11 too.
boot Düsseldorf 2020 is presenting the biggest diving trade fair in the world in Halls 11, 12 and 13
When boot Düsseldorf opens on 18. January 2020, at the same time mark the start of the biggest diving trade fair in the world in Halls 11, 12 and an adjacent section of Hall 13 too. The short walk from hall 12 to Hall 13 takes the form of an underwater diving tunnel. Gentle music and illuminations remind divers of fascinating diving expeditions they have experienced. With more than 400 exhibitors, it represents a unique cross-section of the industry. Because, in a nutshell: everything that divers could possibly desire will be on display. The global players in the diving field, like Aqua Lung, Mares and Cressi, will be presenting their complete product range. The "Dive Center" in Hall 12 is a popular attraction for all diving enthusiasts. Every day at boot 2020, beginners and experienced recreational divers will have an opportunity here to watch exciting films about exotic diving destinations, listen to interviews with internationally renowned stars and obtain valuable tips for beginners as they try out diving for the first time. Some of the highlights are visits by the most successful freediver in Germany and holder of 34 records – Anna von Boetticher – the filmmaker Florian Fischer, who has won numerous awards, with his creative network "Behind the Mask", the adventurer, filmmaker and freediver Fred Buyle, who succeeded in diving to the 100 metre mark while holding his breath, the freediver and filmmaker Guillaume Néryand the Portuguese BBC wildlife videograph Nuno Sá, who is one of the best underwater videographs in the world.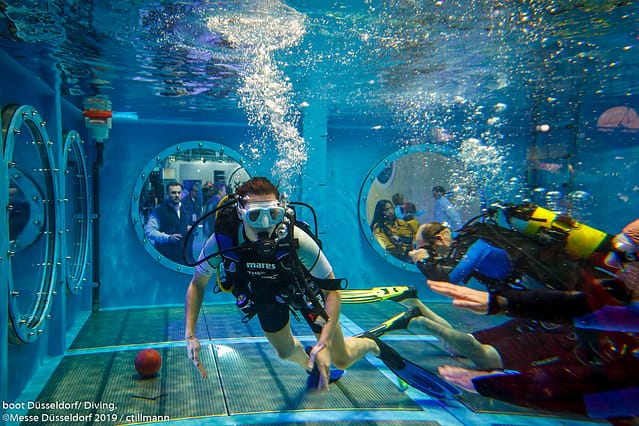 Every year, many thousand divers enjoy a unique festival here which is not matched anywhere in the world. Leading international diving destinations whet the visitors' appetite by presenting everything they have to offer too. The programme at boot is complemented at the technical level by the "Water Pixel World", which is again located directly in the diving segment in Hall 11. Apart from the latest developments and innovations in filming and photography in the water and underwater, workshops with community insiders are playing a central role here from boot 2020 onwards. The professionals will give tips and demonstrate tricks relating to spectacular underwater photography and how to handle video cameras and drones.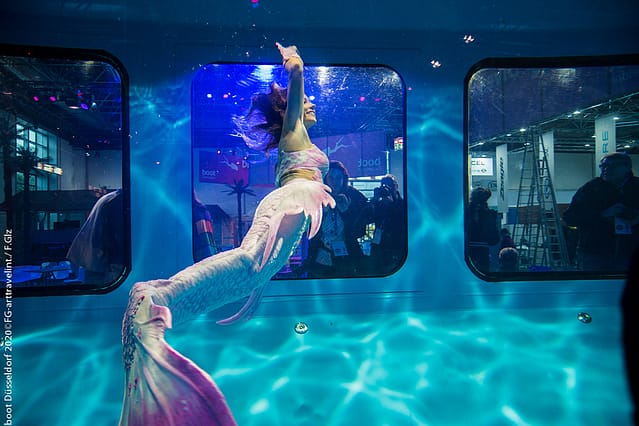 "love your ocean" campaign is featured in the diving halls
All water sports enthusiasts in general and divers in particular love their element and protection of the oceans is important to them. The "love your ocean" campaign stand in Hall 11 reflects this and is therefore the centrepiece of the diving halls. Together with the German Ocean Foundation and the boot ocean advocate Emily Penn, this campaign is having tremendous worldwide impact in the meantime. "love your ocean" attracts numerous visitors at boot Düsseldorf and will be presenting almost 50 different ocean protection activities and research projects this year.
Halls 13 and 14: "Travel World" highlights the most beautiful holiday destinations by lakes and oceans
Appropriately enough, the water tourism halls 13 and 14 with "Travel World" are right next to the diving halls. Chartering agencies, marinas, houseboat providers as well as hotels, cruise companies and water sports locations are there to help visitors decide where to spend their next holiday in, by and on the water. A varied programme including tips about holiday destinations, charter and houseboat holidays or exciting canoeing and kayaking tours will be presented on the "Travel World" stage. These halls are the holiday and tourism centre at boot Düsseldorf. The wide range of different destinations is supplemented by hotels that offer water sports activities in all their possible forms. There can be no doubt that even people who have not been actively involved in sports up to now will be inspired and encouraged here to enjoy their holiday by the water. Travel has developed into a particular highlight at boot and takes up a large proportion of the space in Halls 11 to 14 in the meantime. Insiders will be reporting about their experiences and will be giving direct tips about regions, locations or hotels. Anyone who then decides how and where he or she wants to spend the next holidays can, for example, make a reservation in the popular and well-known Baltic and North Sea regions or opt for an adventure in more exotic regions, depending on his or her personal preferences.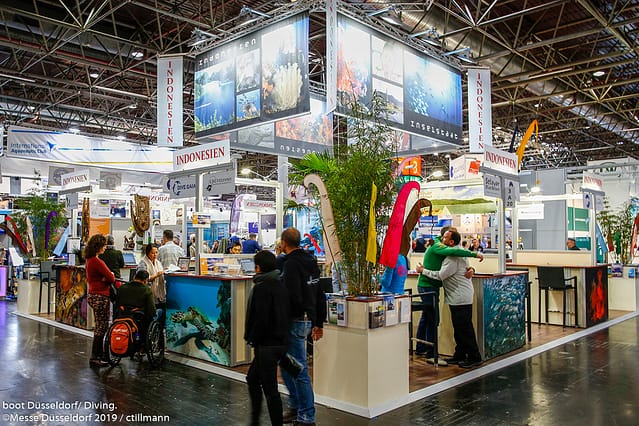 Popular houseboat holidays can be booked directly with the providers here too. During the "Day of the Canals" in the Inland Waterways Pavilion in Hall 13 on20. January, experts will be giving interesting tips about houseboat holidays and will be presenting the attractive waterways in Europe.
Recreational sailing in Halls 15 to 17: sailing is the original water sport
Sailing is the original water sport! The first known picture of a ship with sails is on an Egyptian drawing from Luxor that goes back to the period around 5000 BC! Christopher Columbus would not have discovered the "New World" without sails. There is no doubt about it: sailing was the first way that people travelled along rivers and across oceans. A popular water sport that has something to offer everyone developed out of people's passion for sailing.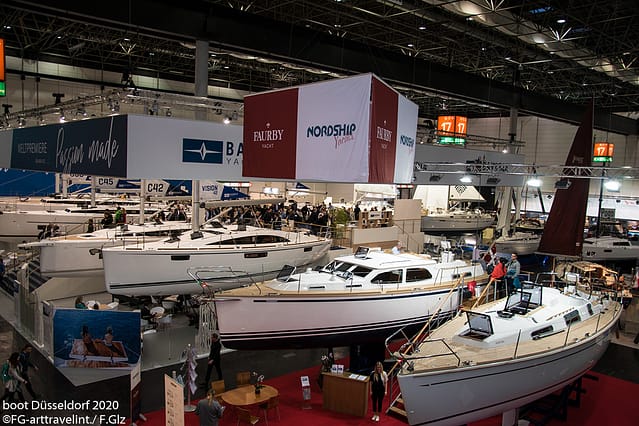 From 2020 onwards, three halls in Düsseldorf are being devoted to sailing. It goes without saying that the major players in this sector are there too: Hanse, Bavaria, Hallberg Rassy or tall ship suppliers like Oyster, CNB and Nautors Swan are back. Together with the manufacturers of innovative new boats, they paint a diverse picture of a progressive sailing community with plenty of international flair. Spiced by the appearances of globally renowned sailing figures like Sir Robin Knox-Johnston,such up-and-coming young sailors as Laura Dekker with her new sailing project for young people and experts or blue water sailing experts like Sönke Roever in the "Sailing Center", the sailing halls reflect a lively and very emotional community. In co-operation with its media partner, the German publisher SVG Verlag, boot is launching the "start sailing" campaign (Hall 15). Newcomers and anyone else who is interested can benefit from the know-how provided by the experts here. In a casual atmosphere, young people and those who have stayed young at heart can make tremendous progress in fulfilling their dream of becoming a sailor.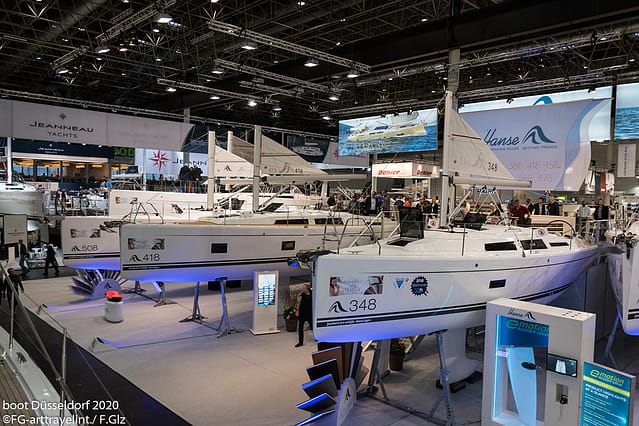 For the first time, the original cup that dates back to 1851 – from the America's Cup presented by Prada is coming to Düsseldorf. This means that the trophy presented in the oldest sailing regatta that is still held today is travelling 18,538 kilometres from New Zealand to the city on the Rhine and will be publicising the impressive contest it represents.
"ocean tribute" award with public voting for the first time
The "ocean tribute" award, which is sponsored by the Prince Albert II Foundation, the German Ocean Foundation and boot Düsseldorf, is being presented in January 2020. Together with the foundation from Monaco, boot and the sponsors Seabob and Jaguar Land Rover, the prize money has been increased to EUR 20,000. All institutions, associations, research facilities and projects that aim to protect oceans, lakes and waterways were able to apply. The jury of experts has selected a short list of five from all the entries and their projects are being presented on the Award website oceantributeaward.boot.de. For the first time, the public was also invited to participate in choosing the winner. The results of this are being taken into account in the final vote too. The Malizia Team skipper Boris Herrmann will be paying tribute to the winner.
boot Düsseldorf, a Nine-day exhibition covering 230,000 square metres in 17 different halls. There is something for every water sports enthusiast, with the main focus on boats and yachts, motors and engine technology, equipment and accessories, services, canoes, kayaks, kitesurfing, rowing, diving, surfing, wakeboarding, windsurfing, SUP, fishing, maritime art, marinas, water sports facilities, beach resorts and chartering.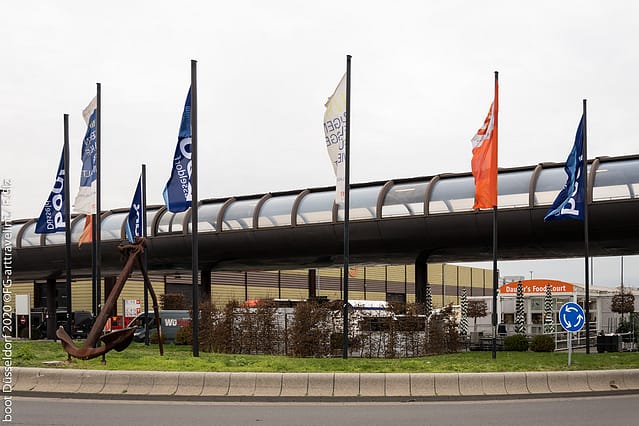 Online ticket prices start at € 10.00
Düsseldorf residents and their neighbours can take advantage of a special offer. They can visit boot 2020 from Monday afternoon to Thursday afternoon, starting at 14:00, for a reduced price of only € 10.00. Members of boot.club can even visit the trade fair on two different days for € 17.00. The standard online price is € 19.00. Anyone who would like to visit boot together with his or her water sports friends, can buy tickets at a price of € 17.00 too. This price applies to groups of five or more people

Travel on the public transport system free of charge
A particularly relaxed way to travel to boot is by the Rhine/Ruhr public transport system – which is free of charge too with the online ticket. It can be used to travel to and from the exhibition site in Düsseldorf on the Rheinbahn in the area covered by the Verkehrsverbund Rhein-Ruhr (VRR, 2nd class, on trains in price category D for which no extra charge is made).