EBACE – Geneva 2018
One of the most Important Events for Business Aviation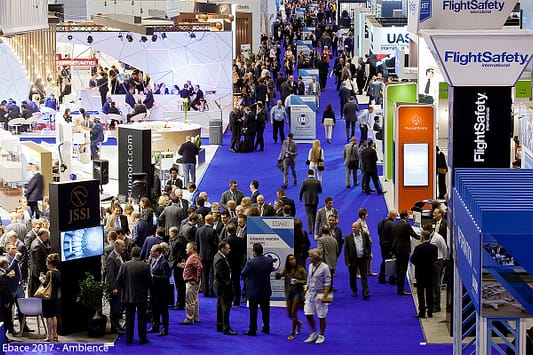 EBACE 2018
As the largest European show focused exclusively on business aviation, the 2018 European Business Aviation Convention & Exhibition (EBACE2018) promises to bring the global industry together for three days of education, networking and an opportunity to view up close the latest products and services on the market. Simply put, if you use aviation for business, you'll want to attend EBACE2018. Sponsored by the National Business Aviation Association (NBAA) and the European Business Aviation Association (EBAA), the show takes places in Geneva, Switzerland from 29 to 31 May.
More than 50 of the latest and most advanced business aircraft available will be on static display throughout the upcoming 2018 European Business Aviation Convention & Exhibition (EBACE2018), providing attendees an opportunity to examine a vast range of aircraft of all sizes and for all missions.
The EBACE2018 static display at Geneva International Airport, adjacent to the Palexpo convention center, will include the latest offerings from renowned European manufacturers such as Airbus, Dassault Falcon Jet and Pilatus, as well as global aircraft OEMs including Bell, Boeing Business Jets, Embraer, Gulfstream and Textron Aviation.
"We expect a few new and upcoming aircraft types to make their EBACE debuts, in keeping with the event's role as the can't-miss event for business aviation professionals across Europe," said Joe Hart, NBAA director for static displays. "Several pre-owned business aircraft will also be on display for attendees to review and compare."
No other European venue allows business aviation professionals or end-users to see so many business aircraft types – including helicopters, piston and turboprop aircraft, as well as jet aircraft ranging from light jets to large-cabin intercontinental aircraft – and compare different models side-by-side.
The worldwide business aviation community continually seeks methods to reduce its environmental impact, as demonstrated by the 2009 Business Aviation Commitment on Climate Change (BACCC). This responsibility also extends across several facets of the 2018 European Business Aviation Convention & Exhibition (EBACE2018)
On the show floor, representatives from EBACE2018 work together with exhibits provider Freeman EMEA to define and achieve several sustainability goals for the event, from optimized show equipment and transportation alternatives to reducing the number of vehicles required on-site. Locally recycled show carpet is used throughout the exhibit hall, and show graphics and displays are intended to be reused or recycled toward a long-term goal of a "zero-landfill" event strategy.
"As a global industry leader in sustainable thinking and practices, we strive to help our clients reach their sustainability goals while also helping the local economy and our planet," said Jeff Chase, vice president of sustainability for Freeman.
Yves Rossy, inventor of a series of experimental individual jet packs, will inspire attendees and set the tone for an innovative, forward-thinking show at the Opening Session of EBACE2018 on Tuesday, 29 May.
"I'm very pleased to be part of EBACE2018 where I will have the opportunity to share with you a new kind of flight," he said. "We are closer and closer to realizing one of the oldest dreams of mankind – to fly like a bird."
The European Business Aviation Convention & Exhibition (EBACE) is a premier event and the annual meeting place for the European business aviation community. The exhibition brings together business leaders, government officials, manufacturers, flight department personnel, avionics firms, fractional providers, charter/lease companies and all manner of people involved in nearly every aspect of business aviation.
EBACE is jointly hosted each year by the European Business Aviation Association (EBAA), the leading association for business aviation in Europe, and the National Business Aviation Association (NBAA), the leading voice for the business aviation industry in the United States. Although EBACE is the only major European event focused solely on business aviation, attendees come from as far as Africa, Asia, the Middle East and North and South America.
The impressive exhibition takes place over the course of three days at the magnificent Palexpo, which is strategically located within 10 minutes of the center of Geneva, and is immediately adjacent to the EBACE Static Display of Aircraft at the Geneva International Airport, a railway station and a motorway.
Features of EBACE include:
Over 400 exhibiting companies, covering more than 40,000 square meters
55+ state-of-the-art business aircraft in a special 18,000 square meter static display
About 13,000 aviation professionals from around the world
10+ high-quality education sessions to help you operate safely and efficiently
EBACE 2018
Palexpo:
Route François-Peyrot 30,
1218 Le Grand-Saconnex, Switzerland
Geneva International Airport:
Route de l'Aéroport 21,
1215 Le Grand-Saconnex, Switzerland