FIAC 2019
FIAC
An Art Fair Not To Be Missed!
The autumn has arrived to Paris and with it FIAC ( Foire Internationale d'Art Contemporain ).
FIAC PARIS, one of the most important Contemporary Art Fairs around the world has once again oppened its doors, majestoux, avant-garde and as every year full of new works and exhibitions.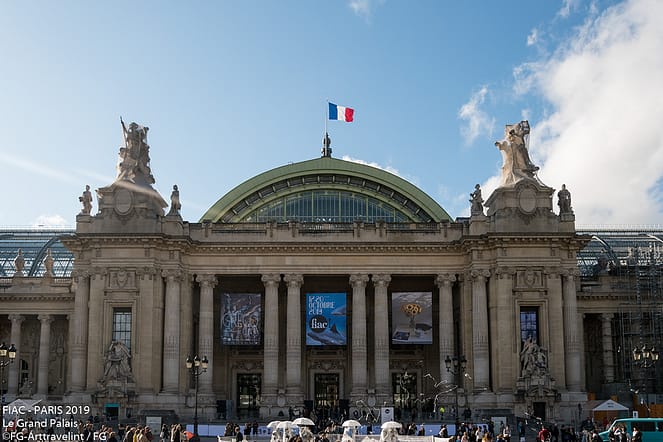 For its 46th edition, taking place in the Grand Palais in Paris from October 17th through October 20th 2019, FIAC hostes a carefully curated selection of galleries specializing in modern and contemporary art, together with a tightly focused group of market leaders in the field of modern and contemporary design.
FIAC 2019 Galleries brings together 199 galleries from 29 countries including 2 countries represented at FIAC for the very first time (Ivory Coast and Iran) and 3 countries who are returning to FIAC in 2019 (Iceland, Poland and the Czech Republic). Among the exhibitors, the return of 9 galleries of international scope is noteworthy: Lisson (London, New York, Shanghai), Nara Roesler (São Paulo, Rio de Janeiro, New York), Contemporary Fine Arts (Berlin), hunt kastner (Prague), Campoli Presti (Paris, London), Tomio Koyama (Tokyo), Galerie Papillon (Paris), Sprovieri (London), Baronian Xippas (Brussels).
FIAC 2019 likewise features the inaugural presence of 25 galleries from across the world, each a reference in their given field of expertise: Lévy Gorvy (London, New York, Hong Kong, Zürich), The Box (Los Angeles), Meyer Kainer (Vienna), Barbara Wien (Berlin), Magnin-A (Paris), Jacky Strenz (Frankfurt), BERG Contemporary (Reykjavik), Dastan Gallery (Tehran), apalazzo (Brescia), Laveronica (Modica), Kate MacGarry (London), JTT (New York), Simone Subal Gallery (New York), Cécile Fakhoury (Abidjian, Dakar, Paris), Lyles & King (New York), Joseph Tang (Paris), Hopkins (Paris), Barbara Weiss (Berlin) ; including 7 in the Lafayette Sector : Jenny's (Los Angeles), Gianni Manhattan (Vienna), Mariane Ibrahim (Chicago), PM8 (Vigo), Dawid Radziszewski (Warsaw), Soft Opening (London) and Weiss Falk (Basel).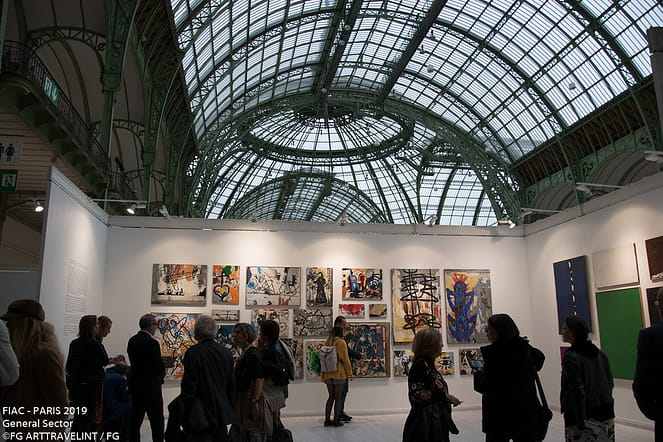 FIAC and the Galeries Lafayette Group affirm their joint will to promote emerging artists and galleries through the Lafayette Sector whose 10 participants receive significant financial support from the Galeries Lafayette Group, Official Partner of FIAC since 2009.
Following its return in 2017, modern and contemporary design confirms its presence at FIAC. Five galleries of undisputed international repute will exhibit: Jousse entreprise, Galerie kreo, LAFFANOUR – Galerie Downtown, Eric Philippe, and Galerie Patrick Seguin.
FIAC's signature program, FIAC Projects, present some thirty sculptures and installations within the prestigious exhibition rooms and grounds of the Petit Palais, in the environs of the Grand Palais and on the Avenue Winston Churchill, pedestrianized during FIAC week. This year, FIAC Projects is conceived in collaboration with Rebecca Lamarche-Vadel, chief curator of the next Riga Biennial. In her capacity as invited curator, Rebecca Lamarche-Vadel participates in the selection of artworks together with FIAC and the curatorial teams of the Petit Palais and is responsible for the conception and design of the exhibition presented within the Petit Palais.
FIAC Hors les Murs 2019 presents an ensemble of over twenty outdoor works in the Jardin Tuileries, together with a solo exhibition of the British artist Glenn Brown in collaboration with Max Hetzler (Berlin, Paris, London…) at the musée national Eugène-Delacroix. On Place Vendôme, in collaboration with Victoria Miro Gallery (London, Venezia), FIAC Hors les Murs extends a carte blanche invitation to the legendary Japanese artist Yayoi Kusama to create an in situ artwork for this historically and symbolically charged Parisian venue. In a spectacular and unprecedented development of its Hors les Murs program, for the second consecutive year FIAC presents an ephemeral village of architectural projects on the most iconic of all Parisian squares, The Place de la Concorde.
*The inaugural edition of FIAC's renowned outdoor sculpture program FIAC Hors les Murs, took place in 2006 in collaboration with the Louvre Museum. Since then it is widely recognized as a precursor and a model for similar initiatives in the fair landscape. For the duration of the fair, FIAC Programmes presents a freely accessible program of performances (Parades for FIAC), conferences (Conversation Room), and film screenings (Cinéphémère).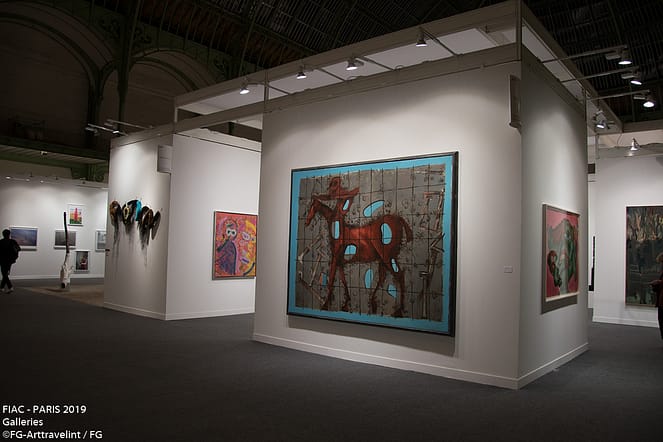 FIAC GALLERIES
The exhibition spaces of the Grand Palais (FIAC Galleries) extend between the Nave and the North-East Gallery on the ground floor, to the Salon d'honneur, the Galeries Supérieures and the Salon Jean Perrin on the first floor.
For the first time this year the North-East Gallery is available for exhibition during FIAC. The North-East Gallery is directly accessible both, from the Nave and from the FIAC entrance situated in the Rotonde Clemenceau, immediately opposite to the Champs-Elysées-Clemenceau metro station. The opening of the North-East Gallery provides an exciting foretaste of the augmented exhibition possibilities rendered possible by the scheduled renovation of the Grand Palais beginning in 2021 January.
THE GENERAL SECTOR
The General Sector brings together a selection of 199 galleries of modern and contemporary art. The largest contingents of exhibitors are: European (70%), French (28%) and American (18%).
The contingent of French galleries includes major figures in the field of modern art, notably: Galerie 1900-2000, Applicat-Prazan, Le Minotaure, Natalie Seroussi, Galerie Zlotowski ; and in contemporary art, such as: Air de Paris, Art : Concept, Chantal Crousel, gb agency, Lelong & Co., kamel mennour, Nathalie Obadia, Perrotin, Almine Rech, Templon, Georges-Philippe & Nathalie Vallois, Jocelyn Wolff, etc. ; together with galleries renowned for their role as discovers and tastemakers, such as: Allen, Balice Hertling, Gaudel de Stampa, High Art or Marcelle Alix among others. National representation, unparalleled in any comparable event, is consolidated by the presence of Karsten Greve (established in France since 1989), Thaddaeus Ropac (established in France since 1990), Marian Goodman (established in France since 1995) and Max Hetzler (established in France since 2014).
The 2019 edition confirms the central position of FIAC on the European scene, with the renewed presence of leading galleries such as: Alfonso Artiaco, Buchholz, Capitain Petzel, Sadie Coles HQ, Continua, Massimo De Carlo, Konrad Fischer, Bärbel Grässlin, Hauser & Wirth, Xavier Hufkens, Krinzinger, Simon Lee, Lisson, Mai 36 Galerie, Victoria Miro, Neu, neugerriemschneider, Eva Presenhuber, Esther Schipper, Sprüth Magers, Michael Werner, White Cube ; but also dépendance, LambdaLambdaLambda, Karma International, kaufmann repetto, König Galerie, Neue Alte Brücke, Peres Projects, Francesca Pia, Plan B, ProjecteSD, The Breeder, ZERO…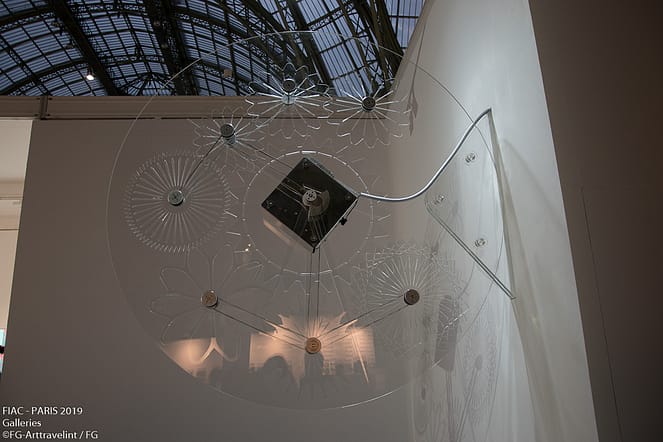 The strength of FIAC is also reflected in the significant percentage of North American galleries present (Canada, United States, Mexico). Among the 18% of North American exhibitors, it is noteworthy to underline the consistent presence of key market leaders such as: 303 Gallery, Blum & Poe, Gavin Brown's enterprise, Paula Cooper, Gagosian, Gladstone, Anton Kern, David Kordansky Gallery, Metro Pictures, Nahmad Contemporary, Pace, Regen Projects, Skarstedt, Van de Weghe and David Zwirner. They have all made FIAC a regular fixture in their exhibition calendar, as have prescribers such as C L E A R I N G, Gaga, Karma, LABOR, Overduin & Co. and François Ghebaly, together with Los Angeles based Freedman Fitzpatrick who opened a Parisian gallery in 2018 and has since played an active role in the community, co-founding Paris Avant-Première with colleagues Daniele Balice and Édouard Montassut.
FIAC 2019 confirms its durable connection to Asia with a stable contingent of 7 Asian galleries, including 2 from Tokyo: SCAI THE BATHHOUSE and Tomio Koyama ; 3 from Seoul: Hyundai, Kukje, PKM Gallery ; and 2 from China: Vitamin Creative Space (Guangzhou, Beijing) and Magician Space (Beijing).
The same is true for South America, with the participation of 6 leading galleries. The return of Nara Roesler reinforces the contingent of Brazilian galleries from São Paulo including Bergamin & Gomide and Mendes Wood DM. LABOR and Gaga are again attending from Mexico City, while 80M2 Livia Benavides (Lima) is participating in FIAC for the second consecutive year.
FIAC is also proud to host major figures and emerging talents of the international art scene originating from the Middle East and the African continent, such as Green Art Gallery (Dubai), Dvir (Tel Aviv, Brussels), Dastan Gallery (Tehran), Selma Feriani (Tunis, London) and Cécile Fakhoury (Abidjan, Dakar, Paris). The presence of contemporary creation from Africa is reinforced by Parisian galleries specialized in the African continent such as Imane Farès and Magnin-A, together with Mariane Ibrahim (Chicago) presenting Amoako Boafo from Ghana.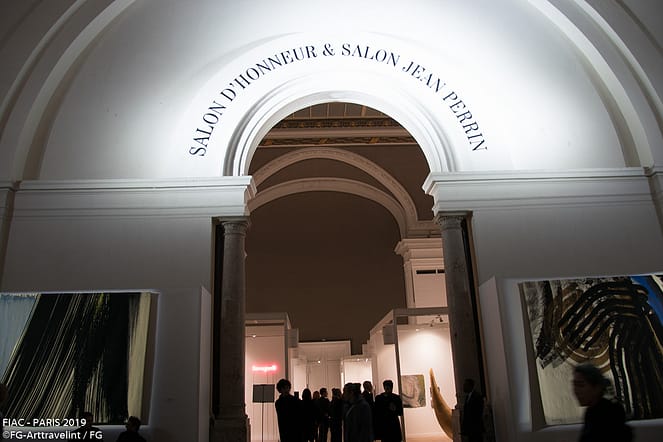 LAFAYETTE SECTOR – EMERGING GALLERIES
The 10 galleries selected for the Lafayette Sector were chosen from over 150 applications, for the quality of their exhibition programs throughout the year, and for the special project they submitted for FIAC, presenting one or two emerging artists represented by the gallery.
The Lafayette Sector was created in 2009 by FIAC and its official partner, the Galeries Lafayette group, to encourage young galleries in their chosen path and to facilitate their presence at FIAC.
The 2019 selection includes exhibitors from 7 countries (Austria, Spain, United States, France, Poland, Poland, United Kingdom and Switzerland). It is representative of the energy and vision of young galleries across the world and their commitment to the emerging art scene: Gianni Manhattan (Vienna), Mariane Ibrahim (Chicago), Jenny's (Los Angeles), PM8(Vigo), Dawid Radziszewski (Warsaw), Soft Opening (London) and Weiss Falk (Basel) join Arcadia Missa (London), LOMEX(New York) and Édouard Montassut (Paris), who are participating for the second consecutive year.
Artists featured in the Lafayette Sector are: Melike Kara and Jesse Darling at Arcadia Missa, Zsófia Keresztes and Barbara Kapusta at Gianni Manhattan, Clotilde Jimenez and Amoako Boafo at Mariane Ibrahim, Morag Keil at Jenny's, Kye Christensen-Knowles at LOMEX, Özgür Kar at Édouard Montassut, Algirdas Šeškus at PM8, Louisa Gagliardi at Dawid Radziszewki, Gina Fischli at Soft Opening and Timothée Calame at Weiss Falk.
DESIGN
FIAC confirms its desire to host modern and contemporary design galleries at the Grand Palais, with the return of 5 exhibitors of international renown who jointly participated in the creation of the sector in 2004, and its reestablishment in 2017: Jousse entreprise, Galerie kreo, LAFFANOUR – Galerie Downtown, Eric Philippe, and Galerie Patrick Seguin. Individually and collectively, they have contributed to research and conservation leading to the greater knowledge of design history, together with the production of its current forms and the development of innovatory techniques, while shaping taste across the planet.
FIAC was the first fair in the world to create a design sector within its walls in 2004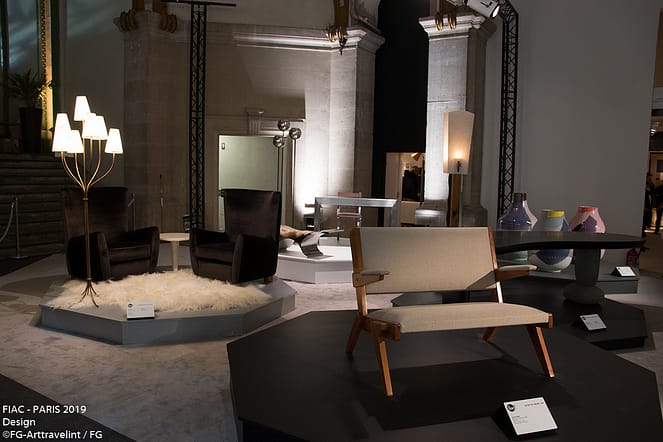 EDITIONS
FIAC is honoured to present editors among its exhibitors: Galerie 8+4 (Paris), Éditions Dilecta (Paris), GDM (Paris), Florence Loewy (Paris), mfc-michèle didier (Paris) and TCHIKEBE (Marseille).
OTHER EXHIBITORS
FIAC is also pleased to host the Fonds d'art contemporain – Paris collections (Paris), the Lambert Collection (Avignon), the Mexican project space Lulu (México D.F.) and WE DO NOT WORK ALONE (Paris).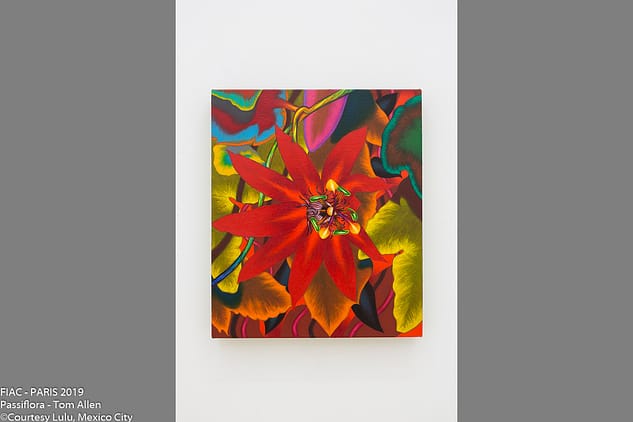 SOLO AND TWO PERSON SHOWS
Galleries will present a number of solo exhibitions at the Grand Palais for the 2019 edition of FIAC
PARADES FOR FIAC – PERFORMANCE FESTIVAL
For its fourth edition, the performance festival Parades for FIAC, dedicated to performative practices and dialogue between disciplines in contemporary art, takes place in various emblematic institutions of the capital including the musée du Louvre, the Palais de la découverte, the Petit Palais, the musée de l'Orangerie, the Centre Pompidou and the musée d'Orsay. This programme lies at the crossroads of music, contemporary dance, performance, theatre, and poetry, offering a broad range of artistic experimentation in the form of live actions, opening up new perimeters in the field of artistic performance.
Among the artists: Fanny Adler & Vincent Madame, Marwa Arsanios, Oliver Beer, François Chaignaud & Cecilia Bengolea, Ali Cherri, Emmanuelle Huynh & Automat, Hanne Lippard, Emeka Ogboh, Rachid Ouramdane, Gianni Pettena, Christodoulos Panayiotou, Luigia Riva & Clay Apenouvon, Alessandro Sciarroni.

CONVERSATION ROOM – CONFÉRENCES
From Friday 18th to Sunday, October 20th, FIAC presents a three day conference programme, entitled Conversation Room, which takes place within the fair, in a dedicated space on the first floor to the right of the grand Escalier d'honneur. The Conversation Room showcases Olivier Vadrot's CAVEA mobile furniture collection, loaned by Centre National des Arts Plastiques.
The Conversation Room is an exchange platform between artists, writers, scientists and thinkers from different horizons.
In 2019, the Conversation Room hostes a cycle of nine conferences, moderated by several speakers including Artagon, Charles Teyssou et Pierre-Alexandre Mateos, la Fondation Cartier, la Fondation d'Entreprise Ricard, le Centre Pompidou, le Musée na-tional de l'histoire de l'immigration, Ran Dian and Time for the Ocean.
This year, the Conversation Room programme broaches current themes pertaining to ecology and the environment, the protection of oceans, the migration issue, the role of young artists in the construction of a cooperative European community, or more general questions regarding contemporary creation and the art market.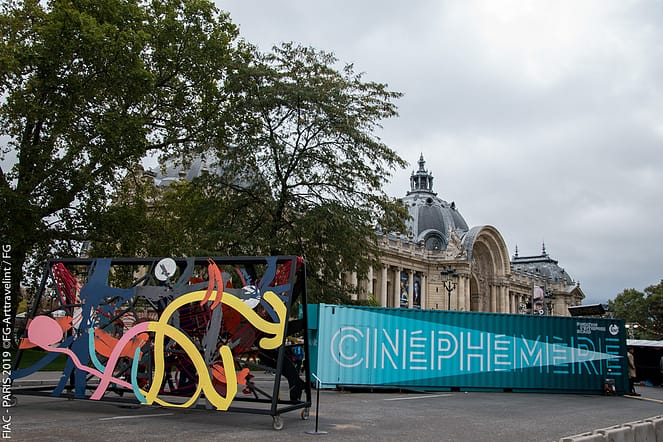 CINÉPHÉMÈRE – ARTISTS FILMS
FIAC and the Fondation d'entreprise Ricard present the tenth edition of the Cinéphémère, an artist's film programme screened during FIAC week in a 14-seat nomad movie theatre on the Avenue Winston Churchill. The programme conceived by curator Thomas Boutoux, traces a history of contemporary artists' awareness of environmental problems, the evolution of climate conditions, and the transformation and alteration of ecosystems
FIAC PROJECTS
FIAC Projects presents some thirty sculptures and installations, within the prestigious setting of the Petit Palais and on theAvenue Winston Churchill, pedestrianised during FIAC week. Instigated by FIAC, the pedestrianisation of the Avenue has enabled the temporary reconstitution of the original esplanade of the 1900 World Fair, thus connecting the Petit Palais and theGrand Palais. This site creates an unprecedented platform to exhibit artworks within a patrimonial setting.
This year, FIAC Projects is conceived in collaboration with Rebecca Lamarche-Vadel. In her capacity as invited curator, Rebecca Lamarche-Vadel participates in the selection of artworks together with FIAC and the curatorial teams of the Petit Palais and is responsible for the conception and design of the exhibition presented within the Petit Palais.
Rebecca Lamarche-Vadel is the curator of the next edition of the Riga Biennial. She has recently been appointed DeputyDirector of Lafayette Anticipations – Fondation d'entreprise Galeries Lafayette. She was curator at the Palais de Tokyo from2012 to 2019, and responsible for the carte blanche to Tomás Saraceno, ON AIR, in 2018, and to Tino Sehgal in 2016, amongother exhibitions including: FOXP2 by Marguerite Humeau (2016), Bastards by Ed Atkins (2014), as well as the collectiveexhibition Le bord des mondes (2015), and the project Remembering Carthage by Jon Rafman (2012). She regularly intervenes in seminaries and participates in juries in France and abroad, including the Selection Committee of FIAC's Lafayette Sector in 2018 and 2019.
The Petit Palais and the Avenue Winston Churchill feature works by Pierre Alechinsky / Lelong & Co. (Paris, New York) ; Nina Beier / Metro Pictures (New York) ; Julien Berthier / Georges-Philippe & Nathalie Vallois (Paris) ; Alexander Calder / Van de Weghe (New York) ; Michele Ciacciofera / Michel Rein (Paris, Brussels) ; Matt Copson / High Art (Paris) ; Johan Creten / Perrotin (Paris, Hong Kong, New York, Seoul, Tokyo, Shanghai) ; Julien Creuzet / Coproduction Fondation d'entreprise Ricard & Nuit Blanche 2019, Courtesy High Art (Paris) ; DOCUMENT (Chicago) ; Jean Denant / Galerie Anne de Villepoix (Paris) ; Daniel Dewar & Grégory Gicquel / Loevenbruck (Paris), C L E A R I N G (New York, Brussels), Jan Kaps (Cologne) ; Erik Dietman / Galerie Papillon (Paris) ; Sylvie Fleury / Thaddaeus Ropac (Paris, Salzburg, London) ; GENERAL IDEA / Mai 36 (Zürich) ; Max Hooper Schneider / High Art (Paris) ; Richard Jackson / LAFFANOUR – Galerie Downtown (Paris) ; Phillip King / Lelong & Co. (Paris, New York) ; Alicja Kwade / kamel mennour (Paris, London) ; Nicolás Lamas / Meessen De Clercq (Brussels) ; Artur Lescher / Almine Rech (Paris, Brussels, London, New York, Shanghai) ; Nicolas Momein / Ceysson & Bénétière (Paris, Luxembourg, Saint Etienne, New York) ; Emeka Ogboh / Imane Farès (Paris) ; Abraham Poincheval / Semiose (Paris) ; Pré-sence Panchounette / Semiose (Paris) ; Françoise Pétrovitch / Semiose (Paris) ; Javier Pérez / Galerie Papillon (Paris) ; Cameron Platter / Eric Hussenot (Paris) ; Laure Prouvost / Nathalie Obadia (Paris, Brussels) ; Gaetano Pesce / Nathalie Obadia (Paris, Brussels) ; Vivien Roubaud/ Oeuvre nomade de la collection du Grand Paris Express, courtesy In Situ – fabienne leclerc (Paris) ; Elsa Sahal / Galerie Papillon (Paris) ; Saint Clair Cemin / Baronian Xippas (Brussels) ; Kiki Smith / Lelong & Co. (Paris, New York) ; Thu Van Tran / Almine Rech (Paris, Brussels, London, New York, Shanghai) ; Nobuko Tsuchiya / SCAI THE BATHHOUSE (Tokyo) ; Daniel Turner / Allen (Paris) ; Lee Ufan / Kukje (Seoul, Busan) ; Jan Vercruysse / Vistamare/Vistamarestudio (Pescara, Milano) ; Heimo Zobernig / Nagel Draxler (Berlin, Cologne, Munich).
«The Petit Palais, an architectural gem built in 1900, emerged from the outset as a symbol of modernity. Its collections are defined by their eclecticism, allowing masters of the likes of Courbet, Renoir, Delacroix, and Cézanne to enter into conversation with the Italian Renaissance, as well as Flemish and Dutch painting. Audiences have long explored here the diversity of everything that has described their present moment; an encounter that has been continually updated, between the milestones of history and the pulse of ideas and forms of our times. It is to this melting pot of ideas, this celebration of the infinite expanse of art, that this edition of FIAC Projects pays tribute.»
Rebecca Lamarche-Vadel, curator
HORS LES MURS
FIAC Hors les Murs is an exhibition of outdoor artworks presenting sculptures and installations to the widest possible audience in emblematic public spaces throughout the city. Providing a unique opportunity for artists to enter into a dialogue with Parisian heritage sites, the programme favors ease of access to contemporary creation and encourages broader knowledge on sight cultural mediation.
FIAC Hors les Murs is housed in prestigious Parisian venues including the Jardin des Tuileries, the Place de la Concorde, the musée national Eugène Delacroix and the Place Vendôme.
PLACE DE LA CONCORDE
In an unprecedented development of the Hors les Murs promenade in the Jardin des Tuileries, FIAC inaugurated in 2018 an ephemeral village of architectural projects on the most iconic of all Parisian squares, the Place de la Concorde. Exceptional installations are presented, forming an ensemble of historic, contemporary architecture and artists' houses.
This outstanding programme of ephemeral architecture, nomadic habitats, and utopian living spaces includes emblematic contemporary architectures by Carlos Cruz-Diez et Odile Decq, presented by Philippe Gravier (Paris), along with two historic houses by Jean Prouvé, respectively presented by LAFFANOUR – Galerie Downtown (Paris) and Patrick Seguin (Paris). Exceptionally this year, the program includes the off-site presentation of a round structure, rare in the oeuvre of Jean Prouvé, at the Hôtel de Choudens.
GALLERY NIGHT
This year, for the 10th consecutive edition, FIAC stages the Gallery Night, an annual rendez-vous allowing some one hundred participants to welcome the public for an evening visit to their galleries during the fair. Openings, encounters with artists, booksignings, along with art and design exhibitions are as many reasons to enjoy this opportunity for a night out in the capital.
The Paris Gallery Night on Thursday October 17th brings together 100 galleries who opens their doors until 10pm. Many take this opportunity to inaugurate exhibitions, host book signings and present performances. On the same evening, the third edition of You x Art x Centre Pompidou takes place at the Centre Pompidou, featuring an evening of performances among the contemporary collections of the museum.
IN PARIS DURING FIAC -FIAC WEEK
FIAC week will once again provide the opportunity to discover the rich and varied exhibitions and cultural programs presented by Parisian institutions this season.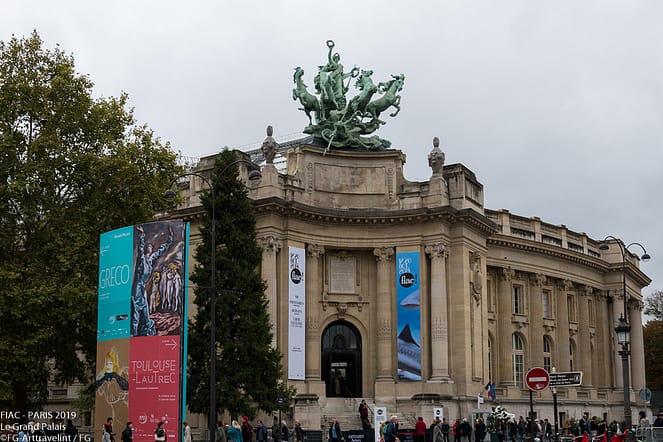 The Centre Pompidou devotes a major retrospective to English painter Francis Bacon, in addition to solo presentations of the artists shortlisted for the Marcel Duchamp Prize – Eric Baudelaire, Katinka Bock, Marguerite Humeau, Isa Tursic & Wilfried Mille – hosted for the fourth consecutive year at the museum.
The Palais de Tokyo devotes a major thematic exhibition to the new French scene, while the École Nationale Supérieure des Beaux-Arts presents the honours graduates of the 2019 promotion. Both events will provide new insight into the burgeoning French contemporary art scene.
The Musée Picasso and the Musée d'Orsay presents respectively Tableaux Magiques and Degas à L'Opéra, proposing rarely seen masterworks of the modern period.
The Galeries Nationales du Grand Palais features a monographic exhibition of Henri de Toulouse-Lautrec while that of the Orangerie is being devoted to Félix Fénéon.
For the first time, the Fondation Louis Vuitton features an eminent figure of modernist design with a monographic exhibition devoted to Charlotte Perriand.
The Musée Maillol provides a fresh perspective on outsider art with Le monde merveilleux des naïfs.
Photography is the focus of an exhibition at the Chateau de Versailles with Visible / Invisible presenting Dove Allouche, Nan Goldin, Martin Parr, Eric Poitevin and Viviane Sassen. Meanwhile Sigmar Polke's photographic work, a lesser known aspect of his oeuvre, will be presented at the BAL. Contemporary creation in all its forms will be featured in exhibitions as diverse as the retrospective devoted to Hans Hartung at the Musée d'Art Moderne de Paris, Katinka Bock at Lafayette Anticipations, Kiki Smith at the Monnaie de Paris and Zineb Sedira at the Jeu de Paume.
Curated by Claire Le Restif, Le Fil d'Alerte presents Marcos Avila Forero, Eva Barto, Simon Boudvin, Corentin Canesson, Gaëlle Choisne, Kapwani Kiwanga, Paul Maheke, Estefania Penafiel-Loaiza and Sarah Tritz taking place at the Fondation Ricard on the occasion of the 21st edition of the Prix Ricard.
The MAC VAL presenting two monographic exhibitions, respectively dedicated to the Egyptian artist Nil Yalter and Hugo Aveta from Argentina.
The Palais d'Iéna presents an exhibition of works by Giuseppe Penone.
The Musée du Louvre extends an invitation to Jean-Michel Othoniel, while the Petit Palais presents unprecedented dialogue between Yan-Pei Ming and Gustave Courbet, together with the monographic exhibition devoted to the historic Italian artist Vincenzo Gemito (1852-1929).
Simultaneously, across the Avenue Winston Churchill, the Galeries Nationales du Grand Palais presents their second major event of the autumn, an exceptional and unprecedented exhibition of works by El Greco. – Nous les Arbres, a group show focused on the treatment of environmental issues by contemporary artists is on view at the Fondation Cartier.
The prestige of FIAC's exhibitors, the exceptional quality of the works on view at the Grand Palais, Petit Palais and in FIAC's Hors les Murs venues, the extraordinary range of world class exhibitions presented by Parisian institutions and the numerous festive events which accompany them, confirms once again, Paris, as the capital of art and culture!