A dynamic Contemporary Art Fair, with a sense of nostalgia for the past times – looking back on the 20th Century.

Taking place on Randall's Island Park May 5th – 7th, the sixth edition of Frieze New York features ambitious presentations from top international contemporary and 20th-century art galleries, curated sections showcasing emerging artists, site-specific artist commissions and talks series.
The fair is mounted in a light-filled structure designed specifically for the presentation of works of art, providing an immersive experience that interweaves art, culture, nature and the urban landscape. This unique setting provides a space for visitors to enjoy pop-ups of the city's best restaurants and stands presented by distinguished non-profit institutions, all overlooking the East River and the New York City skyline.
The sixth edition of Frieze New York brings together more than 200 leading galleries from 31 countries, showcasing ambitious presentations and new commissions by today's most significant international artists from emerging talents to seminal and rediscovered 20th-century masters.
Presenting museum-quality exhibitions in a bespoke, light-filled structure designed for the experience of art, frieze New York offers an immersive cultural experience for major institutional and private collectors, scholars and enthusiasts alike.
With Galleries Joining from six continents, including first-time exhibitors from Brazil, Guatemala, Japan and Poland, the fair illuminates the aesthetic, political and historical concerns driving contemporary practice around the world.
The World's Leading Galleries
Frieze New York will continue to showcase leading modern and contemporary galleries from around the world in the main section, including returning exhibitors Acquavella Galleries (New York), Gavin Brown's Enterprise (New York), Tanya Bonakdar Gallery(New York), Matthew Marks Gallery (New York), Marian Goodman Gallery(New York), David Zwirner (New York), Mendes Wood DM (São Paulo), The Modern Institute(Gla sgow), Foksal Gallery Foundation ( Wa r s a w), Galerie Chantal Crousel (Paris) and Sprüth Magers(Berlin); alongside newcomers Eykyn Maclean (New York), Galeria Luisa Strina (São Paulo) and Castelli Gallery (New York). The fair will also grow as a platform for the world's most exciting emerging galleries, with exhibitors including VI, VII (Oslo), Bridget Donahue (New York) and Proyectos Ultravioleta (Guatemala City) joining the fair.
For the first time, Frieze will present a major symposium in New York City during Frieze Week. In collaboration with the Getty and the Institute of Fine Arts, NYU, the symposium will raise discussion on topics related to Latin American and Latino Art featured in the upcoming edition of "Pacific Standard Time: LA/LA".
Today's Most Significant International Artists
Frieze New York is a vital platform to encounter today´s most significant artist and works from around the world, including main section solo exhibition featuring: Lorna Simpson, presenting new paintings and sculptures in her first-ever project with Hauser & Wirth (New York); the celebrated American Painter John Curri with Gagosian Gallery (New York); Anri sala, presenting Bridges in the Doldrums(2016) with Marian Goodman Gallery (New York), ahead of the artist´s participation in the Venice Biennale; Keith Sonnier at Pace (New York), bringing together his pioneering neon sculptures with two new series of works; Tala Madani with David Kordansky Gallery (Los Angeles), coinciding with the artist´s presentation in the Whitney Biennial; and Kevin Beasly showing with Casey Kaplan(New York).
Galleries presenting dynamic two-artist and group presentations include: Esther Shipper (Berlin, main) with a group show centered around Swap (2011), an interactive performance by Roman Ondak;
Lisson Gallery (London, main) with a two-artist show by leading
international artists Anish Kapoor and Lee Ufan, coinciding with the opening of Kapoor's Descension at Brooklyn Bridge Park; and
Herald St's (London, main) group stand including Michael Dean, a Turner Prize finalist and the recent subject of a Nasher Sculpture
Center exhibition, on the eve of the artist's participation in the fifth Skulptur Projekte Münster. Joining the fair for the first time, Galeria Luisa Strina.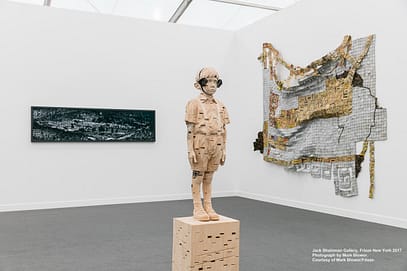 Alongside its main section, Frieze New York features three special platforms that ensure a diverse representation of artistic practices from around the globe.
Spotlight- expanding to 31 galleries with solo artist presentations and curated for the first time by Toby Kamps, reveals foundational moments in art history since 1960, and fosters new research into artists from emerging countries, as well as rarely seen work by iconic figures of the avant-garde. This year sees increased participation by younger exhibitors, alongside more established galleries, all sharing a common interest in artistic reexamination.
Frame- advised by Jacob Proctor and Fabian Schöneich, grows increasingly international this year, featuring 17 emerging galleries from 13 countries. A section for experimentation, Frame brings together solo presentations by today's most exciting new artists.
Focus- a platform that subsidizes today's strongest young galleries to showcase their programs in stands throughout the fair, will feature 28galleries from Mumbai to Rio de Janeiro.
In addition, Frieze New York Presents:
Politically Engaged Art
Resonating with themes explored across this year's international biennials, many galleries are presenting work exploring the role of art in climates of conflict – from colonial pasts to dystopian futures.
Feminist Perspectives
Many galleries have curated shows featuring women artistic from the 20th and 21st centuries, exploring pressing feminist issues and the role of women in influential movements of contemporary practice.
Generations of Influence: 20th century movements and tribal art
Building on Frieze's reputation for showcasing modern artists and encouraging the growth of art collections across eras, this year's fair features a growing presence of galleries exhibiting significant works from the 20th century alongside masters of contemporary art.
Performance and Interactive Works
Across the fair, galleries are presenting immersive projects that invite visitors to become part of the artworks themselves.
Frieze New York continues to evolve, and this year galleries are bringing presentations of greater breadth and quality than ever before, reflecting the diverse cultural interests of our audience. Following major success of 2016 – the fair continues to develop as a vital and unique platform for art and ideas.

Victoria Siddall (Director, Frieze Fairs).
FG ART & TRAVEL INTERNATIONAL
info@fg-art-lifestyle.com