PHOTO LONDON 2017
Photo London, a fresh, inovative and very professional Photography Art Fair.
Photo London 2017 will take place at Somerset House, London, from Thursday 18th May to Sunday 21st May.
With around 99 Regional and international exhibitors Photo London starts its 3rd Edition, as always with a world class Quality. Making the fair to one of the leading Photography events of the year, not only about its marvellous showcase but also about the quality of the works and exhibitors. FG.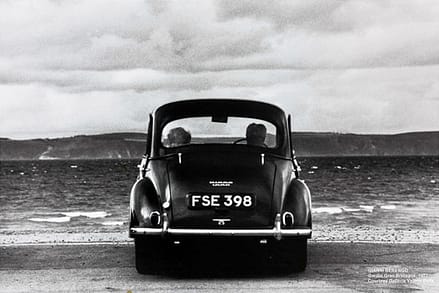 PHOTO LONDON HIGHLIGHTS
The Directors of Photo London have followed up last year's Pavilion commission from Wolfgang Tillmans by inviting the legendary photographer and filmmaker William Klein to develop a new 18-metre mural for the space, presented in association with HackelBury Fine Art.
A legendary figure in both photography and film, with a career spanning over half a century, William Klein first created and exhibited his Mural Projects in Milan in 1951. Originally conceived as large-scale architectural painted panels, in 1952 they inspired Klein's earliest experiments with photography. When first exhibited in Paris in 1953 they led directly to his invitation to work for Vogue in 1954. The rest, as they say, is history.
Photo London and Somerset House, in collaboration with Blain|Southern Gallery, presents Thresholds, a new virtual reality (VR) artwork by internationally acclaimed artist Mat Collishaw.
Using the latest VR technology, Collishaw will restage Fox Talbot's pioneering 1839 exhibition of photography. With the aid of Collishaw's careful digital reconstructions, this immersive experience will enable visitors to travel back in time to the moment when British scientist William Henry Fox Talbot first presented his photographic prints to the public in Birmingham.
Mat Collishaw is a key figure in the important generation of British artists who emerged from Goldsmith's College in the late 1980s. Fox Talbot's 1839 exhibition was the first major public exhibition of photographs, showcasing what was then the newest and most innovative of technologies in image creation. Collishaw aims to inspire a similar sense of wonderment for a present-day audience using VR, the most cutting-edge visual technology available today.
dslcollection will present a multi-dimensional exhibition. Alongside the collection's own Virtual Reality museum, there will be a seminal video work from the collection created by Chen Chieh Jen, one of the most influential figures in the development of Taiwanese conceptual art. Chieh Jen's video work takes its inspiration from Georges Bataille's famous 1905 photograph of a lingchi execution. As a counterpart to the historical references in Chen's video, dslcollection presents the first Virtual Reality platform for a private art collection. As a pioneer in the use of technology in the art world, dslcollection's latest project allows the public to experience the collection via VR with participants able to navigate themselves around the virtual museum and interact with the artworks directly.
Isaac Julien is an internationally acclaimed artist and filmmaker. One of the objectives of his practice is to break down the barriers that exist between different artistic disciplines, drawing from and commenting on film, dance, photography, music, theatre, painting and sculpture, and uniting them to construct a powerfully visual narrative. The exhibition he has made for Photo London presents a body of work that revisits his seminal film Looking for Langston (1989), which is regarded as a cinematic landmark in the exploration of desire and the reciprocity of the gaze.
Korean artists Bae Bien-U and Noh Suntag will present a special installation of two individual 25-metre long murals as part of the Photo London Pavilion Commissions titled Dual Reality.
Bien-U Bae has achieved international acclaim exhibiting widely throughout Korea, Europe and America where his works can also be found in museums as well as private collections thus making him as one of Korea's leading representatives of art-photography.
Noh Suntag produces photographs that detail real-life situations directly related to the division of Korea. For several years he has been teaching at the Seoul Institute of Arts where his lectures enthral, influence and motivate his students of photography. Noh uses his photography to explore how images related to the division ideology are distributed and consumed in Korean society.
Juergen Teller will present a special exhibition for Photo London in the Great Arch Hall of Somerset House. Teller has always been adept at navigating the art world and commercial photography, shooting high profile fashion campaigns for brands such as Celine, Louis Vuitton, Marc Jacobs, and Vivienne Westwood. He has published forty-one artist books and exhibition catalogues since 1996, which blur the boundaries between his commissioned and personal work. He currently holds a Professorship of Photography at the Akademie der Bildenden Künste Nürnberg.
To mark the 70th anniversary of Magnum Photos, Martin Parr and his fellow photographer David Hurn have curated a selection of works from the collection that Hurn has compiled over six decades through a series of swaps with fellow photographers. Key images from Hurn's distinguished career are juxtaposed with prints from the photographers with whom he has swapped works including Bill Brandt, Bruce Davidson, Sergio Larrain and Diana Markosian.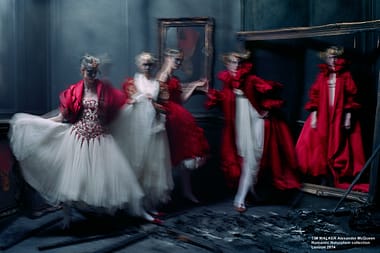 Photo London was created to give London an international photography event befitting the city's status as a global cultural capital. Now in its third edition, Photo London has established itself as a world-class photography fair and as a catalyst for London's dynamic photography community. From the capital's major museums, to its auction houses, galleries large and small, right into the burgeoning creative communities in the East End and South London, Photo London harnesses the city's outstanding creative talent and brings together the world's leading photographers, curators, exhibitors, dealers and the public to celebrate photography, the medium of our time.
Along with the selection of the world's leading galleries showing at the Fair, Photo London presents the Discovery section for the most exciting emerging galleries and artists; there is an original Public Programme bringing together special exhibitions, installations, a Talks Programme curated by William A. Ewing, renowned curator and writer, former Director of the Musée de l'Elysée, and former Director of Exhibitions at the International Center of Photography, New York. Each edition of the Fair also sees a number of Awards announced, headlined by the Photo London Master of Photography, Photo London Artproof Award and the Magnum Photos Graduate Photographers Award. Hosted awards include the Kraszna-Krausz Book Awards and the MACK First Book Award. Beyond the Fair, Photo London regularly hosts Pre-Fair Talks and related events engaging with the craft, market and knowledge of photography.
Photo London is a place to encounter the most innovative emerging artists, new work by established masters and rare vintage pieces, and as such is guided by a Curatorial Comitee comprised of some the field's most esteemed curators, critics and museum directors.
Photo London is set amongst the spectacular neo-classical architecture of Somerset House, on the banks of the River Thames. From its 18th century origins, Somerset House has been a centre for debate and discussion – an intellectual powerhouse for the nation. It is claimed that it was here in 1839 that Sir John Herschel first coined the term 'photography', making it a fitting location for Photo London.
For Photo London 2017, more of Somerset House's spaces will be opened up than ever before, bringing four floors of world-class photography to all corners of the site on an unprecedented scale.
Since its opening in 2000, Somerset House has built up a diverse and dynamic public programme of contemporary arts and culture, it is also home to a large community of creative businesses, artists and makers, including Somerset House Studios. A home to possibly the largest creative community in London, residents include 100 organisations from the arts and creative industries including Courtauld Gallery and Institute, King's College London Cultural Institute and Sorrell Foundation, plus others ranging from advertising, branding, PR agencies and film production, to social enterprise and business support organisations. One of the city's most spectacular and well-loved spaces, it is a place where art and culture is imagined, made and experienced by 3.4 million visitors every year.
Somerset House is located at Strand, London, WC2R 1LA. It can be reached by all modes of public transport and the closest tube stations are Temple, Covent Garden, Embankment and Charing Cross.
PHOTO LONDON. A must to be attend Event.
FG ART & TRAVEL INTERNATIONAL