RÉVÉLATIONS biennal Paris 2023
CELEBRATING 10 YEARS OF FINE CRAFT CREATION
The international fine crafts and creation biennial, organized by Ateliers d'Art de France, is coming back in the unique setting of the Grand Palais Éphémère for its 6th edition. The unmissable event for the contemporary creation sector since 2013 will welcome 350 creators – regular exhibitors and young talents – coming from 29 countries to the heart of Paris, facing the Eiffel Tower, for its 10th anniversary.
Material artists, art manufactories, galleries, designers, foundations, institutions: the international sector in all its diversity will be investing the Grand Palais Éphémère once again for 5 days, illustrating the creative vitality of fine craft professions, after a commented upon 2022 edition. Featuring new creators and hitherto unseen countries such as Armenia, Egypt, Saint Barthélemy, Denmark, Lebanon, Rwanda or Ecuador, this edition will be a rich discovery of fine craft professions from the entire world.
This 2023 edition will give pride of place to Quebec, nation of honor. Jointly supported by the Conseil des métiers d'art du Québec and the Maison des métiers d'art de Québec, with support from the government of Quebec and the Quebec Government Delegation in Paris, this participation will be the opportunity to exhibit exceptional pieces by 34 Quebecois and First Nations creators. A cycle of conferences as well as screenings of films about the Quebecois creation sector and its current challenges will also be at the heart of the biennial's programme.
Since 2013, the international exhibition Le Banquet, backbone and true DNA of the biennial, has been unveiling an exclusive selection of spectacular pieces from 10 regions of the world. At the heart of the ethereal and sleek signature scenography by Adrien Gardère, unique creations from China, Egypt, Ecuador, Europe, France, Portugal, Quebec First Nations, Quebec, Rwanda and Ukraine will be the source of dialogues and exchanges around materials and skills from around the world.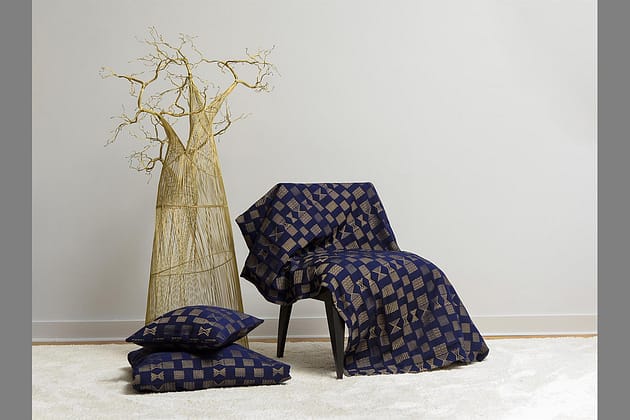 This year, art lovers and collectors, as well as professionals looking for new trends and surprises such as architects, decorators, artistic directors and project managers will discover the creations of cabinetmaker Thierry Hengsen, artist glassmaker Jonathan Ausseresse as well Quebecois ceramicists Pascale Girardin and Laurent Craste. Regular exhibitors and material artists who were discovered on the biennial's previous editions will also be there: Marie Barthès and her work on leather, Clémentine Brandibas who combines embroidery and marquetry work, Chilean sculptor Adrien Canitrot, Senegalese textile creator Aïssa Dione or Eri Maeda's unique glassmaking skills.
AN AERIAL PIECE TO BE ADMIRED EXCLUSIVELY AT RÉVÉLATIONS
Each edition of Révélations unveils an exceptional work showcased at the event as the emblem of its visual identity. This piece embodies the notions of mastery of one's craft, transformation of high-quality materials, and the universality of craftsmanship.
For this 10th anniversary of the biennial, discover "Columbidae", the work of London-based Japanese paper sculptor Kuniko Maeda, who was selected to represent this 6th edition.
Combining paper, acrylic paint and Kakishibu (Japanese lacquer), Kuniko Maeda creates elegant and aerial forms from scratch, bringing a surprising palette of colours to her artworks. She imagines, draws and then cuts out her pieces to finally suspend them with transparent threads to give them life, and let them float.
The public will discover this signature piece in the heart of the Grand Palais Ephémère during the 5 days of the event.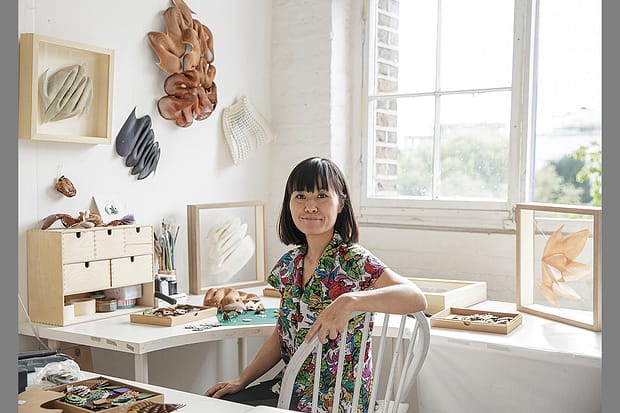 BETWEEN TRADITIONAL JAPANESE ART

AND TECHNOLOGICAL INNOVATION
She draws her inspiration from everyday objects and materials that are often neglected, which she transforms into works of art. The plumage of the urban birds offers her the possibility of poetic exploration to rediscover the beauty of their colours, to sublimate their texture and their lightness through fluid and subtle pieces. When the light passes through the Columbidae sculpture in its glass frame, it achieves unprecedented effects, as if it were weightless, transparent and floating within the frame.
SUBLIMATING MATTER AND WORKING

TOWARDS ITS SUSTAINABILITY
Fascinated by repetitive patterns, the incorporation of complex technical motifs and sequences is an integral part of her creative process. Sustainability is at the heart of her work: craft techniques that increase the durability and longevity of materials are strongly linked to Japanese culture's philosophy and appreciation of nature, and have become the main focus of her work. Following an instinctive process, Kuniko Maeda's materials take shape through experimentation based on her 3D drawings and sketches. By exploring the possibility of materials and their unique properties, she allows them to speak and embrace the natural abstraction formed.
QUEBEC, NATION OF HONOUR
Each edition highlights contemporary creation from one region in the world. In 2023, Quebec will be unveiling the best of their creation, jointly supported by the Conseil des métiers d'art du Québec and the Maison des métiers d'art de Québec, with the support of the government of Quebec and the Quebec Government Delegation in Paris.
At the Grand Palais Éphémère, 34 creators will be illustrating the diversity of Quebecois craftsmanship, combining works on glass and textile, metal and stone, exploring the properties of wood, paper and ceramics, for a selection of exceptional pieces. Visitors will be discovering Susan Edgerley's installations alongside Laurent Craste's porcelain sculptures, creations exploring myths by Ingrid Syage Tremblay and MC Snow, as well as Loïc Bard's furniture or Mylène Michaud's knitted fabric recreating satellite images.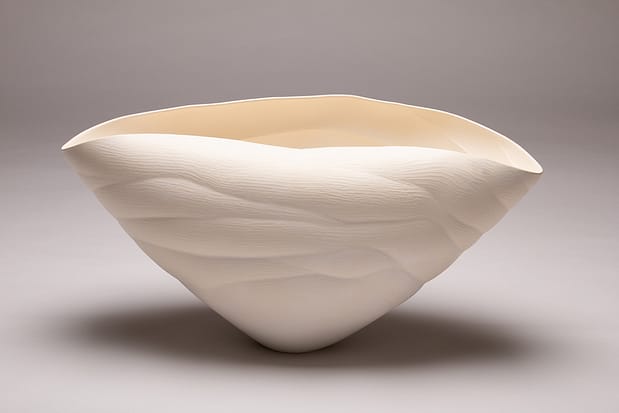 The Quebecois proposition highlights the evolution of the practice of First Nations artists, for whom the difference between fine crafts and visual arts is much smoother, if not nonexistent. The international exhibition Le Banquet gives carte blanche to curator Mike Patten to celebrate the exceptional artisanship of Quebecois First Nations artists. Long associated with the crafting of common objects related to a domestic, social or cultural function, traditional autochthonous art now blossoms in several fields and keeps on evolving to propose a diversity of unique practices and a fusion of artistic genres.


It is through some mysterious alchemy that Quebec artisans breathe life into their creations, bridging the divide between the conscious and the unconscious, revealing infinite imaginary landscapes with the power to captivate and enchant us. They skillfully capture the ever-changing and ephemeral, releasing and transposing the images from within through the sheer force of their talent and intention. Quebec has long been poised half-way between Anglo-Saxon "arts and crafts" and Franco-European traditions and artisanship. Today, they are at the forefront of a rich and diverse art, in which they have clearly articulated their unique identity and authenticity.
THE INTERNATIONAL EXHIBITION

L

E BANQUET
The international exhibition Le Banquet is back to unveil a hundred spectacular works. Curators from all around the world will unveil the most daring expressions of fine craft from 10 countries and regions of the world, with previously unseen creative territories such as Egypt, Ecuador and Rwanda. Works from Quebec, from the First Nations, but also from Ukraine, Europe, and China… are to be discovered.
A European tour will be followed by a discovery of French creations with a specific vision, by an essential fine craft institution, completed by a dive into skills from Portugal, China, Egypt, Rwanda, Ukraine, Ecuador... As this edition's nation of honour, Quebec will present two selections: one featuring Quebecois creators and the other First Nations material artists. At the heart of the sleek scenography, each area of Le Banquet is supported by a reference institution and unveils exclusive and contemporary looks by nearly 70 craftspeople, material artists, designers and manufactures on ancient or ultra- modern techniques in order to fully incorporate fine craft professions into tomorrow's cultural and economic dynamic.
Over 100 exclusive pieces and installations are to be discovered at the Grand Palais Éphémère. A performance of colors, materials, skills and artistic universes from all around the world..
CHINA
(Beijing Contemporary Art Foundation)
Le Banquet China explores the way fine craft professions happen to be a laboratory for ideas, materials and shapes for the world of fashion within Chinese culture. The selection presents creations resulting from collaborations between 10 Chinese art manufactories with unique local skills (such as bamboo weaving, the work with spun silver, but also traditional motifs from traditional Chinese communities) with designers and artistic directors from world-class prestigious companies settled in China.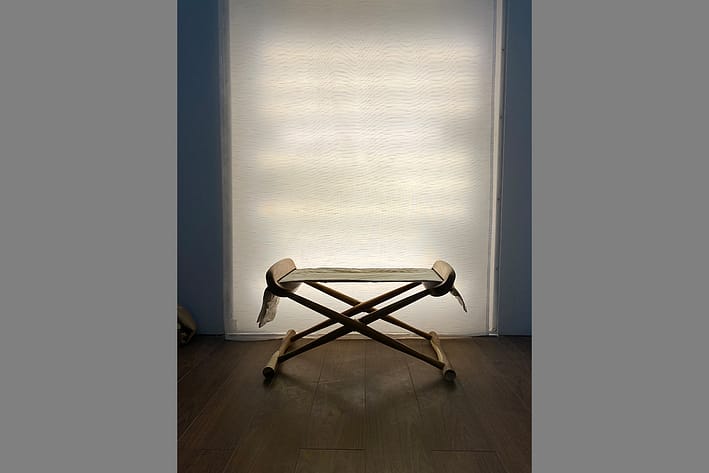 EGYPT
(Micro, Small, and Medium Enterprise Development Agency of Egypt & Egyptian

Handicrafts Export Council)
The Egyptian selection is resolutely oriented towards the exchange between fine crafts and design, as well as between traditional materials and formal innovations. It includes pieces of furniture made from papyrus plywood, a textile work inspired by ancient tents made using the Khayamiya technique, and a large-scale installation made from recycled glass.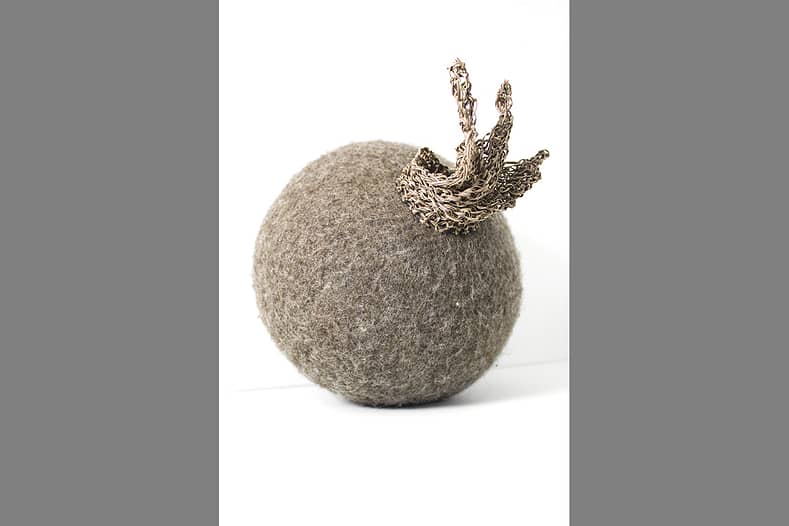 ECUADOR
(Centro interameri

ca

no de Artes Populares)
For their first participation to Révélations, Ecuador unveils a plural collection impregnated with the country's biodiversity to reconnect with nature. For the first time in France, felt creations woven with plant fibers, a metal flora or ceramics painted with their hair by Kichwa craftswomen, illustrating the richness of the country's intangible and creative heritage.
EUROPE
(World Crafts Counci

l Europe)
As part of the European Year of Skills 2023, the WCCE highlights the skills of European craftspeople, paying tribute to the evolution of artisanal techniques, from traditional to contemporary. Ceramic, metal, glass, basketwork or plastic waste recycling, the creations of 9 material artists representing the variety of the materials, techniques and vision of European creativity are to be discovered.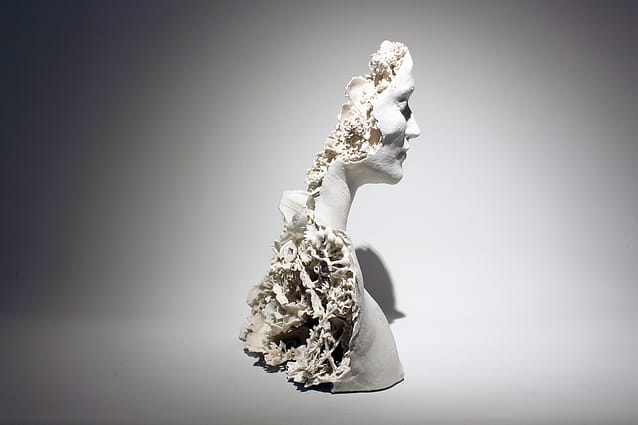 THE BIENNIAL: REVEALING YOUNG TALENTS
Encouraging encounters between artists, students, young creators, informed audience and industry professionals, the biennial is a springboard and a catalyst for young creation and aims to reveal tomorrow's talents. That is why Révélations is the best event for many institutions to present their award winners and the material artists they support.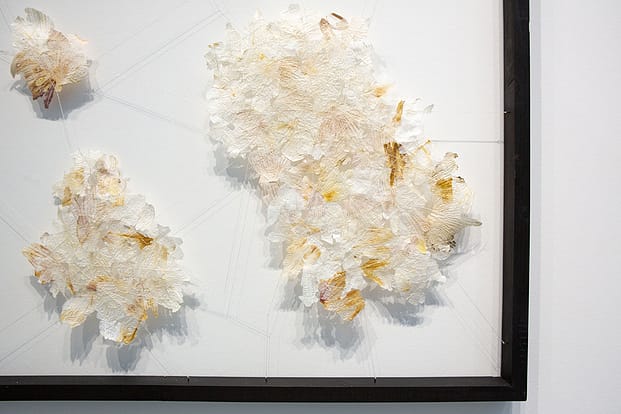 PRIX DE LA JEUNE CRÉATION MÉTIERS D'ART
(YOUNG CREATIVE CRAFTSWORKER'S AWARD)
Talent scout since 1960, the Prix de la Jeune Création Métiers d'Art (PJCMA) organized by Ateliers d'Art de France and meant for creators under 35, rewards a new generation of talents every year. The award winners enjoy a springboard with personalized professional mentoring and the opportunity to present their pieces in a prestigious international exhibition; they are provided with a booth at one of the federation's international exhibitions. Siqou, 2022 prizewinner, will exhibit her creations at the biennial this year. She will be joined by Tiphaine Germaneau, the 2023 prizewinner recently awarded by the jury, is exhibiting her creations.
–SIQOU (FRANCE) – Winner of the Prix de la Jeune Création
des Métiers d'Art 2022 – Ceramicis
–LE BUREAU DU DESIGN, DE LA MODE ET DES MÉTIERS D'ART (THE OFFICE OF DESIGN, FASHION AND ART PROFESSIONS)
–FONDATION CULTURE & DIVERSITÉ (CULTURE & DIVERSITY FOUNDATION)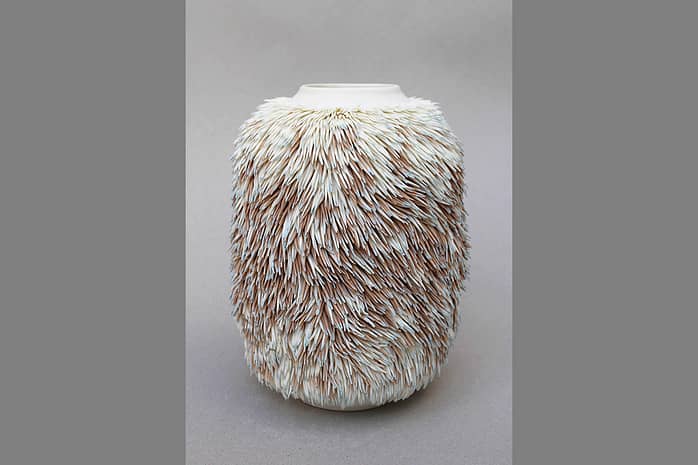 HORS LES MURS
On each new edition, Révélations' Hors les Murs programme showcases a selection of creations and installations spread out throughout various emblematic creative places in Paris. It allows visitors to extend their experience with fine craft professions outside the Grand Palais Éphémère. This year, it will bear the colors of the Nation of honour, through a selection of exhibitions by 15 women creators from Quebec and Canada in three Parisian galleries.
Révélations
For 5 days, Révélations, the international fine craft and creation biennial organized by Ateliers d'Art de France gathers 350 exhibitors in the heart of Paris. Creators, fine craft professionals, manufactures, galleries, designers, foundations, schools…coming from 29 countries to reveal unique and bold pieces with contemporary lines to nearly 39,000 visitors from around the world. The biennial promotes the values of exceptional skills, material transformation and talent discovery, represented by exclusive and original pieces made especially for this occasion.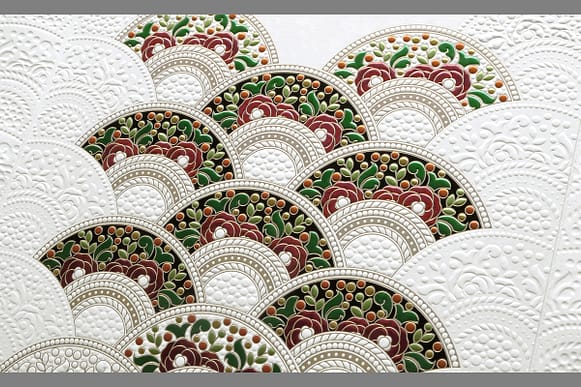 Ateliers d'Art de France
The mission of Ateliers d'Art de France is to educate about the role and place of fine crafts in our society. As the French professional fine craft federation bringing together all 16 fields of craftsmanship, it federates more than 6,000 professionals in France, from workshops to artwork manufactures. Created 150 years ago, it represents and advocates for the 281 fine craft professions in all their diversity, and helps the sector grow economically, both in France and internationally.

Ateliers d'Art de France promotes fine craft professionals and their creations by hosting trade shows and international events (like the MAISON&OBJET* show, Révélations, and the International Heritage Fair), and by running a network of six shops in Paris and around France, including EMPREINTES, the largest fine craft concept store in Europe and the first online fine craft marketplace.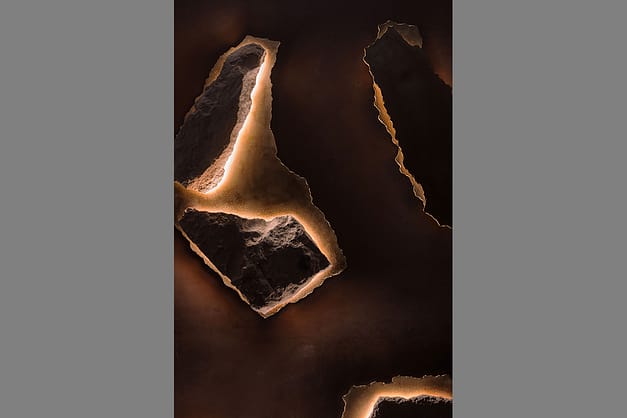 –Adrien Gardère has been in charge of the scenography since the beginning in 2013. Révélations remains in line with its openwork approach highlighting transparency and a relationship to raw
material, and presenting each exhibitor equally.
–The international exhibition Le Banquet, the true backbone of the biennial, will be back for this 6th edition with hitherto unseen territories.
–In addition, a rich program with conferences, an auction, children's workshops, guided tours, an Hors les Murs programme
RÉVÉLATIONS biennal Paris 2023
International Biennial of Crafts and Creation
7 – 11 JUNE 2023
Grand Palais Ephémère
Paris, France