The 71st Festival de Cannes
The Festival de Cannes
The world's most important and prestigious film gathering, is about to begin!

The Festival de Cannes is the world's leading motion picture event. It reflects the dual nature of film as art and industry, with a focus both on revealing new talents and on the professional meetings that take place in the context of the Marché du film.
Today a major forum for film-producing countries, Its history, selections and prizes are usually thought to date back to 1946 – the year of the first festival proper. However, the first seeds of the event were actually sown eight years earlier…
Since its first ever season in 1946, the Festival de Cannes has always celebrated the passion of cinema.
"In order to achieve this level of longevity, the Festival de Cannes has remained faithful to its founding purpose: to draw attention to and raise the profile of films, with the aim of contributing towards the development of cinema, boosting the film industry worldwide and celebrating cinema at an international level. And to this day, this profession of faith constitutes the first article of the Festival regulations."

Tierry Frémaux – Genaral Delegate
The 71st Festival de Cannes will take place from Tuesday, 8th May to Saturday, 19th May 2018. This Edition will start one day earlier than in previous years, but will run for exactly the same length of time.
"Following 2017's anniversary edition, the Festival is beginning a new period in its history," says Festival President Pierre Lescure.
"We intend to renew the principles of our organisation as much as possible, while continuing to question the cinema of our age and to be present through its upheavals."
This new schedule will allow to rebalance the two weeks of the event and to bring new energy to the proceedings.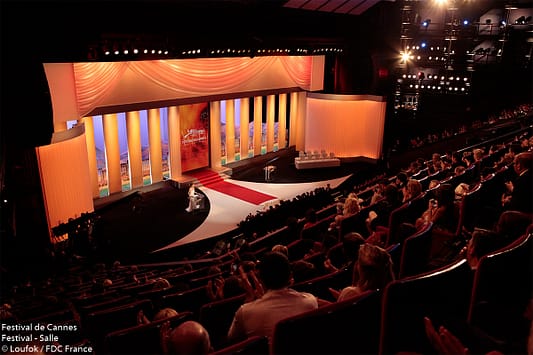 Facing a renewed Competition which presents filmmakers who will compete for the first time, the Jury of the next edition of the Festival de Cannes invites 5 women, 4 men, 7 nationalities and 5 continents under the presidency of Cate Blanchett.
The Jury will reveal his prize list on Saturday, May 19 during the Closing Ceremony.
THE JURY 2018
Cate Blanchett – President
(Australian actress, producer)
Chang Chen
(Chinese Actor)
Ava DuVernay
(American writer, director, producer)
Robert Guédiguian
(French director, writer, producer)
Khadja Nin
(Burundian songwriter, composer, singer)
Léa Seydoux
(French actress)
Kristen Stewart
(American actress)
Denis Villeneuve
(Canadian director, writer)
Andrey Zvyagintsev
(Russian director, writer)
3 DAYS IN CANNES (New in 2018)

The Festival de Cannes is launching the first ever 3 DAYS IN CANNES programme inviting everyone: Cinema lovers, enthusiasts, film buffs, collectors, diehard fans, aficionados, the curious, the greedy, gourmets, admirers, and obsessives… aged between 18 and 28., to discover the Official Selection before anyone else!
A 3-days pass giving access to a dedicated programme from the Official Selection (Competition, Out of Competition, Special Screenings, Un Certain Regard, Cannes Classics, Cinéma de la plage) and to the Palais des Festivals.
Learn more about the 71st Festival de Cannes here: