ART DUBAI 2018
Art Dubai 2018 will feature 104 galleries from 47 countries, making it the fair's most globally diverse season with a host of activities, workshops and talks for the entire family.
Held under the patronage of HH Sheikh Mohammed bin Rashid Al Maktoum, Vice President and Prime Minister of the UAE and Ruler of Dubai, and in partnership with The Abraaj Group, Art Dubai 2018 will feature a record 104 galleries from 47 countries, making the coming edition the fair's largest and mostglobally diverse to date. Alongside 77returning galleries, the fair will welcome 27 first-time exhibitors from around the world. Confirming its unique identity as a place of discovery and a meeting point for art from established centers of the international art world and emerging scenes alike, Art Dubai's Contemporary section will feature 78 galleries from 42 countries in 2018, including first-time participations from Iceland, Ethiopia and Kazakhstan.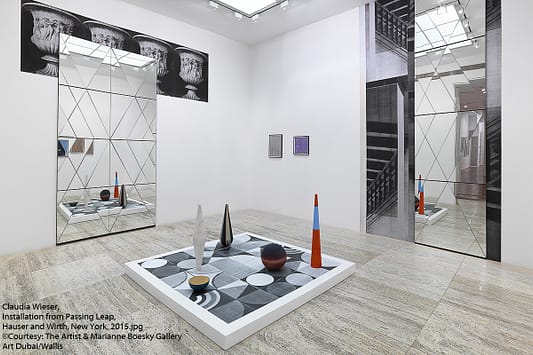 The fair's 2018 edition will also see the launch of Residents, a one-of -a-kind 4-8 week residency programme for international artists, invited to the UAE to immerse themselves in the local art scene, to create a body of work which merges their distinct artistic practice with their surroundings. The final works will be on show in the new section of the fair, presented by the artists' respective galleries.
Pablo del Val, Art Dubai's Artistic Director commented:
"With every edition, Art Dubai asserts itself as the world's most international art fair and the diversity coming through participating galleries from 47 countries is testament to this. For our 2018 edition, we will be launching Residents, a pioneering and unique platform that brings together different energies, syn ergies, geographies and artistic practices, which one doesn't usually see together in one place."
Celebrating its fifth edition in 2018, Art Dubai's Modern section remains the only commercial platform in the world to showcase museum-quality works by artists from the Middle East, Africa and South Asia.
Art Dubai's Director Myrna Ayad commented:
"It is very exciting for us to witness the growing appreciation of Modern Masters from the region, and we are pleased to be the only platform in the world to showcase these museum-quality pieces in our largest-ever Modern section,which has been the most oversubscribed edition to date. Serving as an educational plat form and theoretical framework for the works on show, Art Dubai Modern will be accompanied by our second annual Modern Symposium at the fair this year."
Art Dubai is sponsored by Julius Baer, Meraas and Piaget. The fair's 12th edition will take place March 21-24, 2018 at its home Madinat Jumeirah.