ART PARIS ART FAIR 2018 – 20 YEARS EDITION
Art Paris Art Fair celebrates its 20th anniversary
An overview of the French art scene
Switzerland Guest of Honour
2018 marks the 20th anniversary of Art Paris Art Fair. Since its foundation in 1999, the fair has established itself as Paris' leading modern and contemporary spring art event. The 2018 edition will play host to 142 galleries from 22 different countries providing an overview of European art from the post-war years to the current day, while leaving room for the new horizons of international creation from Latin America, Africa, Asia and the Middle East.
Open to all forms of artistic expression, including video art and design, Art Paris Art Fair offers a theme-based approach emphasising discovery and rediscovery. This year's guest country is Switzerland and the fair will also betaking a close look at the French art scene with a new theme developed especially for the twentieth anniversary as well as the monographic exhibitions in Solo Show and emerging artists in Promises.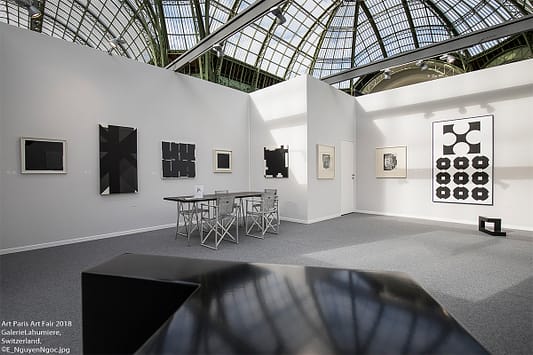 On the one hand, the 2018 selection is characterised by the arrival of new countries, such as Canada (Christopher Cutts Gallery), Portugal (Galeria Carlos Carvalho), Russia (Art 4 and K35 galleries from Moscow), Kuwait (CAP Contemporary Art Platform), the Czech Republic (Cermak Eisenkraft Gallery) and Saudi Arabia (Misk Art) and on the other hand by the influx of renowned Parisian galleries, who are either returning to the fair or participating for the very first time. In the latter case are LOEVENBRUCK, Thomas Bernard-Cortex Athletico, Backslash, Dominique Fiat, Eric Dupont, Odile Ouizeman, Alain Gutharc, Jean Brolly, Polaris and Bertrand Grimont, not forgetting Galerie Particulière, Eric Mouchet and Zlotowski.
Art Paris Art Fair is celebrating its 20th anniversary in 2018. From its beginnings in 1999 at the Carrousel du Louvre (coinciding with the FIAC), to its permanent implantation in 2006 at the Grand Palais and new spring dates, followed by its complete transformation since 2012 with a new artistic and strategic direction, Art Paris Art Fair has made a name for itself as the major springtime event for modern and contemporary art. It has an identity all of its own; not only does it promote the new horizons of international creation and explore art scenes that are rarely or never shown in Paris, it also supports French and European creation from the post-war period to the present day.
Art Paris Art Fair 2018 pays a special tribute to the French scene in a nod to its original vocation of supporting the French art market. In the capable hands of exhibition curator François Piron and to mark Art Paris Art Fair's 20th anniversary, "an overview of the French art scene" puts 20 artists under the spotlight – twenty artists who have managed to preserve their independence, or stayed on the margin of mainstream culture.
Switzerland is the 2018 edition's guest of honour. Art historian and exhibition curator Karine Tissot has been entrusted with the Switzerland Guest of Honour programme, which will endeavour to promote the wealth and diversity of the Swiss scene.
Of course we haven't forgotten the new horizons of international creation with almost 1,000 artists from 73 different countries presented by the 142 galleries that are taking part in the 2018 edition. Art Paris Art Fair continues in its commitment to discover new talents by supporting young galleries that are invited to participate in the Promises emerging art section.
The fair also encourages visitors to discover or rediscover modern, contemporary and emerging artists thanks to the Solo Show section, which this year features a record number of 36 monographic exhibitions spread throughout the fair.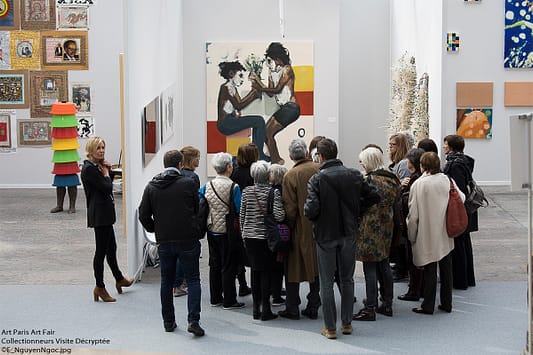 The "Springtime in Paris" VIP programme, devised for collectors and art professionals in partnership with Paris's major art institutions, bears witness to the wind of change that is blowing across Paris.
Art Paris Art Fair would like to thank everyone, the galleries, artists, collectors, art professionals, art enthusiasts and partners, who have contributed over the last 20 years to making this event such a success and guaranteeing that it truly is the place to be for modern and contemporary art every spring in Paris.
ART PARIS ART FAIR
5th april – 8th april 2018| Grand Palais. Paris France.