Basel World 2018
BASELWORLD
The Bigest and most Important Watch and Jewellery Show in the World!
Since 1917 every year during the month of March, BaselWorld takes place in the City of Basel, Switzerland.What exemplifies BaselWorld is its unique ability to group the biggest and most prestigious watch and jewelry brands in the world, emerging design talent, the finest retailers and the global press. Over and above that, Baselworld has firmly established its role as the most important platform that showcases those innovations, creations and brand new collections that set the trend and determine what will be worn and most talked about in the coming year.
From 22 to 27 March 2018, BaselWorld not only brings the world's best-known watch and jewellery brands to Basel, but also attracts trailblazers, revolutionaries, the avant-garde and artists. Located in Hall 1.1., they have an optimal showcase in the "Les Ateliers" exhibition area for independent watchmakers.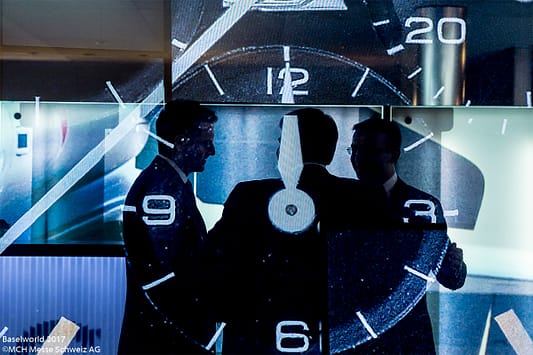 Baselworld was the first show worldwide to include a sector expressly for independent watchmakers: initially in the "Palace", and since last year in the "Les Ateliers" area, which was specially conceived for outstanding independent manufactories to present fascinating horological craftsmanship and innovative time measurement. This area is located in Hall 1.1 at Baselworld 2018. "Les Ateliers" sparked strong interest among exhibitors and visitors alike. The exhibitors reported positive contacts, while the visitors cited "Les Ateliers" as a "highlight of the show."
"With 'Les Ateliers', we at Baselworld give the art and craft of watchmaking the space and prestige it deserves. Handcrafted as one-of-a-kind pieces or fabricated in small series, the exhibitors' timepieces cater to the increasingly perceptible desire for genuine artistic craftsmanship, sophisticated mechanisms and grandiose creative achievements", explains Sylvie Ritter, Managing Director of Baselworld.
The exhibitors at "Les Ateliers" include numerous brands and watchmakers which are renowned in the industry for their expertise and innovative spirit, among them MB&F, Louis Moinet, Graham, Paul Picot, Kari Voutilainen or Ferdinand Berthoud. Arnold & Son is also part of "Les Ateliers", which COO Florian Serex strongly appreciates:
"With 'Les Ateliers', Baselworld offers independent brands, which handcraft both the movement and the rest of the timepiece, a valuable opportunity to present themselves in appropriate surroundings. We saw last year that the visitors came to 'Les Ateliers' because they were keenly aware of the unconventional products, innovations and aesthetics which are on display there. It's only natural that Arnold & Son shows it products here: we are in a suitable environment, surrounded by brands that share our values and our convictions."
Christine Hutter, Managing Director of Moritz Grossmann, is likewise pleased that
"Les Ateliers" continues this year: "The concept of 'Les Ateliers' was a smashing success last year. We are delighted to present ourselves in this area again because the exhibitors at 'Les Ateliers' are active outside the mainstream – as is our manufactory, which is characterized by high-quality craftsmanship coupled with love for details and complicated mechanisms
BaselWorld, has become one of the largest and most important Watch and Jewellery International trade show in the world and year by year lives up to its reputation as the launching pad for global trends.
Baselworld 2018
March 22 – 27, 2018
Messe Basel, Switzerland
Basel, Switzerland