FINE ARTS PARIS 2019
"An elegant, unmissable art fair"
From 13 to 17 November 2019, the eyes of all art lovers and curators will be fixed on FINE ARTS PARIS, whose third edition promises great things. The art fair, which was founded by the organizers of the Salon du Dessin, will have 46 exhibitors this year, including 10 new galleries from Paris and outside of France.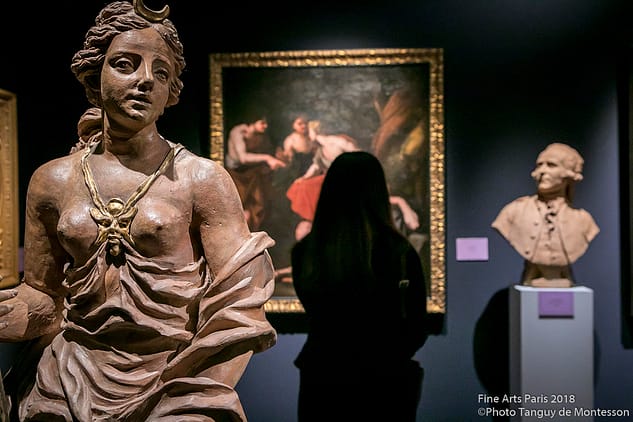 This year's FINE ARTS PARIS will also welcome new areas of expertise with the addition of the galleries and Cahn International, specialists in archaeology, and the tapestry experts from the gallery Chevalier. The Old Masters painting section will be strengthened by the arrival of Rafael Valls Ltd, Charles Beddington Ltd and G. Sarti, while Modern Art will be reinforced by the return of the Brame & Lorenceau and the addition of new dealers like M.F. Toninelli Art Moderne and Taménaga. In addition to attracting new exhibitors, FINE ARTS PARIS is also developing its cultural program. A museum – quality exhibition, to be presented at the fair by La Piscine–Musée d'Art et d'Industrie André Diligent in Roubaix, France, will sum up the spirit of the museum with a selection from its collection.
Last year, the first edition of Fine Arts Week, an off-site event held in partnership with 18 museums, was devoted to sculpture. This year, participants will be taken behind the scenes of museums during the event.
And that's not all: Italian street artist Andrea Ravo Mattoni, who uses contemporary techniques to recreate masterpieces from the past on buildings around the world, will perform at the fair on Thursday, November 14. He will paint a 3 x 2 meters canvas based on a work by Luca Giordano on the occasion of the opening of an exhibition of the artist's work at the Petit Palais.
NEW EXHIBITORS
Ten of the 46 exhibitors (there were 43 last year) at the fair's third edition will be participating for the first time. The galleries Gilgamesh (Paris)and Cahn International (Basel) specialise in archaeology; the Galerie Chevalier (Paris) in tapestries; the Galerie Sismann (Paris) in Old Master sculpture; Chiale Fine Art (Turin and Brussels) in antique art; the galleries Rafael Valls LTD (London), Charles Beddington LTD (London) and G. Sarti (Paris) in Old Master painting; and the galleries M.F. Toninelli Modern Art (Monaco) and Taménaga (Paris) in modern art. The gallery Brame & Lorenceau is returning after a year's of absence. Says Louis de Bayser, the fair's President: "The arrival of 10 new exhibitors demonstrates the appeal of this event and helps the fair to maintain a good balance in terms of diversity, quality and spirit."
GALERIE SISMAN
Claude-André Deseine (1740-1823), Buste de jeune femme, Terre cuite, France, Circa 1785- 95, H. 42 cm. Provenance : Ancienne collection Sir Robert Abdy (1896-1976) Claude-André Deseine (1740-1823), Bust of a Young Woman, Terracotta. France, circa 1785-95, H. 42 cm. Provenance: Collection of Sir Robert Abdy (1896-1976) ©GALERIE SISMAN
Among the new exhibitors, the Galerie TAMÉNAGA, founded 50 years ago in Tokyo, will present works by Dufy, Bonnard, Chagall and Buffet. Known as one of the best sources for modern art, the gallery will show this remarkable watercolour by Raoul Dufy, inspired by the famous Bal du Moulin de la Galette, painted by Renoir in 1876. Dufy sets the scene 70 years later. Interestingly, Renoir painted this work in his studio at 12, rue Cortot in Montmartre, the same address where Dufy painted his. It is now the home of the Musée de Montmartre, one of Fine Arts Week's partner institutions. A few months after this study's completion, Maurice Denis said that it was on the same level as Renoir's painting. Dufy was not the only one to take up the theme of Renoir's Impressionist masterpiece, but he created a highly personal interpretation, transcribing the lighting effects and joyous spirit while using his own pictorial technique.
At this intimate fair, which invites dealers who have strong personal tastes, visitors will discover a finely honed selection of quality works. One example is a masterpiece by the artist Henri Michel-Lévy depicting an auction at the Hôtel Drouot, to be shown by TALABARDON & GAUTIER. Michel-Lévy, a friend of both Degas and Monet, was also a remarkable collector of 18th-century works and was more than familiar with auction houses. Curiously, the picturesque world of auctions did not tempt many artists, which makes this imposing painting one of the best representations of the lively spirit that reigned at auction houses in the second half of the 19th century. The Galerie CHARVET will present a collection of works on the theme of museum interiors and visits to private collections, a nod to Fine Arts Week. Here the Italian artist Giovanni Giani brings us into the Royal Armory in Turin, home to an important collection in his hometown.
FABIENNE FIACRE will present an eclectic selection of small-format works with a decorative aesthetic, including many object-paintings in which the artist expresses an intimate side of himself. André Devambez called these small formats, which guaranteed his success during his lifetime, "touts-petits". The Galerie CHAPTAL has chosen a terracotta by Alexander Munro, a British sculptor who was close to Lewis Carroll, with a portrait of Pre-Raphaelite painter John Everett Millais as a bat.
Eugène Delacroix is one of the many illustrious figures whose works can be found at FINE ARTS PARIS. DE BAYSER will show this oil on canvas depicting a soldier of the Greek Army, which was fighting the Turks at the time of the war of independence. Nourished by the ideas of the French Revolution, the Greek uprising against the Ottoman Empire began in 1821. Delacroix supported their cause with several paintings that attracted a great deal of attention.
DIVERSITY
FINE ARTS PARIS, a purveyor of art on a human scale, is a major event in the world of the fine arts, which it presents in all its diversity in the realms of painting, drawing and sculpture. This Head of a Lioness with piercing eyes, by Georges-Lucien Guyot, to be shown by XAVIER EECKHOUT, might be displayed near a delicate pastel by Antonio Mancini on the stand of the London gallery CALLISTO. A friend of Degas and Manet, Mancini was considered the greatest living painter by John Singer Sargent.
LES ENLUMINURES gallery will present a Book of Hours dating from 1420, while Galerie ORSAY PARIS will show a portrait painted by Graham Sutherland, one of the leading masters of modern English neo-Romantic painting. In the 1950s, he made portraits of, among others, Somerset Maugham, Winston Churchill, the Queen Mother, Elie de Rothschild and Pierre Schlumberger. Galerie ORSAY PARIS will show his portrait of Árpád Plesch, a lawyer and businessman who was Giovanni Agnelli's mentor.
THE DYNAMISM OF THE OLD MASTERS
Old Master paintings, in the spotlight at FINE ARTS PARIS, will be presented by leading specialists in the field. One of them, JACQUES LEEGENHOEK, will show a work by Sophie Chéradame, a student of David whose promising career was cut short by an untimely death. Portraits figured large in her work, and many of them can be found in French museums. Two are in the Hermitage Museum in St. Petersburg, a souvenir of her stay in Russia. Her work, once forgotten, is being gradually rediscovered as paintings arrive on the market. In her time, Chéradame's works – exhibited alongside those of Jacques-Louis David, Pierre Guérin, Théodore Géricault and Antoine Gros – were much appreciated by the critics.
Claude-Marie Dubufe, another student of David, was a popular portraitist during the period between the Restoration and the July Monarchy. He often painted elegant women in various states of undress lying in bed absorbed in sentimental thoughts, developing a modern erotic iconography that met with huge success. Sleep, painted in 1831 and presented by Galerie MICHEL DESCOURS, is a perfect example.
The Galerie CANESSO, specialist in paintings executed during the Renaissance and the Baroque period by Italian or foreign artists who lived in Italy, will show a piece by Mattia Preti, an important 17th-century Italian artist trained in Rome who was familiar with the works of the great masters of Baroque art and who developed a style influenced by Caravaggio.
Others specialists in Old Master paintings, F. BAULME Fine Arts and the Madrid-based JOSÉ DE LA MANO, will be joined by G. SARTI and the London galleries CHARLES BEDDINGTON and RAFAEL VALLS. The last three are exhibiting for the first time at FINE ARTS PARIS.
SPOTLIGHT ON SCULPTURE
FINE ARTS PARIS has featured the art of sculpture ever since its foundation and has been presented both by specialist dealers and in the company of paintings and drawings. The galleries TREBOSC + VAN LELYVELD, MALAQUAIS, XAVIER EECKHOUT and UNIVERS DU BRONZE are references in the field. TREBOSC + VAN LELYVELD will show a marble by Gustave-Frédéric Michel; a plaster version of the same work belongs to La Piscine–Musée d'Art et d'Industrie André Diligent in Roubaix.
A BREATH OF FRESH AIR
The London gallery RAFAEL VALLS, which is participating in FINE ARTS PARIS for the first time, will show a small jewel: an oil painting on cardboard by Joaquín Sorolla Y Bastida, the famous Catalan painter. Sorolla was fascinated by the quality of light in the work of the Impressionists, but he also admired the work of the Old Masters. After painting a number of pieces with social content, he turned to the seaside as an ideal subject in his search for something less serious to paint. This work, made around 1904, exhibits his brilliant mastery of the use of white paint, seen in many of his works.
ANDRES MATTONI
LIVE PERFORMANCE AT THE FINE ART PARIS
Caravaggio, Vélazquez, de La Tour, Rubens, Van Eyck and Delacroix are sources of inspiration for the Swiss-Italian street artist Andrea Ravo Mattoni, who expresses his passion for classical art by reproducing great masterpieces of the past on urban walls with spray cans, making their art accessible to all.
"The rediscovery of classicism through the contemporary" is the goal of the ambitious project the artist has been developing since 2016. In 2018, he collaborated with the Louvre and the University of Nanterre and was involved in the legendary Le Mur street-art project on Rue Oberkampf in Paris. Continuing in this vein, he will reproduce a work by Luca Giordano, the subject of an exhibition that will open the same day at the Petit Palais in Paris, in a live performance on Thursday, 14 November.
Andrea Mattoni was born in Varese in 1981 into a family of artists. His father, Carlo, is a conceptual-behavioural artist; his Uncle Alberto is an illustrator famous for the character Lillibeth; and his grandfather Giovanni Italo, is a painter and author of some of the most important series of Liebig and Lavazza figurines. Nurtured by this stimulating entourage, Mattoni began drawing at an early age and became a graffiti artist, aka RAVO, in 1995. After enrolling at the Academy of Fine Arts in Brera, he took to painting in oil and acrylic on canvas, and from then on worked out his paintings on canvas before transferring them to public spaces.
During its annual Urban Art auction in February 2020, Artcurial, a partner of the fair and a pioneer in this specialty, will auction the work created on-site by Andrea Ravo Mattoni at FINE ARTS PARIS. Profits will be donated to the fund for the restoration of Paul Cornet's plaster, Le Penseur, which belongs to the collection of La Piscine Museum in Roubaix, France, and will be exhibited at the fair. Between the end of FINE ARTS PARIS and the Artcurial auction, Andrea Ravo Mattoni's work will be on show in Paris's Marais at Sinner, the Evok group's brand-new hotel, designed by Tristan Auer and characterized by its relaxed luxury and arty, festive atmosphere.
LA PISCINE
Musée d'Art et d'Industrie André-Diligent in Roubaix,
La Piscine–Musée d'Art et d'Industrie André-Diligent in Roubaix, France, is a true success story: a municipal building typical of the 1920s has been converted into a museum that is praised far beyond the borders of France.
Founded in 1835 by local manufacturers, the Roubaix museum made a splash on the national cultural scene when it moved in 2001 to an unusual site: a former swimming pool in the Art Deco style. In 2018, to make room for important works kept in its reserves, La Piscine was expanded by architect Jean-Paul Philippon, who had designed the original transformation in 2001.
La Piscine's collection and programming stand out in the French museum landscape. For its exhibition at Fine Arts Paris, the museum will demonstrate its originality with a group of works that will include ceramics, sculptures, textiles, fashion and paintings. The museum's setting and history, closely linked to the industrial heritage of Roubaix, will also be addressed by recent images and archival documents.
With the support of La Piscine's Friends Society and Circle of Patrons, the museum's team will welcome visitors to the show with iconic works by such artists as Camille Claudel, Joseph Bernard, Marc Chagall, Jean Lurçat, Albert Braïtou-Sala, Jean-René Gauguin, Christian Astuguevieille and Marc Alberghina. The centre of the space will be occupied by an unusual, never-before-exhibited plaster by Paul Cornet (1892-1977), a sort of futuristic reinterpretation of Rodin's The Thinker.
*La Piscine is seeking donors for its restoration.
FINE ARTS WEEK PARIS
Last year, 18 museums participated in the first, highly successful Fine Arts Week, which was devoted to sculpture. This year's off-site event, held in partnership with various art institutions, will offer a series of special visits to major exhibitions and little-known places.
Like Drawing Week, which over the past 20 years has become an important forum for the art world, Fine Arts Week strives to create synergy between museums, the art market, researchers, art lovers and collectors.