Frieze Art Fair New York 2018
Frieze New York will take place in Randall's Island Park from May 4 – 6, 2018, with Preview Days on May 2 and 3. Featuring more than 190 galleries from 30 countries, Frieze New York 2018 showcases an extraordinary cross-section of work by international artists, from newly discovered talents to the most influential figures of the 20th century. Introducing new programs, curators and a fresh layout for its seventh edition, Frieze New York is supported by global lead partner Deutsche Bank, continuing a shared commitment to discovery and artistic excellence.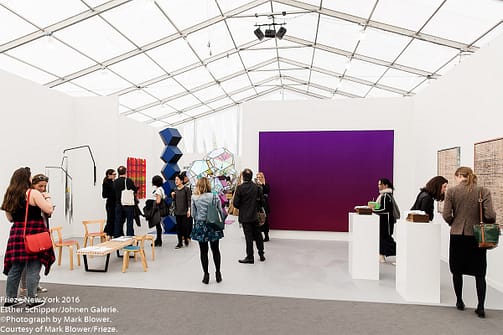 Led by Victoria Siddall (Director, Frieze Fairs) and newly appointed Artistic Director Loring Randolph, Frieze New York builds on its commitment to innovation and showcasing boundary-pushing practice, with new programs led by international curators from major institutions. For the first time, the New York edition will feature Live , a platform for performances, installations and interactive projects throughout the fair, curated by Adrienne Edwards (Performa, New York / Walker Art Center, Minneapolis). Edwards will additionally curate the Frieze Artist Award – an international open call for an emerging artist to realize a site-specific work – which launches at Frieze New York 2018, supported by the LUMA Foundation.
The fair will feature its first-ever themed section, curated by Matthew Higgs (White Columns, New York), paying homage to Hudson's Feature Inc. gallery in New York, which supported the careers of many pioneering artists in the 1980s and '90s. Curators Andrew Bonacina (The Hepworth, Wakefield) and Laura McLean-Ferris (Swiss Institute, New York) – who takes over from Ruba Katrib (MoMA PS1, New York) – will advise ambitious solo shows by 18 emerging galleries in Frame ; and Toby Kamps (Blaffer Art Museum, University of Houston) returns as curator of Spotlight, a section dedicated to 20th-century pioneers which expands to 35 presentations this year
The seventh edition will offer a heightened visitor experience with a new layout and design by Universal Design Studio. On arrival, visitors will notice relocated entrances creating an enhanced journey through the fair.
Victoria Siddall, Director of Frieze Fairs, said,
"This year's exhibitor list combines the strongest galleries in the world with the most interesting young galleries from New York and beyond, so Frieze New York promises a diverse range of work from the blue-chip to new discoveries. Alongside this, the contributions of leading curators including Adrienne Edwards and Matthew Higgs make this an unmissable event. Loring Randolph, the new Artistic Director of the fair, and I have worked closely with Universal Design Studio on a new look for the fair and this will make the seventh edition a fresh and exciting experience. Following record museum and collector attendance last year, we look forward to building on the fair's reputation as a vital international and commercial hub."
Loring Randolph, Artistic Director for the Americas added,
"FriezeNew York 2018 is full of innovation, from a new layout to new content and exhibitors, including an exceptional number of galleries from New York and the West Coast. One of the unique advantages that we have as a fair is the continued practice of constructing our own environment. This affords us the opportunity to try new architectures. In my experience, artists and gallerists regularly redesign their gallery spaces as part of the exhibition process.It is with this spirit in mind that we hope the new fair layout will be fresh and exciting, and in support of visitors, artists and galleries alike. In addition to this year's exceptional gallery presentations, our expanded programming brings a new dimension to the stimulating experience of the fair – including Adrienne Edwards's new Live program, themed around street performance and protest marches, and our Talks program led by Bard College's Tom Eccles and Amy Zion, focusing on the power of the written word."