Many Premieres, International Growth and Good Business
INHORGENTA MUNICH – held from February 24 to 27, 2023 in Munich was a great success. Europe's leading platform for watches, jewelry and gemstones impressively reaffirmed its position with significant increases in exhibitor and above all visitor numbers.
With around 800 exhibitors and a high level of internationality, INHORGENTA MUNICH reaffirms its position as Europe's leading trade fair for jewelry, watches and gemstones. Italian and French joint pavilions made their debut, and there ware many new international exhibitors present.

"Again, the participation in INHORGENTA MUNICH is growing to become more international than ever. So far, around 800 exhibitors have registered, almost half of which—48 percent—come from abroad,"
Maritta Lepp, INHORGENTA's Exhibition Director. In 2022,
Italian jewelry companies Damiani, Cielo Venezia 1270 and the World Diamond Group, for example, took part for the first time. From Germany, Christ had its premiere with the brands Esprit, Jette Joop, Guido Maria Kretschmer and Favs. Returning from Switzerland after a long break was the luxury watch brand Raymond Weil.
New international joint pavilions
Organized by the industry association Francéclat, the French joint pavilion gathered the watch brands YEMA, Pierre Lannier, BRISTON, Lip, Beaubleu, Montres Michel Herbelin and March LA.B in Hall A1. From Italy, Misis, Nuova Jolly Oreficerie, Graziella Group, Vintage Bijoux SAS di Petrone Cosmo, Sara Preziosi, F.LLI Moraglione, Boccadamo, Gieffe, Magalini Franco, GIA, Fab Gobbetti, Fonsi and Mario Porzio presented themselves at a joint pavilion in Hall B2 'Elegance & Lifestyle'.
Many watch brands present
The Watch Boutique in Hall A1 hosted presentations by MeisterSinger, Mühle-Glashütte, SEIKO, Tutima Glashütte, Michel Herbelin, Alexander Shorokhoff and Raymond Weil. The Salon Suisse enjoyed an increasing demand, with the brands Al-Time, Aerowatch, Continental and Elka Watch participating for the first time—while Belchengruppe and Jean Marcel were among the repeat exhibitors. Other big-name brands in the watch hall included Citizen, Festina, Garmin, Junghans, Liu Jo, Mondaine Watch, Montres Edox as well as Nordgreen. Returning to the show after a break was also Casio and Staudt Chronometrie.
Well booked: jewelry, gemstones and technology
The demand for Hall B1 'Fine Jewelry' even exceeded the space available; Gellner, Hans D. Krieger, Meister, Marco Bicego and Pasquale Bruni are now among the exhibitors. In Hall B2 'Elegance & Lifestyle', exhibitors will include Thomas Sabo, Argenterie Giovanni Raspini, Coeur de Lion, Bernd Wolf, Bering. Registered exhibitors in the 'Contemporary Design & Vision' area in Hall C2 include Brigitte Adolph Jewellery Design, Eva Strepp, MANU Schmuckdesign and Oliver Schmidt. The gemstone Hall C1 'Carat', for example, will feature Abouchar, A. Ruppenthal, Groh + Ripp, Ph. Hahn Söhne as well as Karl Faller—and in Hall A2 for 'Technology, Packaging & Bijoux' there will be Agosi, Dahlinger, Beco, Boley and Flume.
The Visitors came from 90 countries. For comparison, the figures from 2022 were: 15,664 visitors, 81 countries, 39 percent from abroad. After Germany, the top ten visitor countries in 2023 were: Austria, Switzerland, the Netherlands, Italy, Spain, Great Britain and Ireland, Belgium, Czech Republic, Greece and Poland.
As regards the exhibitors: 802 companies from 38 countries showcased, an increase by 10 percent (2022: 732 / 32). 49 percent came from abroad—again the highest internationality to date (2022: 45%).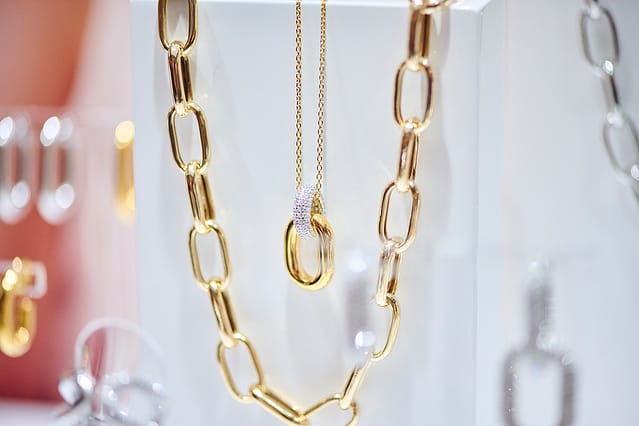 The top ten exhibitor countries in 2023 after Germany were: Italy, Belgium, India, Austria, Poland, France, Hong Kong/China, Switzerland, Spain and the Netherlands.
Successful premieres included Damiani, World Diamond Group, Cielo Venezia 1270 and Carrera y Carrera, and from Germany NXT LVL Brands (Christ) with the brands Esprit, Jette Joop, Guido Maria Kretschmer and Favs. Two joint stands from Italy (Elegance & Lifestyle) and France (watches) also made their debut. Salon Suisse (watches) doubled its involvement—and all relevant wedding ring manufacturers were represented again.
Top experts and trending topics on stage
"Jean-Claude Biver (former top manager at Hublot) in an interview with watch expert Gisbert Brunner.
"The evolution of the family jeweler—new concepts for a successful future.
"A window into sustainability and circular economy in jewelry and watches.
"Building a more responsible diamond supply chain: challenges and opportunities.
"Gemmology update: news from the world of gemstones.
"Plagiarized luxury watches. Insight into the current state and different qualities of the counterfeits.
"Alexa, design me a ring: how artificial intelligence can disrupt the jewelry industry.
Top trade visitors met glamorous brands
"Our brands attracted a lot of interest—the premiere was exceedingly successful," said Volkert Schmitz, Managing Director of NXT LVL Brands (Christ).
Jérôme Favier, CEO of Damiani says: "Consumers from German-speaking countries already know us from their travels or from digital channels. The reason why we are at INHORGENTA is that we now also want to reach them through retail trade and thus build a trusting relationship."
Marc Czemper, Division Manager WATCH Division of Casio Europe explains: "INHORGENTA 2023 was great, by far exceeding our expectations. The many personal discussions with our trade partners from Germany, Austria and other European countries were especially invaluable."
Nicole Ripp of Groh & Ripp emphasizes: "For us, INHORGENTA is the most important trade show and it has been very successful; this is where we meet the exact right audience from all over Europe."
Johannes Weege, owner of MANU Schmuckmanufaktur says: "Once again we are pleasantly surprised by the large number of visitors and the good atmosphere."
It thus once again showed: "The watch and jewelry industry needs the face-to-face trade fair despite increasing digitalization,"says Bernd Dahlinger, Managing Partner of Dahlinger.
Jewelers are the most important visitor group at INHORGENTA MUNICH. How does the retail sector deal with present challenges? We asked Anja Heiden, CEO Jewellery Division and Member of the Board of Wempe in Hamburg/Germany, and Dominik Maegli, Owner of MAEGLI tick different in Solothurn/Switzerland.
INHORGENTA provides valuable guidance in turbulent times. Despite all the challenges due to the pandemic and current economic developments:
"We were rewarded with encouraging sales when customers returned to the stores—the run on products that hold their value was intensified by the crisis," reports Anja Heiden, Member of the Board at Wempe Jewelers.
Swiss Dominik Maegli, Owner of MAEGLI tick different, is experiencing rapid changes especially in the watch industry, "more specifically in the distribution at retail level. The gap between small retailers and those expanding enormously is widening. Jewelers need to strike a balance between being independent and leveraging the appeal of big brands".
A must: a digital strategy
Both jewelers are very much concerned with the digital transformation.
"Although we draw customers' attention to us online and also sell some products online, we definitely don't want to be perceived as an online retailer,"Maegli emphasizes.
"After all, you can only truly experience the intricacies in our consulting services through personal contact." Wempe continuously invests in its IT infrastructure, "currently primarily in our CRM and checkout systems. That is the basis for steadily growing online sales, including cooperations such as with the Breuninger online marketplace. Omnichannel is the magic word," said Heiden.
Especially young customers think about sustainability
Sustainability is particularly important to younger customers, "a fact we primarily observe in the wedding ring segment," reports Heiden. "Our partners sign a Code of Conduct on Corporate Social Responsibility before we include them in our portfolio. However, the overall demand for sustainability is marginal—simply because jewelry is not a disposable item." And yet, Maegli confirms that its relevance is on the rise: "We strive to provide as complete information as possible about how products were made and which manufacturers are involved and how—and act as sustainably as possible ourselves."
Networking and finding inspiration at INHORGENTA
"INHORGENTA is very important for us, especially in the jewelry sector," explains Maegli, as this is where we can "fully focus on jewelry without it quickly being marginalized by watches, as at other trade fairs." To Heiden, INHORGENTA is above all "key for trend scouting, non-binding exchange and expanding my network".
INHORGENTA AWARD – For Outstanding Creations
The winners of the INHORGENTA AWARD 2023: BINDER Jewellery, BOLTENSTERN, Casio Europe, egf Manufaktur, Gerhard Hahn, Margret Hipp, Pavit Gujral, Sebastian Frost, Theodora D. and Uhrenfabrik Junghans.
It was a sparkling celebration of outstanding creations and their creators from the international jewelry, watch and gemstone industries — The INHORGENTA AWARD ceremony.
Well-known jurors presented the coveted trophy to the winners of ten categories. Traditionally, the gala evening is the glamorous highlight of INHORGENTA MUNICH.
"The INHORGENTA AWARD is our way of providing a great stage for exceptional creations from the jewelry, watch and gemstone industries—from a piece of jewelry by a young newcomer, a special watch by an established brand to a newly conceived retail concept,"
explains Stefan Rummel, Managing Director of Messe München.
"We are particularly pleased with the strong international participation: 80 of 137 submissions came from 37 foreign countries."
The award winners
Timeless jewelry, elegant and of lasting value — these were the hallmarks of the "Fine Jewelry" category, with jewelry pieces starting at a retail price of EUR 2,000. The award winner is BINDER Jewellery with "Perception Collection".
The new category "High Jewelry of the Year" featured jewelry in a class of its own with a retail price of EUR 30,000 and up. The award winner is Pavit Gujral with "Crab Earrings".
In contrast, the "Fashion Jewelry" category addressed jewelry as accessories for current fashion trends with a retail price of up to EUR 2,000. The award winner is BOLTENSTERN with "FABNORA Mix and Match" earrings.
The "Designer of the Year" accomplished extraordinary work in design, innovation and craftsmanship. The award winner is Theodora D. with "Flamenco" ring.
Young talents competed as "Design Newcomer" with self-manufactured jewelry or watches. The award winner is Margret Hipp from Pforzheim Goldsmith School with the "PISCIS" earrings.
The category "Watch Design" demanded an innovative concept and independent design with a high recognition value. The award winner is Uhrenfabrik Junghans with "Junghans 1972 Competition".
This year for the first time, the "Gemstone Design of the Year" category honored special-colored gemstones, diamonds and gemstone objects. The award winner is Gerhard Hahn with "bi-color Saphir".
A trendsetting retail concept were honored in the "Best Jeweler of the Year" category. The award winner is Sebastian Frost with his store in the small fishing village of Listed on the east coast of Bornholm in Denmark. The white purpose-built building on the harbor has been the setting for his production of exclusive, handmade jewelry since 1999—today expanded as the "Smykke Concept Store" with a café and bar.
The retailer's voice
This year, the nominees in the two Retailers Choice categories were also selected by the jury. The specialist audience voted on these online prior to the trade show as well as on site on the first day of the show. The winner of the "Retailers Choice Awards—Best Pieces of Jewelry" is egf Manufaktur with "Precious Heritage". The winner of the "Retailers Choice Awards—Best Watch" is Casio Europe with "G-SHOCK GM-B2100GD5AER".
INHORGENTA MUNICH-2023 Retailers Choice Jewelry – egf Manufaktur © egf Manufaktur © Copyright 2023, Messe München GmbH
INHORGENTA MUNICH-2023 Retailers Choice Watch: Gshock – Casio Europe © Copyright 2023, Messe München GmbH
The jury
Renowned personalities testify to the INHORGENTA AWARD's quality: watch expert Gisbert L. Brunner, jewelry designer Leo Eberlin, Sarah Fabergé (Director of Special Projects Fabergé), Anja Heiden (Member of WEMPE's Executive Board), Martin Julier (Head of Gemlab Bucherer), Giorgia Mondani (watch expert and digital entrepreneur), designer Patrik Muff, founder and editor-in-chief Katerina Perez, blogger and fashion label owner Nina Schwichtenberg, Christoph Stelzer (Dfrost, retail specialist) and Dr. Christianne Weber-Stöber (Managing Director of the Gesellschaft für Goldschmiedekunst e.V. (German Association of Goldsmith's Art).
Approximately 24,000 trade visitors, a 51 percent increase compared to 2022, and a foreign share of 40 percent—INHORGENTA MUNICH is back in a spectacular way, more international than ever and strikingly confirmed as the most important business platform for the watch, jewelry and gemstone industry in Europe," says Stefan Rummel, CEO of Messe München. "The foundation has been laid for further international growth for brands and retailers in 2024, when INHORGENTA MUNICH celebrates its 50th anniversary.
INHORGENTA 2023 – A Beautiful and very professional Jewelry, Watches and Gemstones Trade Fair with great growth and International presence. Taking place every year in February in Munich, an affluent and modern city in Germany.