London Gallery Weekend, a new initiative celebrating art galleries in the UK

capital –

137 leading contemporary art galleries

taking part in the inaugural edition
from 4-6 June 2021.
The event unites galleries from across the city, with participants zoned into three areas. London Gallery Weekend will promote a daily focus on a geographical area, starting with central London on Friday, followed by south London on Saturday and culminating on Sunday with galleries in the East End. All participating galleries will be open across the three days, and until 8pm on their respective focus days.
London Gallery Weekend brings together a rich programme of exhibitions by leading contemporary artists, featuring both established names and emerging talents, alongside a public programme of discussions, studio visits, children's events, late openings and performances across the city produced by participating galleries.
Public programme



Over the course of London Gallery Weekend, participating galleries will stage a public programme of events featuring artists and curators, including exhibitiontours, studio visits, book signings andchildren's events, late openings and performances:
Children's guide
London Gallery Weekend has invited the Royal Society of Sculptors to develop a special children's guide to the event, providing question prompts for children visiting exhibitions at participating galleries including Waddington Custot, Victoria MiroGallery and White Cube Bermondsey. The guide is available to pick up in the galleries and to download from the London Gallery Weekend website.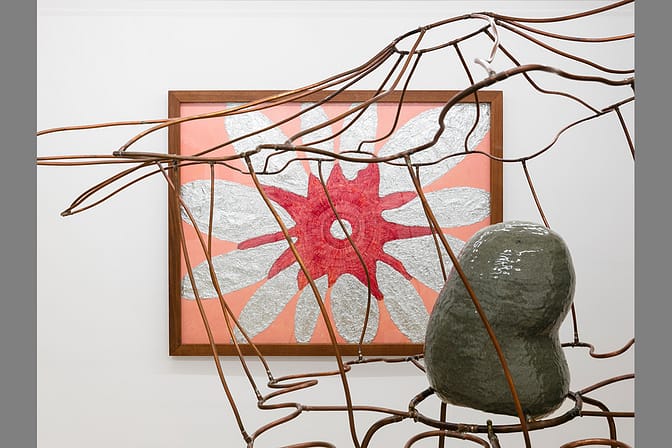 New podcast



A new London Gallery Weekend podcast series, hostedby Jan Dalley, Arts Editor of the Financial Times, launched on Thursday 3 June with subsequent episodes to be published at regular intervals throughout the forthcoming year. The magazine stylepodcast features interviews with gallerists, artists, collectors and curators from across the city, discussing the London gallery scene, trends, artmarket and more. The podcast is available to download via the London Gallery Weekend website or your preferred podcast app from 3 June2021.
Interactive map and curated routes now live
The London Gallery Weekend website, powered by London-based art technology company Artlogic, is now live and includes a new interactive map feature, enabling users to plot their individual route around the city based on their gallery and exhibition preferences. Users are also able to download a series of specially curated routes by leading artworld figures including Nicholas Cullinan, Aindrea Emelife and Sarah McCrory.
HIGHLIGHTS
Jean Dubuffet, Néanter, May 1975, various media, 86-5/8″ × 29-1/2″ × 25-9/16″ (220 cm × 75 cm × 65 cm) overall, #72007, Format of original photography: digital
Jean Dubuffet, Le Patibulaire, February 1973, various media, 94-1/2″ × 51-3/16″ × 23-5/8″ (240 cm × 130 cm × 60 cm) overall, SCULPTURE, No. 77954, Coll. Fondation Dubuffet, Paris, format of photography: digital, source of photography: Fondation Dubuffet, date received: 12/05/2021, photo credit: © Archives Fondation Dubuffet, Paris
On Friday, highlights of the programme are set to include a rare capsule performance of two characters from Jean Dubuffet's Coucou Bazar outside the entrance of Pace Gallery in Burlington Gardens. Meanwhile, at Thaddaeus Ropac there is a talk with artist Alvaro Barrington reflecting on the current exhibition Robert Rauschenberg: Night Shades and Phantoms, and on how Rauschenberg has influenced his own artistic practice.
Saturday will see a series of performances by artist Tom Lovelace inside his installation, Bathers, at Sid Motion Gallery, and a conversation with curator Kiki Mazzuchelli to launch The Women's Century– Female Perspectives in Brazilian Art at Cecilia Brunson Projects.
On Sunday, South African artist Mary Hurrell stages an audio performance at Nicoletti responding to their exhibition by Hugo Servanin, and artist Claire Hooper leads a walkthrough of her exhibition at Hollybush Gardens. Public programme can be found on line.
Central
In Central London, highlights of the gallery programme includeS Leilah Babirye's much anticipated first solo exhibition in the UK, bringing together large-scale ceramic works, wooden sculptures, masks and vibrant paintings on paper at Stephen Friedman Gallery; an historical group exhibition curated by Francesco Bonami at Luxembourg + Co., focusing on the key role played by Italy as a site for international artistic exchange during the 1950s and 1960s, which features a new sculptural work by Maurizio Cattelan displayed on the exterior of the gallery building; the first UK exhibition in 50 years of the work of American abstract painter Paul Feeley at Waddington Custot; American artist Alicia Henry's first ever exhibition in the UK at Tiwani Contemporary; an exhibition of Sheila Hicks at Alison Jacques, including a series of new works made in her Paris studio during recent lockdowns and focusing on her relationship to music; an exhibition at Amanda Wilkinson bringing together a significant group of paintings by Derek Jarman; new formal sculptures and installations encompassing various materials including ceramic, metal, gold leaf, embroidery, textile and mirror by this year's Prix Marcel Duchamp winner Kapwani Kawanga at Goodman Gallery; MYTHEMES, an exhibition of new sculptures and reliefs by Clementine Keith-Roach at Ben Hunter; an exhibition of new paintings by Iranian-American artist Tala Madani at Pilar Corrias, spread across two gallery sites including a new space on Savile Row; a solo exhibition by Vinca Petersen at Edel Assanti bringing together a collection of diaristic photographs documenting the artist's experiences as part of the free party and traveller community; a major exhibition of new works by renowned British artist Bridget Riley at David Zwirner; and new sculptures by Tom Sachs, replicating objects of urban and consumer culture in his bricolage aesthetic and displayed on pedestals referencing Constantin Brancusi at Thaddaeus Ropac.
South
Highlights from the galleries in South London includes Jasleen Kaur's first solo exhibition in London at Copperfield; Cabinet Gallery's first exhibition with Klein, an artist from South London, comprising a series of new video works; French-Arabic artist, poet and writer Tarek Lakhrissi's first solo show in the UK, featuring a new series of metal sculptures, at Vitrine; Bathers, a new installation by London-based artist Tom Lovelace at Sid Motion Gallery; new works on paper by Jade Montserrat for her first solo exhibition with Bosse & Baum; a solo exhibition of recent work by contemporary African artist Fathi Hassan at Sulger-Buel Gallery; an exhibition of new, carpet-based works by British artist Nicholas Pope at The Sunday Painter; and a survey of significant works by the late Greek artist Takis, organised in collaboration with the Takis Foundation at White Cube B e r m on d s e y.
East
In East London, visitors will be able to view Rana Begum's first exhibition with Kate MacGarry; American painter Shannon Cartier Lucy's first solo exhibition in the UK at Soft Opening; an exhibition of Peter Hujar at Maureen Paley, focused on a series of his photographs capturing performers backstage in New York theatres and nightclubs during the 1970s and early 1980s; The house of the spider, an exhibition of new paintings by Sanya Kantarovsky at Modern Art; a major presentation of new works by Ya yoi Ku s a m a, featuring a dynamic installation of paintings, bronze pumpkins and painted soft sculptures at Victoria Miro Gallery; Companions, a group exhibition at Union Pacific, featuring sculptures, ceramics and paintings; new works by Hana Miletic from her ongoing Materials series at the approach; a solo exhibition of historic works by Mary Webb at Hales, featuring paintings made by the artist between 1969 and the mid-1970s; and Jo s eph Ya e g er's first solo exhibition at Project Native Informant, which sees the artist present a new body of paintings.
Stefan Kalmár, Executive Director, Institute of Contemporary Arts, said:
'I applaud this collective effort of London's galleries. London Gallery Weekend presents a collegial vision that speaks to our post-pandemic reality. Like music labels publishers or film producers, galleries play a crucial role in caring about artists and art. Coming together in this way, London's galleries reinforce their longstanding commitment and contribution to our local culture and suggest a collaborative approach that is more accessible and more sustainable.
'Margot Heller, Director, South London Gallery said:
There couldn't be a better moment for galleries to join forces to celebrate London's fantastic contemporary art scene and all it has to offer. South London is home to some of the best galleries in London, including some that are as yet relatively little known. Hopefully the exciting programme over London Gallery Weekend will encourage more people than ever to explore their local arts venues and also to venture further afield.
'Zoé Whitley, Director, Chisenhale Gallery said:
'The East End, in so many ways, is synonymous with London's dynamic arts scene. I see London Gallery Weekend as an open invitation to encounter all that our area has to offer creatively as artists and galleries transform their spaces – whether based in former warehouses or purpose-built – into new visual and sensory experiences. Everyone is welcome and the gallery visits are hopefully springboards to also discover the many great local non-profit arts spaces along the way.'
First Edition
04 – 06 2021