TEFAF NEW YORK SPRING – 2018 2nd Edition
FROM BONNARD TO BASELITZ: TEFAF NEW YORK SPRING SETS THE STAGE FOR A DYNAMIC SECOND EDITION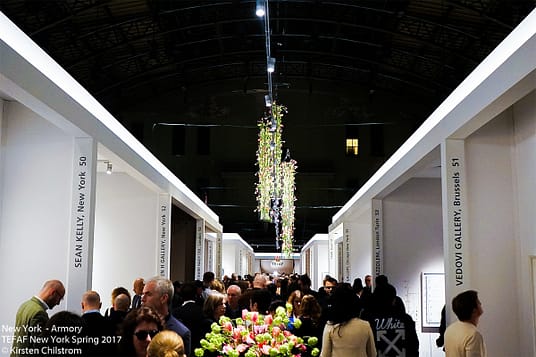 (New York) April 19, 2018 – TEFAF New York Spring releases a first look at some of the key pieces that are being exhibited at the second edition of the Fair, which takes place May 4 – 8, 2018 at the Park Avenue Armory, with the Opening VIP Preview on Thursday, May 3, from 12:00 – 8:00PM. This year's Fair features 90 of the world's most illustrious dealers in modern and contemporary art and design, with 24 new participants, including Gagosian, Gladstone Gallery, Hauser & Wirth, Marian Goodman Gallery, Lévy Gorvy, Matthew Marks Gallery, Mnuchin Gallery, Taffin, White Cube, and more. The Fair provides an unrivalled draw for a community of collectors, museum curators, and art lovers from around the world.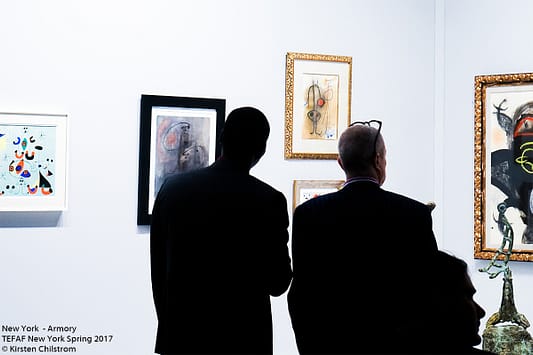 In its inaugural TEFAF New York Spring presentation, Mnuchin Gallery (USA; stand 6) is exhibiting Almost (2017), a new work from the studio of internationally acclaimed Ghanaian artist El Anatsui (b. 1944), who transforms simple materials (such as bottle caps and cassava graters) into complex assemblages, forging impactful visual connections between consumption, waste, and the environment. Perhaps best known for his large scale sculptures composed of thousands of locally sourced pieces of metal and copper wire—of which this new work is a prime example—El Anatsui has been shown in solo exhibitions at dozens of important institutions worldwide, and his work is featured in the public collections of the Metropolitan Museum of Art, New York; Museum of Modern Art, New York; Los Angeles County Museum of Art, California, and the British Museum, London, among others.
Marian Goodman Gallery (USA, France, UK; stand 64), also new to the Fair this year, is similarly presenting new work with a solo booth display dedicated to Mexican artist Gabriel Orozco (b. 1962). Orozco is known for drawing on the legacy of Marcel Duchamp's readymades, as well as the artistic traditions of his home country; his early work of the 1990s largely focused on found everyday objects, as well as animals, insects, and the human body, along with geometric abstraction. His work has been shown at the Hirshhorn Museum and Sculpture Garden, Washington, DC; Serpentine Gallery, London; Museo Nacional Centro de Arte Reina Sofía, Madrid; and the Guggenheim Museum, New York; among others.
In their sole New York fair presentation, and their first at TEFAF, Gladstone Gallery (USA, Belgium; stand 56) presents a new body of work by contemporary sculptor Andrew Lord (b. 1950), recently exhibited in the solo exhibition Unslumbrous Night at the Art Institute of Chicago. The bronze and ceramic sculptures depict an array of fifteen figures—including a juggler and an acrobat—alongside a candle and a moon, representing time, in a poetic installation that references John Keats's poem "Endymion". The sculptures are inspired by the artist's recent residency in Paris, in particular a mural by Paul Baudouin (1844 – 1931) in the Petit Palais, Les heures du jour et de la nuit (The Hours of the Day and of the Night), as well as 19th-and 20th-century paintings that portray the passage of time and fragility of the human condition. Five of Lord's new works are being shown at TEFAF, and all 15 works from the series will be exhibited at the Gallery's uptown space, Gladstone 64, from May 10 to June 16.
Conceptual artist Joseph Kosuth's (b. 1945) 'Mondrian's Work XII' (2016) is being exhibited by Sean KellyGallery (USA; stand 50), part of a series of works inspired by the 20th-century Dutch painter. Kosuth is regarded as one of the pioneers of conceptual and installation art, exploring the intersection of language and meaning within art—how art is created, and how we construct aesthetic judgments—for over five decades. His work has been exhibited worldwide, including at Documenta V, VI, VII and IX (1972, 1978, 1982, 1992) and the Biennale di Venezia in 1976, 1993 and 1999.
In its TEFAF debut, Matthew Marks Gallery (USA; stand 47) is exhibiting Ellsworth Kelly's (1923 – 2015) White Yellow (1957) publicly for the first time in nearly 60 years. The painting was shown at Kelly's first galleries in both Paris and New York—at Galerie Maeght in 1958 and Betty Parsons Gallery in 1959)—and is exemplary of the 'form and ground' works Kelly developed upon moving to New York in 1954, working alongside contemporaries Agnes Martin (1912 – 2004), Robert Indiana (b. 1928), and Jack Youngerman (b. 1926). In a radical development from the geometric paintings Kelly made in Paris, White Yellow employs sensuous, freehand curves that recall the artist's drawings of plants and collages of colored paper. Paired with this dynamic form is Kelly's unique mastery of color with a rich yellow pushing forward and oscillating between a ground and a container for the white form at the center.
David Zwirner (USA, UK, Hong Kong; stand 67) is offering JosefAlbers's (1888 – 1976) Study for Homage to the Square: Terrassed Foliage (1960), on the market for the first time from the artist's seminal series of the 1950s and 1960s, which focused on the simplification of form and interplay of shape and color. The series' abstract canvases and rigid geometric compositions were used to emphasize the optical effects of his color palettes. Albers, known for his mastery of design and color theory, was also a highly influential teacher, whose students included Eva Hesse (1936-70), Cy Twombly (1928 – 2011), and Robert Rauschenberg (1925 – 2008), among others. It comes from the Estate of Josef Albers; The Josef and Anni Albers Foundation.
Di Donna Galleries (USA; stand 58) is presenting a focused exhibition that pairs Surrealist paintings and sculptures with the 19th-century Native American masks that inspired them, delving into the fascination that the Surrealists had with the masks of the Yup'ik people of the central Alaskan coast. The presentation explores the remarkable stylistic and ideological dialogues between Surrealism and Yup'ik masks in terms of both formal innovation and an attachment to the mystical aspects of nature. The presentation includes works by Joan Miró, (1893 – 1983) André Breton (1896 – 1966), and Yves Tanguy (1900-55), among others, many of whom owned Yup'ik masks, alongside rare masks made from wood, feathers, paint, and other materials. An expanded version of the TEFAF New York Spring presentation, Moon Dancers: Yup'ik Masks and the Surrealists, runs concurrently at Di Donna's Madison Avenue gallery.
From Vienna, W&K – Wienerroither & Kohlbacher (Austria; stand 39) is focusing its presentation on Viennese modernism to mark the 100th anniversary of the deaths of Gustav Klimt (1862 – 1918) and Egon Schiele (1890 – 1918) and features important works by both artists, as well as by German Expressionists Ernst Ludwig Kirchner (1880 – 1938), Erich Heckel (1883 – 1970), and graphic artist and caricaturist Lyonel Feininger (1871 – 1956). The centennial is also marked with exhibitions in the United States and Europe, including the Museum of Fine Arts, Boston; Royal Academy, London, and the Fondation Louis Vuitton, Paris, among others.
Newcomer Wildenstein & Co. Inc. (USA; stand 82) is highlighting The Blue Dress: Two Women and a Basket of Fruit (c. 1922) by French Post-Impressionist artist Pierre Bonnard (1867 – 1947), which is on the market for the first time. Known for his intimate domestic scenes of an almost dreamlike quality. Bonnard was a founding member of the Post-Impressionist avant-garde group Les Nabis, and his paintings focused on color, poetic allusions, and visual wit, rather than traditional compositions and structure.
Among the upcoming Fair's design highlights is Shards (2017), an arresting new work by 3D printing and ceramics artist Michael Eden (b. 1955), exhibited by Adrian Sassoon (UK; stand 88). Eden, a maker whose practice sits at the intersection of craft, design, and art, remains at the forefront of experimentation with 3D printing. His brightly colored vessels utilize digital methods and materials to create objects that were previously impossible to manufacture with conventional ceramic techniques—and Shards, inspired by an antique urn in the Sir John Soane Museum in London, is the latest iteration of this body of work,
A credenza (1968) designed by Jacques Dumond (1906 – 1988), brought to the Fair by Demisch Danant (USA, France; stand 80), exemplifies Dumond's mastery of proportions, color, and the use of the then-new and revolutionary material Formica—a laminated, heat-resistant material invented in the United States in 1912, originally used to replace mica in electrical insulation and later for a variety of applications, in particular interior products such as tabletops. Dumond is widely regarded as a leader of the French modernist movement, emphasizing minimalism, functionalism, and a reductive approach to ornamentation, and whose work significantly influenced the post-war generation of designers. As much of his career was dedicated to private commissions, examples of his work are exceptionally rare.
Bel etage Kunsthandel GmbH (Austria; stand 92), another newcomer to TEFAF New York Spring, is showcasing a pair of armchairs designed by architect, interior designer, and painter Josef Urban (1872 – 1933) and executed by sculptor Sandor Jaray (1870 – 1916) that were created for the 17th exhibition of the Hagenbund—a group of 250 Austrian artists formed at the end of the 19th century that defined the region's art and culture prior to the start of World War Two—in 1905. The Hagenbund were known for their diversity in nationality, gender, religion, age, and style, which contributed to their success both at home and abroad. Urban was a founding member of the group and its president shortly after these armchairs were first exhibited, from 1906 to 1908. In 1911, he moved to the United States and became head of stage design at the Boston Opera and Metropolitan Opera.
Jewelry atelier TAFFIN (USA; stand 37) is highlighting a range of new designs by founder James Taffin de Givenchy (b. 1963) in his first display at TEFAF, including a set of "concrete" ear clips that capture the house's iconic pebble design. Pioneering the use of ceramic in jewelry in 2006, Givenchy has manipulated grey ceramic to reflect the raw quality of cement, and paired the material with a collection of reverse set emeralds. The "pebbles" are set without pattern, reflecting the collection's contemporary aesthetic.
In addition to showcasing the best of today's modern and contemporary art market, TEFAF New York Spring also features exhibitors focusing on jewelry, African and Oceanic art, and antiquities to provide a more comprehensive understanding of how the art of our time has been influenced by the masters of centuries past.
TEFAF New York Spring, now in its second year, follows the second edition of TEFAF New York Fall in October 2017, concentrating on fine and decorative art from antiquity to 1920. Both New York Fairs are an extension of the TEFAF brand, and provide additional opportunities to engage its global network of collectors, museums, and art aficionados. A dynamic roster of programs again accompanies this year's Fair, including TEFAF New York's signature "Coffee Talks" series, panel discussions, receptions, and more.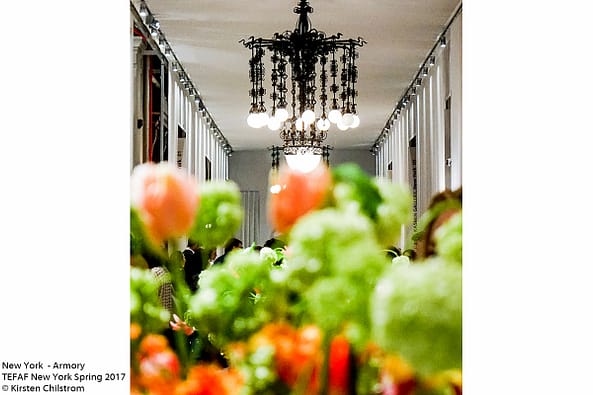 TEFAF NEW YORK SPRING
May 4 – 8, 2018
Park Avenue Armory, New York City