White Turf 2019 – St. Moritz
Passion for Races!
68 entries for the first race Sunday of White Turf 2019 Race Sundays on 3rd, 10th and 17th February 2019 White Turf 2019 startswith a bang, or rather with several: On the first ofthe three race Sundays, on the frozen lake of St. Moritz, some of the successful major protagonistsof the 2018 meeting,will most probably be atthe startagain. Nimrod and Berrahri, winner and runner-up at the LONGINES Grand Prix ofSt. Moritz 2018, have been enteredas have the Skikjöring queen Usbekia and Spike, the unbeatentrotting star after five starts on snow. A total of 68 horses have officially been entered for at least one of the six contests.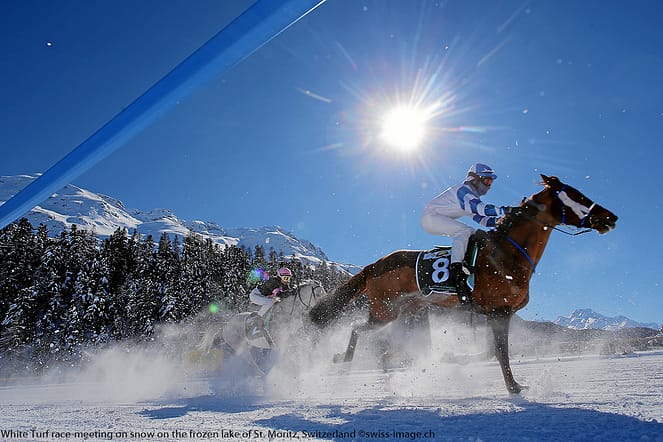 "We are extremely satisfied with the number of entries, inparticular the 25 trotters entered fortwo races", saidAnnina Widmer, head of the racing activities,who went on to say,"Thanks to ideal weather conditions, we have been able to set up in good time, we have only hada small amount of snow and are confident for the 2019 meeting."
Entries for the first race Sunday, 3rd February2019
Gallop races
The most important contest on the first Sunday is the GP LONGINES, a flat race over 1,800 meters with prize money of 20,000 Swiss francs.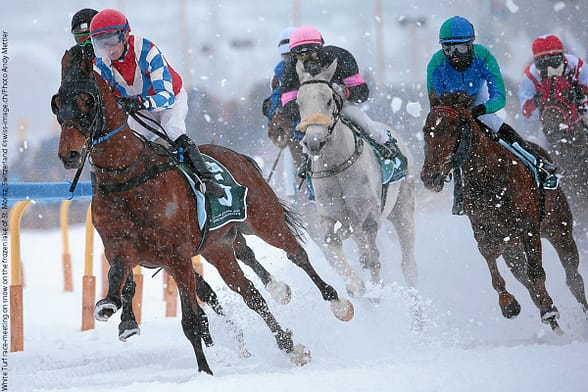 Traditionally, some candidates rehearse here for the LONGINES Grand Prix of St. Moritz, which is taking place for the 80th time on 17th February 2019. All seven horses entered are also due to run in theWhite Turf highlight two weeks later, with a purse of 111,111 Swiss francs. Among them Nimrod, the defending champion(for the first and the third Sunday), as well as the seemingly invincible Berrahri from England.
With 13 entries, the 1,300-metresprint GP Koller Elektro iscurrently the flat race boasting the best line-up. Among the horses are two each from Germany and Italy, as well as one sprinter from France. Eleven entries have come in for the 1,800-metre race, the Fraumünster Insurance Experts Prize, which counts towards the FEGENTRI Amateur World Championship.

Trotting races
More trotters than in recent years are targeting White Turf 2019. No fewer than 14 horses -two more than a year ago -have been entered for therace and prize offered by the Handels und Gewerbeverein St. Moritz- which carries a purse of 10,000 Swiss francs. Among them are two White Turf winners in the shape of Top Gun du Citrus and Italianec. There are also a few interesting newcomers and forthe first timein a few years, a trotter from Italy: Vaio dei Veltri, an eight-time winner.
Elevenentries compared to last year's seven, have been received forthe eliterace, the GP DQ Solutions (15,000 Swiss francs). Spike, so far unbeaten in five starts in St. Moritz, will have to face Rubis du Gilet, Terry Gahn, Ramona Lap and Pipilo Jet, all of which have already won on snow. Some Interesting newcomers will also tryto compete within this tight field of snow horses.
Skikjöring
All against the queen: two years ago, Valeria Holinger with the mare Usbekia became the first lady ever tosecure overall victory in the Credit Suisse Skikjöring Trophy of the St. Moritz horse races and was crowned "Queen of the Engadine". In 2018, she succeeded in defendingthe title, which means that Usbekia and Valeria Holinger are aiming for the hattrick. Pinot also won at last year's St. Moritz world exclusivity. However, the main threat should come from a new comer with great flat racing experience, namely Strade Kirk (protégé of champion trainer Miro Weiss, who came sixth last year at the LONGINES Grand Prix ofSt.Moritz) and from Zambeso -winner of the Silberblau Band in Zurich and trained by Claudia Erni in Avenches. Five of the Skikjöring-protagonists are prepared in Germany: Usbekiatrainer Peter Schiergen, is bringing Epako along from Cologne. Also, Christian von der Recke has trained a quartetfor the new discipline in Weilerswist, of which Fit For The Job has an advantage over Get Ready Freddy and Togetherness over Lips Legend, because they have already participated in a Skikjöring race last year. Furthermore, newcomer Harry the Eagle and the Engadineduo Sociopath & Acteur de l'Ecu have also been entered.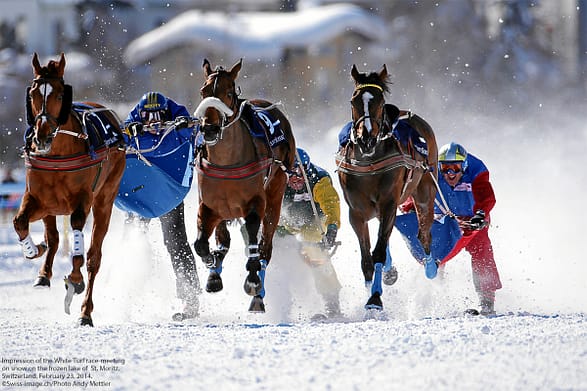 Varied fringe programme for the whole family and a pony world premiere
There is enjoyment forevery body at White Turf. Of course, betting is also possible: the heated betting tent invites spectators to talk shop, with beginners' luck on the race track being proverbial. Those who do not want to count on such luck had better take a glance at the information board with its precious betting tips. With a wager of as little as two Swiss francs, all kinds of betsare possible and lucrative winnings to be made. Moreover, for the first time, a free racing programme brochure-with all the betting information needed will be included with every ticketbought, and even contains a betting voucher worth two Swiss francs! What's more, each programme brochure can be used to participate in the Prix-d'Honneur raffle. Fantastic prizes can be won on each race Sunday, the draw taking place after the last presentation ceremony. It is therefore well worthwhile enjoying each White Turf race day from A to Z.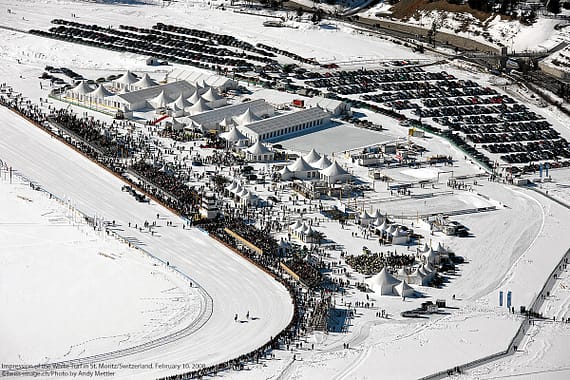 The tent city on the frozen lake of St. Moritz offers a multitude of entertainment featuring musical bands, exhibitions and the most varied of culinary stalls for physical wellbeing, even for less experienced equestrian enthusiast. A visit to the White Turf fan shop that offers high-quality clothes and attractive accessories, is also worthwhile.
Furthermore, race sport followers eagerly await a world premiere. For the first time ever, a pony gallop race on snow will be held on 3rd February 2019.The kids have been diligently training with their ponies and cannot wait to participate in theCalixus AG winter prize. Depending on the size of the ponies (up to a maximum shoulder height of 140 centimetres) they will have to compete along with their respective riders aged eight to sixteen, over a stretch of 500 to700 metres.White Turf places great emphasis on the promotion ofthe up-and-coming younger generation, included here are pony ridesfor the youngest of White Turf visitors.

Tickets for grandstand seats and standing places are available by advance booking either online at ticketcorner.chor directly from the Tourist Information in village of St.Moritz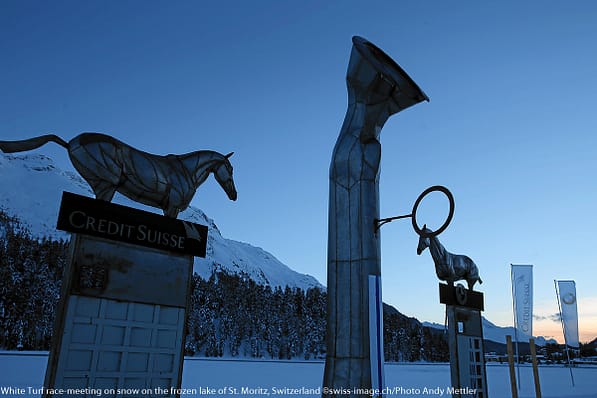 In 2019, noble thoroughbreds from all parts of Europe and international jockeys, as well as a fantastic accompanying programme, once again enthrill guests from around the world on the frozen lake of St. Moritz.