Wine Paris & Vinexpo Paris 2023
WINE PARIS & VINEXPO PARIS 4th EDITION
International
Ambitions and Many New Amazing Features.

From 13 to 15 February 2023, Wine Paris & Vinexpo Paris will offer all its visitors a business experience with a global focus and all the potential afforded by an international range of products in the heart of the world's lifestyle capital.
After the success of the 2022 exhibition, which mobilised every strand of the wine industry and attracted attendance by companies from around the world and over 25,700 trade visitors from France and overseas, Wine Paris & Vinexpo Paris 2023 is approaching its 4th Edition confidently and with a vision of the future.

Today's market for wines and spirits operates in a global arena. Winegrowers, estates, wineries, co-operatives, trading companies and brands, along with their market counterparts, are faced with a world in constant motion. Wine Paris & Vinexpo Paris 2023 has established its reputation as an international marketplace for wines and spirits by welcoming over 41 countries alongside France, responding to their needs with a reliable benchmark event.
Our ambition – which is shared by all participants – remains unchanged and that is to join forces for greater strength, enable meaningful conversations under one roof, foster and support the course of business, welcome new companies and visitors, and provide input on the future of the marketplace.
Christophe Navarre Chairman of the Board of Vinexposium
Wine Paris & Vinexpo Paris stems from a desire shared by the entire industry to create an international benchmark event for wine and spirits professionals.

The trust that has been placed in us not only energises us, it also comes with obligations.
Rodolphe Lameyse CEO of Vinexposium
For 3 days, Paris will be the beating heart of a vibrant international wine and spirits industry, showcasing its appeal and creative spirit.



AN INTERNATIONAL
MARKETPLACE
On the back of a successful 2022 exhibition, Wine Paris & Vinexpo Paris is ramping up its ambition to become a meeting point for the global industry. So in 2023, room is being made to host even more international producers, with new countries represented.Three halls (5.1, 5.2 and 5.3) will be entirely set aside for them and will house many pavilions – Argentina, Austria, Canada, Germany, Greece, Japan, Lebanon, Luxembourg, Switzerland and the United States (California, Oregon, New York and Washington). Other major producer countries will also be presenting their products. These include Chile, Spain, Italy and Portugal.

In 2023, it will be making room for even more Iinternational producers alongside France (25% more than in 2022 and twice as many as in 2020). This year, one quarter of the 3,387 exhibitors attending come from overseas.
AN EXTENSIVE RANGE OF
INTERNATIONAL
WINE REGIONS
Three halls (5.1, 5.2 and 5.3) will be entirely set aside for international exhibitors and there will be many pavilions, including Japan, Chile, Argentina, Canada, Germany, Austria, Georgia, Slovenia, Greece, Lebanon, Luxembourg, Switzerland, Bulgaria and Belgium.

Many other international stakeholders will also present their products, such as Portugal with ViniPortugal Wines of Portugal, Spain with Viña Costeira, Bodegas Araex Grands, Dominio de Punctum and Italy, with the Consorzio Tutela del Vino Conegliano Valdobbiadene Prosecco.
RETURN VISITS
Loyal exhibitors include Belgium with the Concours Mondial de Bruxelles; Greece with Great Trade Exhibitions; Spain with attendance by Manzanos Wines , Very Fine Vinos , Bodegas Las Cepas, Bodegas Medrano Irazu, J Garcia Carrion; Italy with Area 39, Consorzio di Tutela della DOC Prosecco, Botter, SOC AGR Colli Asolani di Bedin Enrico& C.S.S., Gruppo I Vinai srl, Matteo Colla Wines from Piedmont; the Austrian pavilion with Austrian Wine; the German pavilion with Wines of Germany and the Bulgarian pavilion.
NEWCOMERS
The 2023 event will be marked by the United States's major comeback in Paris (California, Oregon, New York, Washington and Napa Valley) and attendance by newcomers such as the IVDP (Instituto dos Vinhos do Douro e Porto) for Portugal, Wines from Lebanon, the VSPT Wine group for Chile, Ortega Ezquerro, Raíces Ibéricas for Spain, Piccini 1882, Perlino S.P.A., Freschi&Bufano Wine Merchants Co, Tenuta Orsumella, Ca' di Rajo in Italy, Istanbul Fresh Fruit and Vegetable Exporters' Association for Turkey, Wines of Argentina for Argentina, along with wines from Switzerland and Eastern Europe with Georgia, Bulgaria, Slovenia, Armenia, Albania and Hungary.
With "World in Motion" as its core theme, the 2023 Wine Paris & Vinexpo Paris exhibition is embracing constant change and has set itself a mission to venture into uncharted territory through over 100 tastings, masterclasses and multi-format discussions.
The Free-pour Tastings
HALL 5
Balance, tannins, notes, the sensual pleasure derived from encountering a wine – some emotions can only be conveyed through tastings. The Free-Pour Tastings allow everyone to discover or rediscover wines from around the world before finding them on exhibitors' stands in the hall
The Masterclasses
HALL 5 – ROOMS 1 & 2
To learn and dive into the specifics and diversity of wine regions and their wines with
Let's Talk about Wine!
HALL 2 – ROOM 5
The most informed French and international experts will be on hand to analyse new trends, decipher changes in consumer patterns, shed light on the market place and celebrate the variety of wine regions.
FROM THE WORLD'S
BOUNDARIES TO
THE FRENCH WINE
REGIONS
Since their first major gathering in 2020, every stakeholder in the wine industry continues to ramp up its involvement in Wine Paris & Vinexpo Paris 2023. This alliance of French wine regions will once again be one of the event's strengths, with all participants contributing to its business dynamics.
Loyal exhibitors include: Fournier Père et Fils, Gérard Bertrand, LGI SAS, Orchidées Maisons de Vin and Vignobles et Signatures for Languedoc-Roussillon; Castel Frères, Barrière Frères and Les Maîtres Vignerons de Saint-Tropez for the South-West, Bordeaux and Provence regions; Albert Bichot, Badet Clément, Cave de Tain, Michel Chapoutier, Maison Louis Latour and Famille Piffaut Vins et Domaines for Alsace, Burgundy, Rhone Valley, Jura, Savoy, Vosges and Moselle; Champagne Castelnau, Champagne Nicolas Feuillatte, Champagne Mailly Grand Cru, Champagne Palmer & Co, Champagne Charles Mignon and Champagne Mandois for the Champagne.
For the Languedoc-Roussillon region, first-time exhibitors include: Chantovent, Compagnie Française des Grands Vins and Domaine Bonfils; along with Duclot and Domaines Barons de Rothschild Lafite for the South-West, Bordeaux and Provence regions; Château la Nerthe, Diva Domaine et Distilleries, Syndicat Châteauneuf-du-Pape for Alsace, Burgundy, Rhone Valley, Jura, Savoy, Vosges and Moselle; Champagne Charles & Piper Heidsieck, Champagne Bollinger (Groupe Société Jacques Bollinger), Champagne Lallier, Champagne De Venog for the Champagne.

Independent wine growers will also be attending alongside major industry players from Alsace (Alsace Frey-Sohler, Henri Ehrart), Beaujolais (Maison Jean Loron, Les vins Aujoux), Bordeaux (Vignerons bio de Nouvelle Aquitaine) , Burgundy (Paquet Montagnac), Languedoc-Roussillon (Vign obles Jeanjean, Moulin de Gassac), Loire (Domaine de Bois Mozé), Champagne (Champagne Duval Leroy, Champagne Lanson, Champagne Bruno Paillard, Champagne Baron Fuente, Champagne Sylvie Moreau, Champagne Bernard Robert…) and the Rhone Valley (Famille Ravoire, Domaines Aimé Arnoux).
Wine Paris & Vinexpo Paris 2023 offers an eventful ON! programme fuelled by a variety of formats and experts from across the globe to gain inspiration, learn, taste and engage with others during the exhibition.
The Free-Pour Tastings
HALLS 3 AND 5
Wine Paris & Vinexpo Paris offers visitors to the exhibition the opportunity to discover and taste an unprecedented selection of wines that are available as free- pour tastings curated by Valeria Gamper, 2022 Best Sommelier of the Americas
Let's Talk about Wine!
HALL 2 – ROOM 5
The top French and international experts meet up at Paris Expo Porte de Versailles from 13 to 15 February 2023 to analyse new trends and innovations and decipher the major challenges facing the industry. The result is a programme of forward-looking panel discussions, duos and interviews fostering learning, discussion and inspiration
THE CHEF & SOMMELIER DUOS
HALL 5.2
Another new feature in 2023 is the Chef & Sommelier Duos. The encounters showcase chefs and sommeliers, who in tandem vie to be the most creative and skilful. Each duo will present inspiring pairings, under the watchful eye of 1992 World's Best Sommelier, Philippe Faure-Brac. Will it be the dish or the wine? Wine Paris & Vinexpo Paris invites visitors to discover three outstanding Chef & Sommelier duos, in order to get a better understanding of this very tight-knit relationship
– Guy Savoy & Sylvain Nicolas – Room 5 Let's Talk about Wine
– Thierry Marx & David Biraud – Room 2 The Masterclasses
– Adeline Grattard & Marine Delaporte – Room 2 The Masterclasses
Nouvelle Vague
HALL 3
Nouvelle Vague is reserved for young winegrowers who have been in the business for less than 5 years. It groups together young producers looking for their first distribution networks in France and overseas. Exhibitors are given an individual counter in the area so that they can present their first wines.
For winegrowers: 3rd vintage at the most for an estate that was created, bought or taken over after 2016; no more than 2 attendances. For brand creators: production below 50,000 bottles; only one attendance is allowed. The aim of Wine Paris & Vinexpo Paris is to support these wine entrepreneurs in the launch phase of their business and provide buyers with wines that are not yet commercially available.


E
xhibitors in 2023:
Domaine de Brau [Languedoc-Roussillon], Vignerons Brasseurs de Burosse [Gascony], Champagne Cuillier-de Sloovere, Champagne Adam Méreaux, Champagne Dumont-Domaine de Mondeville, Champagne Konrat, Château de Rochefort [Loire Wines], Château des 3 Sautets [Provence], Claude Michot [Centre Loire Wines], Domaine Antoine Armanet [Provence], Domaine Bomary [Hérault], Domaine Chevalier-Bernard [Savoy], Domaine Delhome [Côtes du Rhône], Domaine des Bartavelles [Hérault], Domaine Fontchêne [Provence], Domaine Haute Perche [Anjou], Domaine Mas Terra [Languedoc-Roussillon], Domaine La Garrigue [Provence], Baiser de vin (canned wine), La Closerie du Loup [Hautes Pyrénées], Les Nouveaux Occitans, Les Vins d'Azel [Bourgueil], Domaine de Maouries/Les Vins de Claire [Côtes de Gascogne], Lou Peirigas [Languedoc-Roussillon], Madivin, Station Vin de Mars, Le Mas de Capdaniel [Hérault valley], Le Mas de Carrat [Languedoc Saint-Drézéry], Pépin, Pierres de Vin-Château du Bernat [Bordeaux], Régis & Sylvain, Spiritueux Saka, Shogga (alcohol-free drinks), Vignoble du RAB [AOC Chinon], Villa Tempora [Hérault], Bouquet des Vins.
La Wine Tech Perspectives
HALL 3
To support the transformation of the wine and spirits industry and meet new market challenges, Wine Paris & Vinexpo Paris 2023, in conjunction with La Wine Tech and Vinocamp, Vin & Société, is providing an area dedicated to content on innovation and digitalisation: La Wine Tech Perspectives. Six, one-hour conferences and 15-minute pitches hosted by a range of speakers will be rolled out during the exhibition and focus on three major themes: Market, Innovation and Environment. They will address a range of issues: Wine & entrepreneurship, retail / e-commerce, the web, feedback on experience with NFTs, industry decarbonisation and bottle labelling.

The area features:
– A selection of 36 start-ups offering innovative solutions (discovery, choice, storage, consumption, wine purchasing…) and genuine growth opportunities for the industry.
– Dynamic, interactive debates about innovation in the wine and spirits industry.
PARIS, THE WORLD CAPITAL OF WINE
AND SPIRITS
From 13 to 15 February 2023, Paris will be the world capital of wines and spirits. On top of the ever-popular ON! programme, with its masterclasses, conferences, discussions and and La Wine Tech Perspectives area, the Wine Paris & Vinexpo Paris OFF line-up will acquire even greater significance. Designed to showcase the diversity of Paris and its gastronomy and to celebrate its incredibly talented chefs, restaurateurs and sommeliers, The OFF programme will turn wines and spirits into the beating heart of Paris. In 2023, the OFF selection will feature the finest wines and mixology through 180 cherry-picked venues and countless events hosted in each of them, from the boutique bar to the Michelin-starred restaurant.
THE MEETING PLACE
FOR SPIRITS
Wine Paris & Vinexpo Paris is dedicating a hall to the spirits and craft space with a programme that is even more exciting than ever.
BE SPIRITS, THE GO-TO AREA
FOR SPIRITS!
Every year, Be Spirits becomes increasingly signif icant. In 2023, it will have its own hall (Hall 2) where spirits and craft drinks from all backgrounds can come together and express themselves. They range from craft distilleries to recognised brands and from hard tea to rum infusions. The area has its own opening times, from 10 am to 8 pm.
Once again, the international aspect will be given pride of place with representatives from the United States, Japan, Iceland, Germany and for the first time, Bosnia-Herzegovina,
Lithuania, Luxembourg, Uzbekistan, Peru, the Czech Republic and Vietnam. Lastly, the Infinity Bar, stretching 40 metres in length, will welcome 10 Parisian bars, 5 bars from around France and 5 European bars to showcase the creative spirit of the top mixologists.
2
023, A LANDMARK YEAR FOR BE SPIRITS
– Among the new features this year, Be Spirits gets its own hall (Hall 2) to allow room for spirits from all backgrounds, from the craft distilleries to the household names, and toshed light on industry trends for professionals.
– The new format also comes with a change of tempo stemming from a desire to meet the specific needs of this community with dedicated opening times, from 10am to 8pm.
– A new area, calle Craft Pavilion, will be reserved for the upcoming generation and will showcase young producers of spirits and alcohol-free beverages, enabling them to promote their products in an outstanding international setting. Exhibitors include Gin and Pastis by the Distillerie de l'Ort, produced organically by a brother and sister duo in Périgord; rum infusions by K'ribean Cocktail, the fruit of a family venture in Guadeloupe; Gin with lavender accents by the Le Vadrouilleur-Maison LC 1901 distillery in Haute Provence; and the craft aperitif Vylmer Apéritifs, also produced in Provence and inspired by the 1950s.
BE SPIRITS,
AN EVENT WITHIN THE EVENT
In 2023, spirits, craft beverages and alcohol-free drinks gain even greater signif icance at the exhibition with 43% more floor space compared with 2022 and 44% new exhibitors. Alongside the many French exhibitors, international attendees will come in numbers with the return of Belgium, Canada, the United States, Iceland, Italy, Japan, Romania, the United Kingdom and Switzerland. Beside them, Lithuania, Mexico, Uzbekistan, Peru, the Czech Republic and Vietnam will make their debut appearance at the show.
BE SPIRITS,

AN EVENT THAT FOSTERS DISCOVERY
27 categories of spirits will be represented (Anise, Armagnac, Cachaça, Cognac, Cream liqueur, Brandy, Gin, Mezcal, Ready-to-Drink RTDs, Rum, Rum infusion, Sake, Alcohol-free, Tequila, Tonic, Vermouth and Whisky). New alcoholic drinks will make their debut in the Be Spirits repertoire (absinthe, liqueurs, bitter, Pisco (Peru's national drink), Hard Tea and Shochu (Japanese spirit), along with ciders and beers).
Another new entrant to the Be Spirits hall will be alcohol-free drinks with sparkling beverages, spirits, beers, mixers and tonics bolstering the range and responding to market demand.
EXHIBITORS FROM ALL BACKGROUNDS
International participants include: gin, whisky and vodka by Dunrobin Distilleries in Canada as well as Japanese Saké and Shochu with the Japan Sake and Shochu Makers' Association and American Ready To Drink Slim Chillers. French spirits will also be showcased with attendance by the National Armagnac Bureau, Cognac with Château Montifaud, craft cream liqueurs with La Mentheuse, and Whisky from the Distillerie Warenghem.
Loyal exhibitors include: Consorzio di Tutela della Doc Prosecco, Anivin de France, Armagnac Castarede, Armagnac Veuve Goudoulin, BBC Vins et Spiritueux, Calvados Christian Drouin, Château de Saint Aubin, Cognac Dobbe, Maison Dolin, Drouet et Fils, Cognac François Voyer, Cognac Prince Hubert de Polignac, Dartilongue et Fils Armagnac, Delors Frères, Distillerie des Moisans, Distillerie Merlet, Distillerie de la Seine, Distillerie Jean-Paul Mette, Distillerie Longueteau, Domaine familial Louis Dupont, Eyland Spirits, Fire&Ice Beverages AG, Hardy Cognac, Hawkins Distribution, Jacoulot, Kaskad Diffusion, Les Bienheureux, Le Club des Marques, Les Jardins de l'Orbrie / So Jennie, Maison de la Mirabelle – Distillerie de Rozelieures, Maison Ferroni , Maison Peyrat, Michel Couvreur Scotch Whiskies LTD, Plus Oultre Distillery, Tesseron Cognac, Terre de Légende – Bruant Distribution, Tennessee Distilling and Vinet Delpech.
There will also be new exhibitors, such as: Arspirits, Armagnacs by Château de Lacquy, Black Mountain, Cognac Paul Giraud et Fils, JNPR, Distillerie de l'Ort, Distillerie Castan, Distillerie Miclo, Distillerie des Menhirs, Domaine de Coquerel, Dunrobin Distilleries, Groupe Geloso, Kratochvilovci, K'Ribean Cocktail, Gaec du Clos de la Pommeraye, Godet Frères Cognac, Vignobles du Hour, Laballe, Maison Gelas, Saka Spirits, Slim Chillers, Spirignac, Shogga, Spiritique, Spiribam, Square Box / L'arrange Français and Univers Drink.
Programme: ON!
– The Infinite Bar One of the most impressive features of Be Spirits, is the huge, 40-metre- long Inf inite Bar which marks a focal point in the Be Spirits hall, at the intersection between business and inspiration. This year it is welcoming European, Parisian and French bars to allow the top mixologists and the rising stars to get their incredibly creative juices flowing.
– Masterclasses and conferences [Hall 2 / Room 3 Speakeasy] As part of the ON! programme, Be Spirits will also provide the stage for innovative events in a new area called Speakeasy, a nod to the illicit 'speak softly' bars of the Roaring Twenties. The 2023 Speakeasy by Wine Paris & Vinexpo will take an enterprising approach to on-trend topics in the world of spirits and mixology, yet maintain a very convivial atmosphere.
WINE PARIS & VINEXPO PARIS…
OFF!
180 RESTAURANTS AND COCKTAIL BARS FOR A GREAT WINING AND DINING EXPERIENCE
With a third event that promises to be even more ambitious, Wine Paris & Vinexpo Paris OFF is once again spilling out across the capital city in 2023! 180 restaurants and cocktail bars in every district of Paris have been selected by a panel of professionals, illustrating the capital city's choice of venues through its talented chefs, sommeliers and mixologists. OFF will get Paris beating to the rhythm of wines and spirits and will offer industry members gathered in Paris for Wine Paris & Vinexpo Paris an authentic, friendly and unique experience of Paris. Carefully chosen for the quality of their cuisine, the experience on offer, the atmosphere and the cocktail and wine lists, the OFF restaurants and cocktail bars will be hosting an extensive range of exclusive events from 13 to 15 February 2023 can find at leoff-paris.com.
The 180 selected restaurants and cocktail bars you can find at leoff-paris.com:
1er arr. : Madame Rêve – Ritz Bar – Rehab – Liquide – Les Fines Gueules – Willy's Wine Bar – Granite – Juvéniles – Le Garde Robe • 2 ème arr. : Bamboo – Danico – Harry's New York Bar – Experimental Cocktail Club – Aux Lyonnais – Dune – Café Compagnon – Frenchie Bar à Vin – Drouant – Le Rubis – Racines – Fleur de pavé – Le Bougainville – Coinstot Vino – Le Dénicheur • 3 ème arr. : Little Red Door – Serpent à Plume – Le Mary Celeste – Andy Wahloo – Le Ballon Rouge – Terra Bar à Vins – Elmer – Glou – Parcelles • 4 ème arr. : Sherry Butt – Jaja – Grandcœur – Bistrot des Tournelles – La Grande Brasserie – L'Enoteca – Lot of Wine • 5 ème arr. : La Rôtisserie d'Argent – Bonvivant – Les Papilles – Flocon Restaurant – Bacav' – Hugo & Co • 6ème arr. : Tiger – Prescription Cocktail Club – Castor Club – Fish La Boissonerie – Ze Kitchen Galerie – Chez Nous – Quinsou – Augustin Marchand d'Vins – La Crèmerie – Avant-Comptoir • 7 ème arr. : Bar James Joyce – Fitzgerald – Sancerre Rive Gauche – Racine des Près – Les Parisiens – L'Ami Jean – Garance – Les Climats – Café des Ministères • 8 ème arr. : Les Ambassadeurs – Le Clarence – Cèna – Les 110 de Taillevent – Braise – Le Mermoz • 9ème arr. : Amaro – Jacque's Bar / Hoxton – Le Bon Georges – Pétrelle – Pastore – Le Beaucé – Lolo cave à manger – Richer – Mieux – Faggio Salumeria – Pompette • 10 ème arr. : Le Renard Bar – Bonhomie – Le Syndicat – La Cave à Michel – Candide – Café les Deux Gares – Early June – Mâche – Eels – Billili – Chocho – Le Verre Volé – Mamagoto – Chez Michel – Ake – Déviant • 11 ème arr. : Fréquence – Dirty Lemon – Monsieur Antoine – Bambino – Moonshiner – Les Œillets – Café du coin – Le Servan – Le Chateaubriand – Vantre – Robert – Aux Deux Amis – Coup d'œil – Folderol – Korus – Septime La Cave – Le Saint-Sébastien – Fulgurances La Cave – Jones – Le Clown Bar – Liquiderie Bar • 12 ème arr. : Passerina Cave à Manger – Pur Vin – Table Bruno Verjus – Le Siffleur de Ballons • 13 ème arr. : L'Hommage – Sourire – Sellae – Simone – Nosso • 14 ème arr. : Petit Combat – Les Petits Plats – Bistrotters – Kigawa – A mi-Chemin – Les Rouquins – Le Severo • 15 ème arr. : Vertical Bar – Le Beurre Noisette – Le Grand Pan – Le Vitis – Naturellement • 16 ème arr. : Cravan – Comice – L'Archeste – Substance – HSP La Table Huîtres et Saumons de Passy • 17 ème arr. : Coretta – Bistrot Flaubert – Papillon – Agapé – Poussin – Anona – Rooster – Faby – En Bas • 18ème arr. : Le Très Particulier – Chez Eugène – En Vrac – Polissons – Poney Club – La Traversée • 19ème arr. : Combat – Cheval d'Or – Coup de tête – La Cale – Le Cadoret – Cambuse – Le Canon d'Achille – Quedubon • 20 ème arr. : Aimer – La Commune – Dix Visions de la Joie – Le Baratin – Des Terres – Supra – La Vierge – Le Grand Bain – Dilia – Caché – Le Jourdain.
WINE PARIS & VINEXPO PARIS
PARTNERS WITH THE 2023 ASI
WORLD'S BEST SOMMELIER
COMPETITION
Lastly, Win e Paris & Vin expo Paris is partnering with the ASI Best Sommelier of the World contest in 2023. The French sommelier organisation (UDSF), chaired by Philippe Faure-Brac, has the honour of hosting the 17th competition. The finals will take place in Paris on February 12, the day before Wine Paris & Vinexpo Paris opens.
A number of events focusing on sommeliers will be organised during the exhibition, including the "Chef and Sommelier" duos, so that they can share with visitors their inspirational vision of the gourmet food and wine space.
GUY SAVOY,
Patron of Wine Paris &
Vinexpo Paris 2023
His restaurant has been named the best table in the world six times. Guy Savoy is genuinely passionate about wine and will be patron of Wine Paris & Vinexpo Paris in February 2023.


" I taste all wines, I'm still inquisitive"

"The definition of gastronomy is to pair wines and foods."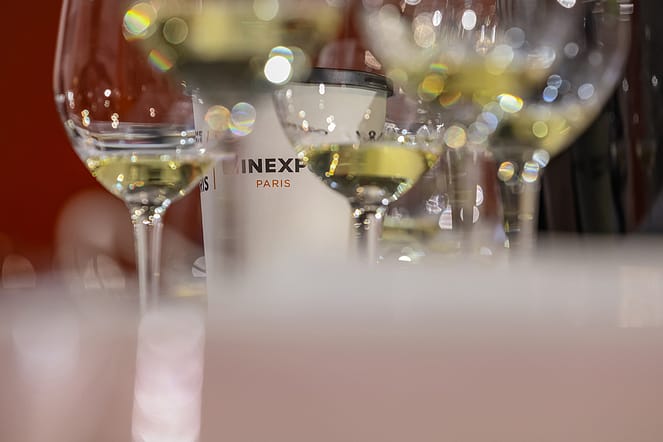 Under the High Patronage of
Mr Emmanuel MACRON
President of the French Republic
Wine Paris & Vinexpo Paris 2023
Paris Expo Porte de Versailles
Paris, France