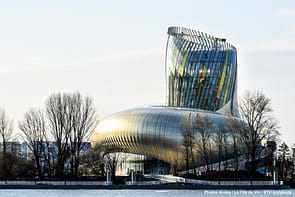 La Cité du Vin located in Bordeaux South-West France is a unique cultural facility, dedicated to the universal, living heritage of wine. It offers a spectacular journey around the world, through the ages, across countless cultures and civilizations.
La Cité du Vin is the only cultural centre in the world offering this approach in order to win to a wide audience. It is a place accessible to as many people as possible and open to all.
Since its opening on the 1 of June 2016, La Cité du Vin has become an essential feature in the Bordeaux touristic circuit, but it is also a lively social venue for the inhabitants of Bordeaux and for the visitors from all over the world.
The architect and scenic design of La Cité du Vin are the fruit of a close partnership between two firms: Parisian architects XTU and English Museum design experts Casson Man. Their project combines a bold poetic, interpretation of the spirit and intangible cultural power of wine, with a raft of immersive digital technologies.
A unique and iconic landmark, a universal vocation.
Drawing inspiration from theme parks and museums, while adopting the traditional forms of neither, the aim of La Cité du Vin is to create something truly unique. A celebration of the spirit of wine in all it many forms: wine the sculpture of landscapes, wine at the heart of society, mythological and sacred wine, wine inspiring the arts, wine as a link between people, the wine of joy and sharing…
The goal of La Cité du Vin is to introduce the widest possible audience to the universal, living cultural heritage of wine.
©La Cité du Vin 2016.
ENQUIRIES:
info@fg-travel.lifestyle.com
info@fg-arttravelint.com