MIPIM 2019 – The Real State Conferences closes with a successuful Edition.
MIPIM 2019, A SUCCESSFUL EDITION
The very successful 30th MIPIM edition of the international market for real estate professionals, gathered this 2019, 26 800 players from all sectors of the international property industry with more than 5,400 investors, 560 political leaders coming from more than 100 countries.
MIPIM 2019:
The priority of real estate industry players is now to manage risk as new revenue streams open up, helped by new drivers including:
Evolving new technology and human behaviour, which is transforming the nature of real estate as an investment, and as a product or service we use as consumers.
People centricity as a key factor for growing a successful business.
High energy prices, climate change and government regulation are already pushing sustainability up the real estate agenda
The need for investors and owners to improve asset performance and manage the broader range of risks emerging.
Engaging the Future
MIPIM 2019 celebrates its 30th edition
The real estate conferences programme gave a unique opportunity to envision the next 30 years under the lens of 'durability': an enabler for economic growth, sustainable performance and community cohesion. The real estate industry has a whole new cycle to work with over the next 30 years, fostering a lasting, positive impact in each and every built environment.
For this special edition, MIPIM more than ever focused on global and societal topics impacting the real estate industry.
The real estate conferences programme offered food for thought, strategic insights and solution-oriented tools, with leaders from around the world, and influential doers and makers from across the real estate industry.
Every year, MIPIM gathers the most influential players from all sectors of the international property industry for a four-day event of networking, learning and insightful discussion through various conferences and exhibitions. MIPIM 2019 has expected to be attended by over 26,000 participants and more than 5,400 investors.

Building the Future with Real Estate
This special edition of MIPIM highlighted global and societal topics impacting the real estate industry. The central theme has been explored by focusing on future economic growth, community cohesion and sustainability. Revenue streams in the real estate industry are rapidly evolving within the digital era. As a result, companies and investors are changing their approaches to real estate as an investment and product service. At MIPIM 2019, panelists seeked to answer key questions such as "What are the best strategies for long-term benefits?", "What are the best strategies to ensure optimal quality of life?" and "What practices are the most environmentally responsible and how can we utilize existing resources optimally?"

Creating a Sustainable Real Estate Industry
Environmental sustainability has been a key theme at MIPIM 2019. High energy prices, climate change and new government regulations are actively changing traditional industry platforms and practices. Panelists analyzed how the real estate industry is being transformed by these factors and discuss strategic ways to adapt and invest moving forward. Additionally, they discussed how disruptive technologies such as virtual reality, artificial intelligence and big data optimize real estate management and profitability in the digital era.
Young Leaders Summit to Focus on Transitioning Economy
For the first time, MIPIM featured a Young Leaders Summit focused on millennials and their impact on the real estate industry today and in the future. In the real estate industry, millennials are today's end-users and tomorrow's decision-makers. The Young Leaders Summit analyzed the modern sharing economy and its focus on connections and new methods of investing in addition to greater environmental awareness.

"We are excited to be celebrating the 30th anniversary of MIPIM at this year's conference," said Ronan Vaspart, Director of MIPIM "This year's theme will look at the next 30 years of real estate and how the industry can contribute to creating a technologically advanced, sustainable and innovative future.

"The real estate sector is in the midst of a technological revolution. Catalysts of this transition include shifting demographics, climate change and advanced technology. The value of a building now lies in its purpose, not its physical construction. MIPIM 2019 inspired attendees to challenge their understanding of the future of the real estate sector through countless insightful discussions and presentations."
Ban Ki-moon – opening keynote speech at MIPIM 2019
Ban Ki-moon, the eighth Secretary-General of the United Nations, gave the opening keynote speech at MIPIM on Tuesday 12 March at 2:00 pm in The Palais des Festivals in Cannes, France. He shared his vision of the new global challenges, from climate change and economic upheaval to increasing pressures involving energy and water.
Ban Ki-moon served two consecutive terms as UN Secretary-General from 2007 to 2016. Born in the Republic of Korea, he is a former Minister of Foreign Affairs and Trade.

One of the Secretary-General's first major initiatives was the 2007 Climate Change Summit, followed by extensive diplomatic efforts that have helped put the issue at the forefront of the global agenda. His visits to hard-hit areas around the world, persistent advocacy on the issue and even a march through the streets of New York for climate action, helped to push the world to act. The Paris Agreement on Climate Change, adopted in December, 2015, was signed by a record number of leaders on 22 April 2016 – Mother Earth Day – and became effective on 4 November 2016.

"For the 30th edition of MIPIM we have taken 'Engaging the Future' as our central theme and that includes addressing the issue of how upcoming generations will live and work in increasingly populated urban environments. Ban Ki-moon has championed sustainable development and his opening keynote address set the tone for this very unique MIPIM,"
29th MIPIM AWARDS 2019
Cannes, – The 29th MIPIM Awards took place on 14th of March during MIPIM, the world's property market. The 12 winners were announced at a gala ceremony held in the Grand Auditorium of the Palais des Festivals in Cannes with a concert from the students and teachers of the Music Conservatory of Nice.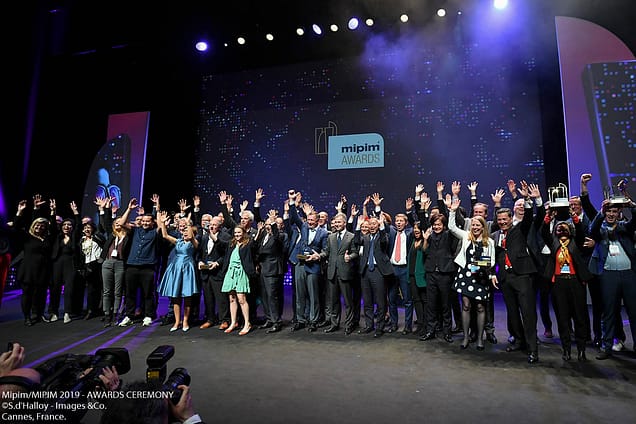 MIPIM Awards 2019 winners:
BEST HEALTHCARE DEVELOPMENT

Polyclinique Reims-Bezannes
Bezannes, France
Developer : Icade
Architect : Jean-Michel Jacquet
Other : Courlancy Santé, Artelia, Eiffage Construction, Cari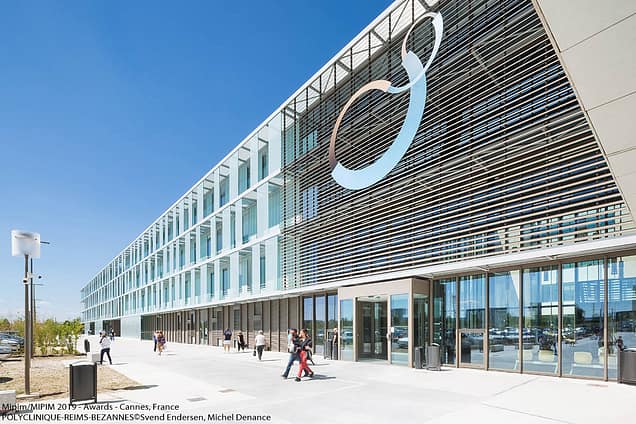 BEST HOTEL & TOURISM RESORT

Club Med Cefalù
Cefalù, Italy
Developer : Club Med SAS
Architect : King Roselli
Other : Sophie Jacqmin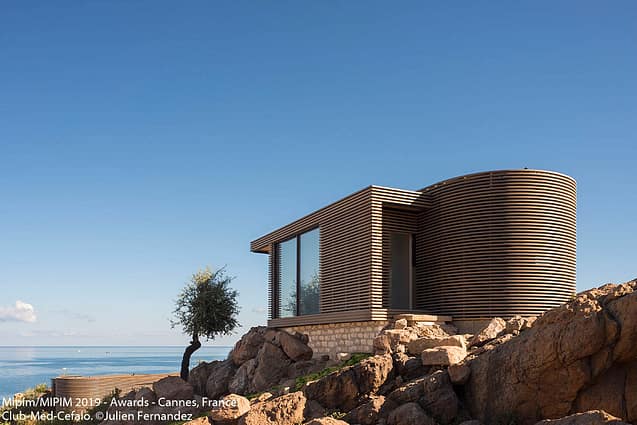 BEST INDUSTRIAL & LOGISTICS DEVELOPMENT

Greenwich Peninsula Low Carbon Energy Centre
London, United Kingdom
Developer : Pinnacle Power and Knight Dragon Developments
Architect : C.F. Møller Architects
Other : Artist Conrad Shawcross, Futurecity and Structure Workshop
BEST MIXED-USE DEVELOPMENT

The Student Hotel Florence Lavagnini
Florence, Italy
Developer : Inso S.P.A
Architect : Archea Associati
Other : Arcadis, Habitech, Rizoma Archi, Modus
BEST OFFICE & BUSINESS DEVELOPMENT

Laborde
Paris, France
Developer : ACM
Architect : PCA-STREAM | Philippe Chiambaretta Architecte
Other : ARC, Artelia, Khephren, VS-A, Green Affair, Barbanel, A&C, Qualiconsult, Delporte, LM3C, CSD Faces, Topager, La Superstructure, LUMIERE STUDIO, ARCHIMAGE, Eiffage, GOYER, AGM, LEFORT, FIBOR.
BEST REFURBISHED BUILDING

KOSMO
Neuilly-sur-Seine, France
Developer : Altarea Cogedim
Architect : Ateliers 2/3/4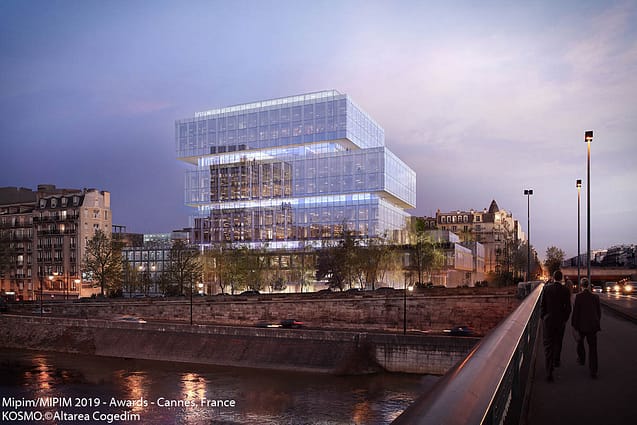 BEST RESIDENTIAL DEVELOPMENT

WOODIE Hamburg
Hamburg, Germany
Developer : Dritte PRIMUS Projekt UDQ GmbH, PRIMUS developments GmbH, Senectus GmbH
Architect : Sauerbruch Hutton Architects
Other : Kaufmann Bausysteme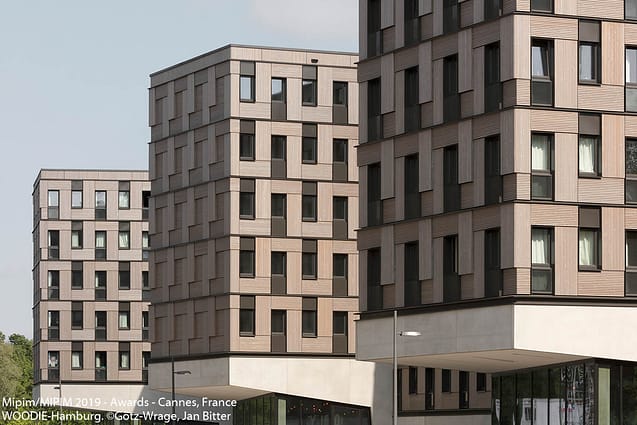 BEST SHOPPING CENTRE

HIRAKATA T-SITE
Hirakata, Japan
Developer : So-Two. Inc
Architect : Takenaka Corporation
BEST URBAN REGENERATION PROJECT

Rebuilding Frankfurt's old centre
Frankfurt am Main, Germany
Developer : DomRömer GmbH
Architect : Bernd Albers, Dreibund Architekten, Jourdan, Müller und Steinhauser, Denkmalkonzept, dreysse architekten, Landes & Partner, Jordi & Keller Architekten, Morger Partner Architekten AG, Knerer und Lang, Eingartner Khorrami Architekten, Francesco Collotti, Hans Kollhoff, Schneider und Schumacher, von Ey Architekten, Johannes Götz, Riemann Architekten, Claus Giel, Meurer Architekten, Macholz Kummer Architekten, ENS Architekten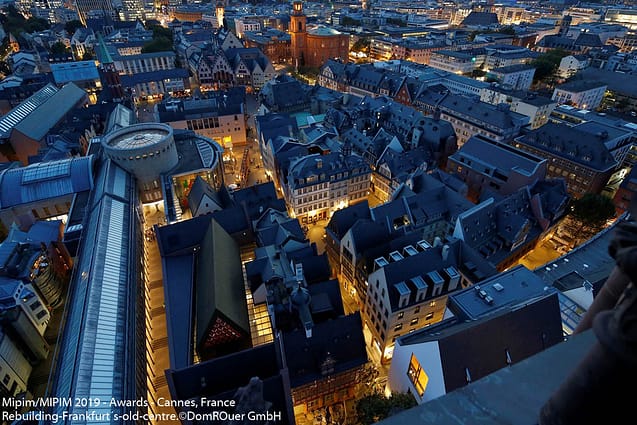 BEST FUTURA PROJECT

Mille Arbres
Paris, France
Developer : Compagnie de Phalsbourg and OGIC
Architect : Sou Fujimoto, Oxo Architects, Paul Arene
Other : Cushman & Wakefield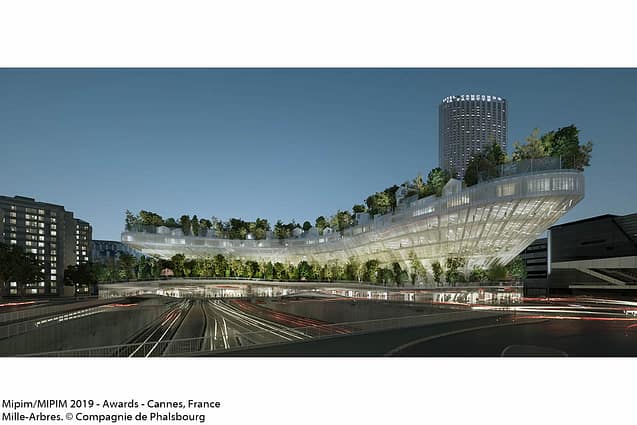 BEST FUTURA MEGA PROJECT

Future Park
Yorkshire, United Kingdom
Developer : Fallons
Architect : Bond Bryan
Other : Adept Consulting, Andrew Moseley Associates, Colliers, Counter Context, Fera, ID Planning, WSP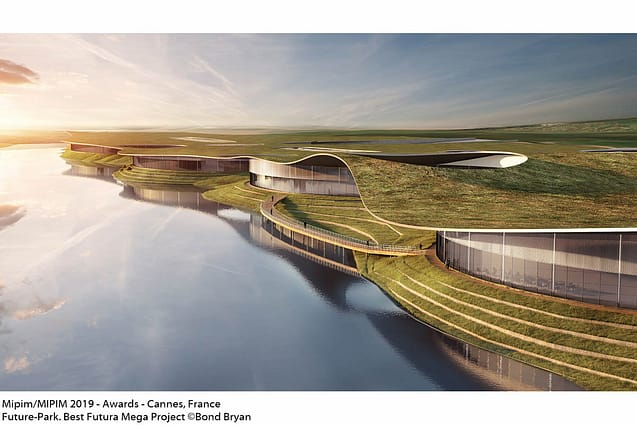 SPECIAL JURY AWARD

« Zaryadye » park with a multifunctional concert complex
Moscow, Russia
Developer : Moscow Government
Architect : S.Kuznetsov, Diller Scofidio + Renfro, Hargreaves Associates, Citymakers, CPU Reserve, MAHPI, Architectural Bureau by T. Bashkaev
Other : Mosinzhproekt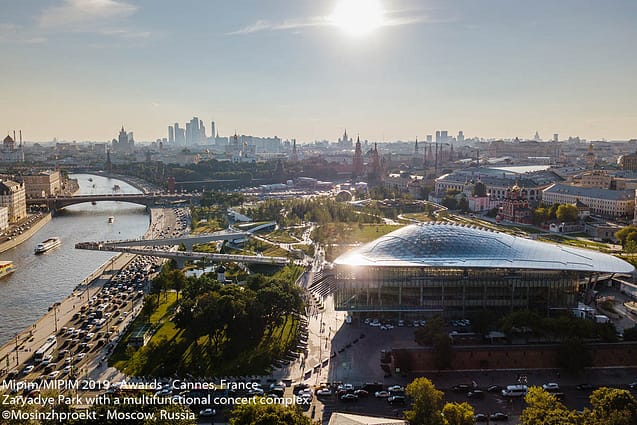 Members of the MIPIM Jury Awards 2019 :
Méka BRUNEL, CEO, Gecina (France) & Chairman of the jury
Chris BROOKE, President, RICS (Hong Kong)
Serge FAUTRE, CEO, AG Real Estate (Belgium)
Paolo GENCARELLI, Head of Group Real Estate and Procurement, Poste Italiane (Italy)
Marco HEKMAN, Managing Director Continental Europe, CBRE (The Netherlands)
Frank KHOO, Group Chief Investment Officer, City Development Officer (Singapore)
Tinka KLEINE, Senior Director Private Real Estate, PGGM (The Netherlands)
Barbara KNOFLACH, Deputy Chief Executive & Global Head of Real Estate Investment Management, BNP PARIBAS Real Estate
Sergey KUZNETSOV, Chief Architect, City of Moscow (Russia)
Lee MORRIS, Design Director and Head of Architecture, Atkins (UAE)
Guy PERRY, Vice President, Urban Planning and Design, McKinsey & Company (UAE)
Jean-Michel WILMOTTE, President & Architect, Wilmotte & Associés (France)