boot Düsseldorf – 2018
The biggest German International Boat show ever is starting on 20. January – 2018
There will be no end of attractions covering 220,000 square metres; variety of this kind has never been seen at the same trade fair anywhere before. Motor boats from small inflatable boats to the showpiece of the trade fair – the 35-metre-long Princess 35 M – sailing boats from the smallest dinghy to the increasingly popular top-of-the-line yachts in the 60 to 70 foot range – all classes are on display at boot 2018.
Ever since "THE WAVE" was introduced, young water sports enthusiasts in particular have looked forward to this action-packed trend sport. Fast-moving surfing on a standing WAVE is a real challenge even for international surfing professionals. Which explains why such successful surfers as Airton Cozzolino, Zane Schweitzer, Bernd Rosiger or Fiona Wylde are coming over to boot from their Hawaiian hotspots in the grey Central European month of January, in order to experience authentic surfing adventures here and to demonstrate their skills in international contests. Quite apart from these professional surfers, there are any number of amateur surfers who simply want to try surfing the WAVE.
The new Dive Center at boot has the look of a Caribbean diving base. A short holiday under palms is guaranteed here. In addition to the professional divers, who will be there to obtain information about the latest trends in their sport from the leading suppliers of diving accessories and equipment, newcomers to recreational diving in particular are invited to get initial tips here. Experts will be demonstrating how to fill oxygen bottles, put diving masks on and complete all the preparations for a dive. Once they have collected all this good information, diving beginners can then move on into the pool to dive for the first time using the equipment they can borrow at boot free of charge.
Holiday feeling rules in halls 13 and 14 with more than 200 chartering providers and marinas for exclusive individual holidays. The German cruising market leader AIDA will show a real ship cabin from one of its cruisers. Many families are interested in three-generation holidays. This kind of relaxed get-together is being presented at boot 2018 by houseboat providers, among others. With the Febomobil from Kuhnle, handicap-accessible holidays on the water are made possible too.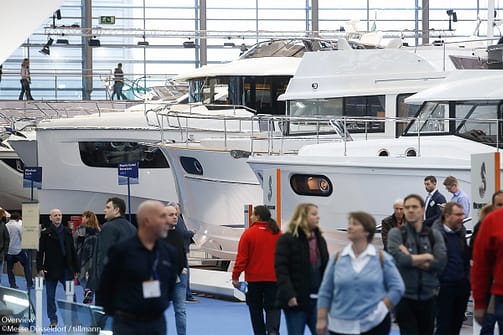 And anyone who would like to end his or her tour of the trade fair by seeing some really eye-catching exhibits, should not miss the "Classic Forum" in Hall 14. Elegant classics from Boesch or Riva are waiting here for admirers, because an auction will be taking place at which offers can be made for the boat you always wanted. An interesting piece of inner-German history is waiting for a new owner here too, however: a motor boat produced in East Germany in 1982, which has genuine scarcity value, since there were practically no private motor boat owners there at this time.
In January, boat Düsseldorf is the place to be for watersports enthusiasts. With some 1,800 exhibitors from over 65 countries, boat Düsseldorf is considered a benchmark for the international boat and water sports industry. Here, you can try almost everything that has to do with watersports: Experience the pure outdoors at the 90-metre long river, join the sailing school, visit the Cruise Pavilion or the Beach World with its unique shows and competitions or take at look at more than 1,500 yachts.
Messe Düsseldorf – Düsseldorf, Germany